Glenmorangie is introducing a new trio of single malts into travel retail, including a 16-year-old containing lightly peated whisky.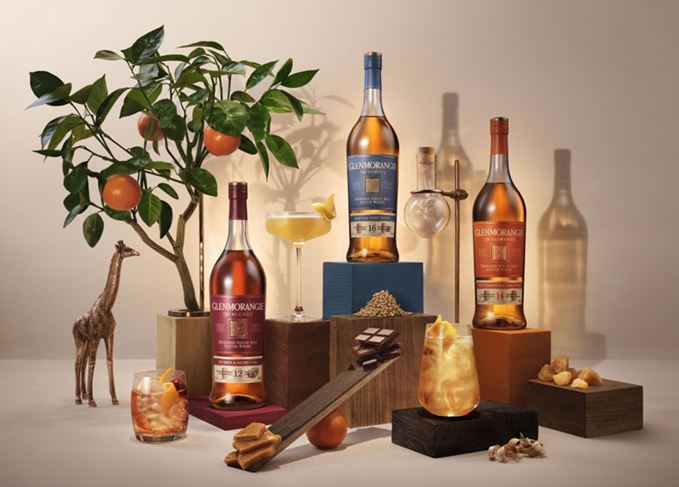 Glenmorangie The Accord, The Elementa and Tribute are three single malts inspired by the 'distillery's mastery of timeless techniques such as cask marrying and wood finishing'.
The Accord (€53) is a 12-year-old whisky matured in a combination of ex-Bourbon barrels and oloroso Sherry casks, which is said to have flavours of 'sugar-coated plums and almonds, soft brown sugar, creamy vanilla, cappuccino coffee, dates and toffee apples'.
The Elementa (€75) is a 14-year-old whisky matured in ex-Bourbon barrels and finished in new charred oak casks 'for woody depth and warm spice'.
Dr Bill Lumsden, director of distilling, whisky creation and whisky stocks at Glenmorangie, said: 'As its name suggests, this whisky's taste deliciously reflects the natural influences of the new wood.'
The Tribute (€115) is a 16-year-old whisky created to celebrate the distillery's former use of peat to dry its barley.
Lumsden added: 'To celebrate our heritage, I distilled a rare, lightly peated spirit with a hint of smoke.
'Aged in Bourbon casks and united with Glenmorangie's signature spirit, our Tribute's citrus smoothness and rounded flavours are a zesty nod to the past.'
All three expressions have been chill-filtered and bottled at 43% abv.
The range will be given an exclusive launch in Dubai International airport in October 2019, before being released in Hong Kong International airport in November and given a global travel retail release in 2020.
It will also be available to purchase from the distillery visitor centre from next year.
Modern expressions to feature peated Glenmorangie whisky include Finealta, released in 2011, and Dornoch, which launched in 2014.