Highland Park has reintroduced its 21 Year Old single malt to its core range for the first time since discontinuing the age statement 10 years ago.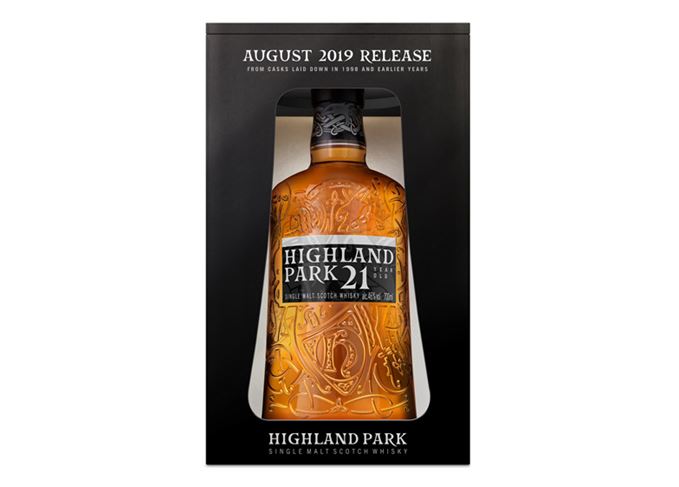 Highland Park 21 Year Old: August 2019 Release is the first edition from the Orkney distillery to be launched since the age statement was discontinued in 2009.
Launching globally from October, the whisky will be released in batches with information about the cask breakdown listed on each bottle.
The 2019 release has been matured in six first-fill Sherry seasoned European oak casks, four first-fill Sherry seasoned American oak casks and five refill casks, before being bottled at 46% abv.
It joins Highland Park's 25-, 30- and 40-year-old whiskies as part of the distillery's premium portfolio.
Gordon Motion, master whisky maker at Highland Park, said: 'Each of the higher aged whiskies will be released in batches as our older stocks reach their peak.
'The overall character of each whisky will remain the same, but as different casks will have been used the flavour profile will change slightly with each batch.'
'We know our Highland Park fans are very passionate about our whiskies and eager to learn more about production and details on the casks we have used.
'Through batching, we've added release dates to our labels to help distinguish between each bottling.'
Highland Park 21 Year Old is said to contain notes of 'root ginger and sun-ripened orange peel' on the nose and 'creamy vanilla with a subtle breath of aromatic peat smoke' on the palate.
It will be available for around £230 per 70cl or 75cl bottle – depending on region.
Highland Park has also launched a number of limited editions this year, including a malt commemorating the 50th anniversary of the Royal Scottish Ballet.