The radical revamp of the Orkney single malt includes a striking new bottle, as well as several changes to the range of expressions available. And it might just signal a shift in the way that single malt whisky is marketed, reports Richard Woodard.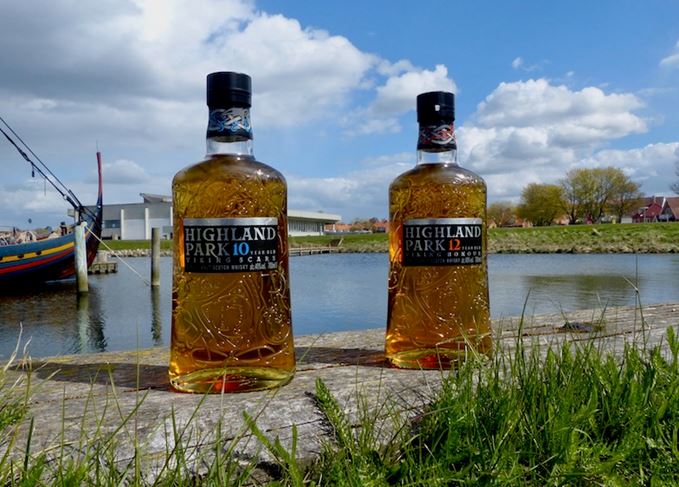 When a whisky brand has a radical overhaul, it's often a sign of trouble: plummeting sales, falling out of fashion. If you're still successful, the 'if it ain't broke' school of thought counsels leaving well alone.
There's nothing to suggest that Highland Park is having a particularly tough time of it at the moment. Global sales of about 133,000 cases (that's more than 1.5m bottles) in 2016, rising year-on-year since 2010, and nibbling on the heels of the single malt top 10.
The liquid remains highly thought-of, with a fiercely loyal fanbase including a number of devoted collectors. And yet Highland Park has just had its most comprehensive overhaul in more than a decade. Why? What's missing?
'Emotion,' says brand director Jason Craig. Highland Park's success to date, he argues, has been (mostly) all about the liquid: winning awards, earning plaudits from influential commentators.
'It's lovely for the whisky,' he adds, 'but there was no reason beyond the liquid why you would connect with Highland Park. For the whisky geek, that's no problem, but where's the emotional connection? If you're a consumer in your 20s or 30s, why would you bother?'
The new brand positioning, under the Viking Soul banner, aims to put that right, tapping into Orkney's Viking history by giving the core range Viking sub-brand names and introducing a new, heavily embossed bottle inspired by an ancient wooden church in Norway.
But the revamp runs deeper than a purely cosmetic makeover, so let's get back to that liquid. How is the Highland Park range changing?

Getting emotional: Jason Craig believes Highland Park was lacking a consumer connection

Out come the 15-year-old and 21-year-old variants, as well as the NAS Dark Origins expression. In comes Highland Park Valkyrie and, later this year, a 100% ex-Bourbon matured bottling, Full Volume.
There's also a new whisky for the US market, Magnus (based on ex-Sherry and ex-Bourbon American oak); a follow-up to the recent Fire and Ice limited editions; and a new 50-year-old bottling slated for the end of 2017.
Valkyrie is the first of three Viking Legend expressions, with Valknut and Valhalla to follow in 2018/19, and is made using 50% heavily peated malt, and 50% regular Highland Park production.
This gives a smokier character, says Highland Park master whisky maker Gordon Motion, but it remains 'at the lower end of the Islay spectrum'. Besides, he adds, Orkney peat has its own unique flavour.
'Peated Glenturret has that very ashy character,' he explains, comparing Highland Park with the Highland distillery also owned by Edrington. 'The peat is from the mainland, and it's completely different. The most aromatic phenols just aren't present at the same levels.'
Dark Origins, meanwhile, appears to have been a victim of its own success. 'It should have been a special edition,' says Craig with hindsight. 'It started at 4,000 cases a year, but now it's 10,000.'
Made using 50-60% first-fill Sherry-matured malt, aged for between eight and 14 or 15 years, increased demand for Dark Origins was beginning to impact the consistency of Highland Park's 18-year-old expression, he says.
The clear mission now is to put the core range first, before getting creative with the special editions and NAS bottlings. In order of importance, says Craig: Highland Park 12, then 18, 10 and 25.

First in line: Highland Park Valkyrie will be followed by two more Viking Legend expressions

In line with this, Motion's brief is to prioritise the main age statements, then ask himself: 'What stock does that leave me with?' The answer might be some heavily peated malt, which finds its way into Valkyrie, or a big parcel of ex-Bourbon-matured whisky, destined for Full Volume. 'We've got that stock, so we can start using it for something special,' says Motion.
The sheer complexity and diversity of the range is a world away from when he joined the business, some 19 years ago. 'Then we just had 12, 18 and 25,' he recalls. 'I remember there was a mistake with the peat once, but it was blended away. We wouldn't have done that if we'd known then what we know today.'
As a result, Motion is planning for the future by laying down a more varied palette of stocks, giving his successors more options to play with. 'Some of this stuff I'll never see,' he says.
Intriguingly, there's also the prospect of a '100% Orkney' bottling, made using barley grown on the islands, before being malted on-site at Highland Park. 'The malt and the style of the new make spirit is completely different, although the peating levels are the same,' says Motion. 'The peating seems to bring out those variations.'
Highland Park's special editions – including Valkyrie and Full Volume – will still come in a plainer bottle, but the age-stated core range will all use the new, heavily embossed packaging.
For the 10- and 12-year-olds, the switch is instant; the 18-year-old gets the new pack in July and will now be released in two batches a year (the first, dated February 2017, will be called Rotation A123). Meanwhile, the older expressions – 25, 30 and 40, bottled only occasionally – will be released in the new livery over the next year.

Unique flavour: For Gordon Motion, Orkney peat has its own distinct character

Travel retail customers won't see the new pack in airport shops until February or March next year, but here too the changes are more than skin-deep: four products will be withdrawn, and four will be added, signalling the end of the previously 100% NAS range.
'Going forward, it's our intention to right that wrong,' says Craig. 'One or two ages will be introduced, to give consumers a signpost for the range.'
What do the travel retail changes, and the firm prioritisation of the core age-stated range, say about the relationship between NAS and age-stated releases?
'I think age is critical,' says Craig. 'If we took our 12 and 18 out, I think our brand would die, or at least be massively diminished in the eyes of the consumer.
'But NAS allows you to be more creative. A lot of the criticism is that it equals poor quality and very young. But we have King Christian in travel retail – it's £3,700, 42 years-plus but it's NAS. And for smoky bottlings, we don't have liquid that's 15 or 18 years old, so we have to use some younger stock.'
At a time when stocks are still relatively tight, the elimination of certain age-stated expressions – the 15- and 21-year-old – is viewed as a necessary sacrifice to protect the integrity of the core age-stated range.
And, more broadly, the Highland Park revamp suggests a step-change in the way single malts of this type are being marketed.
Previously, establishing that metaphysical connection with consumers was the preserve of premium blends, or marquee malts such as The Glenlivet, Glenfiddich and Macallan – while so-called 'discovery' malts like Highland Park focused almost exclusively on what was in your glass. Now that's changing.
Shipments of single malt Scotch broke through the £1bn barrier for the first time last year, accounting for 25% of the entire category. As they grow in scale, selling these products isn't just about the liquid any more. To paraphrase Craig, it's getting emotional.