William Grant & Sons is to launch a new permanent range of blended whiskies under the House of Hazelwood brand.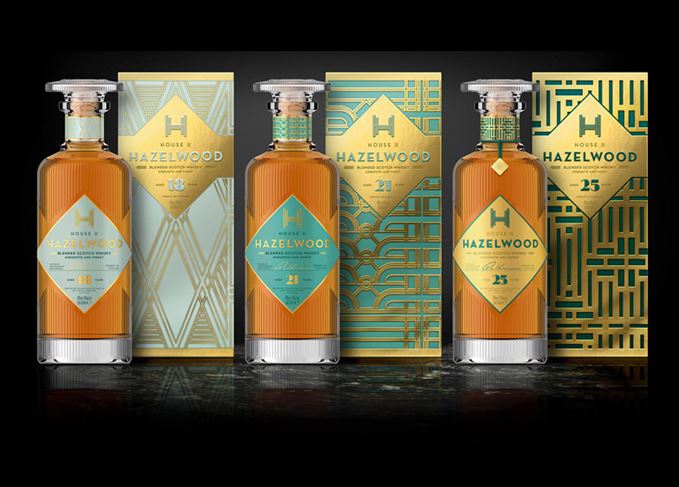 The trio of whiskies are the first expressions to be bottled under the Hazelwood brand since the Janet Sheed Roberts 110th Birthday Edition in 2011, created in celebration of William Grant's granddaughter.
The House of Hazelwood trio are once more a tribute to Mrs Roberts, who passed away in April 2012 as the oldest woman in Scotland.
The whiskies take their name from the home of Mrs Roberts, located near to Glenfiddich distillery in Dufftown, while their packaging is inspired by the three cities at the forefront of the 1920s Art Deco movement in her heyday – Paris, Mumbai and Shanghai.
William Grant & Sons master blender, Brian Kinsman, said: 'Janet Sheed Roberts was an elegant woman, and I wanted to create a whisky that would celebrate her extraordinary spirit.
'The journey of creativity which led me to this unique whisky was one of distinction, challenge and utter delight. I am deeply proud of House of Hazelwood 25 year old. It has allowed me to create an exquisitely rare blended whisky, rich in Scotch tradition, combined with all of the inventive artistry which Shanghai in the 1920s inspires.'
Each 500ml bottling contains liquid produced at Girvan grain and Kininvie malt distilleries that are owned by the company, as well as liquid from the family's private collection.
House of Hazelwood 18 Year Old, inspired by the Parisian Art Deco period, is described as 'the purest expression of Kininvie and Girvan spirits' in the range, which have been married in tuns made of Portuguese oak.
House of Hazelwood 21 Year Old features malt whiskies matured solely in European oak casks and is inspired by Mumbai in the 1920s.
House of Hazelwood 25 Year Old, which takes its design cues from Mumbai, features some rare single malts that have been married in American oak before bottling.
The range will launch exclusively in global travel retail in February 2016 for six months before rolling out to a few select markets around the world.
During her younger years Janet Sheed Roberts earned a Master of Arts and a degree in law before marrying Eric Liddell of McGrigor Donald.
She later became a director of William Grant & Sons and became such an influential character within the company that Hazelwood blends commemorating her 100th and 110th birthdays were released.
In 2012 William Grant & Sons released 15 bottles of Glenfiddich Janet Sheed Roberts Reserve single malt in her honour, the most expensive bottle of which sold for US$94,000 at a charity auction in New York.
Hazelwood has also been bottled previously as a single malt using liquid from Kininvie.