Grant's blended Scotch whisky is seeking a new global brand ambassador through an unconventional interview process that involves cocktails, challenges and a 10-day all-expenses-paid international trip.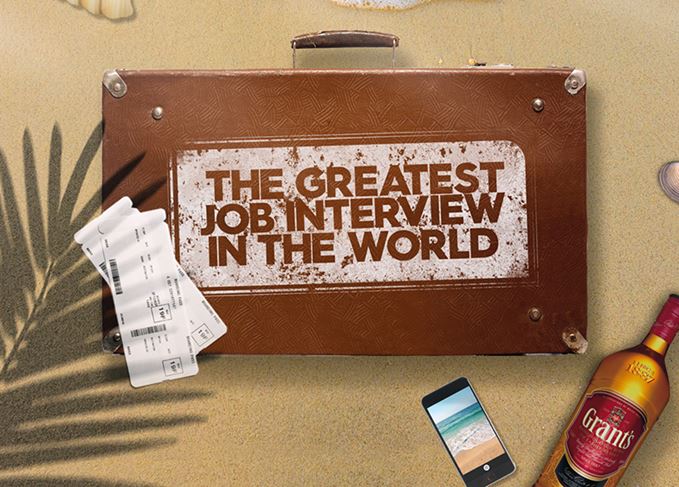 In a campaign dubbed 'the greatest job interview in the world', applicants are asked to create and name a cocktail containing Grant's and two additional ingredients.
The best 20 entrants that embody the brand's motto, Stand Together, will be invited to Scotland in September for a series of challenges.
Three selected finalists will then each be taken on an all-expenses-paid 10-day trip in October to multiple destinations – which include India, Colombia and Taiwan – to promote their cocktails with a suitcase full of whisky.
The successful finalist will be named Grant's new global ambassador for 2018.
The recruitment journey echoes one made in 1909 by Charles Grant Gordon – son-in-law of William Grant & Sons founder William Grant – who set sail with a suitcase of whisky in order to promote the blend worldwide.
Nearly 110 years later, the finalists will stay in some of the same international hotels Grant Gordon visited, as part of their trip.

Global brand: Grant's is the world's fourth-best-selling blend, reaching 180 countries

Oliver Dickson, Grant's global brand director, said: 'The role goes way beyond being able to make great cocktails. We're looking for somebody to embody the "Stand Together" spirit of the brand and who can spearhead Grant's into the next stage of its global journey.
'In today's society, lots of people seek more flexibility and adventure from their work than a nine-to-five day in an office. This job offers travel, freedom, independence and a good salary too. We wanted an interview process to match the exciting and challenging nature of the role.'
Applicants must be aged 25 or over and will be responsible for promoting William Grant & Sons internationally.
Interested applicants must be 'resourceful, charismatic, talented, and have a passion for writing, travelling and mixology'.
For more information and to apply, visit www.grantswhisky.com/interview.