A critical mistake making an Irish Coffee 25 years ago led Helena Hugo down the path of whisky collecting. Today the Swede runs a Scottish-themed restaurant and brewery that stocks an enviable selection of whiskies. Angus MacRaild tells her story.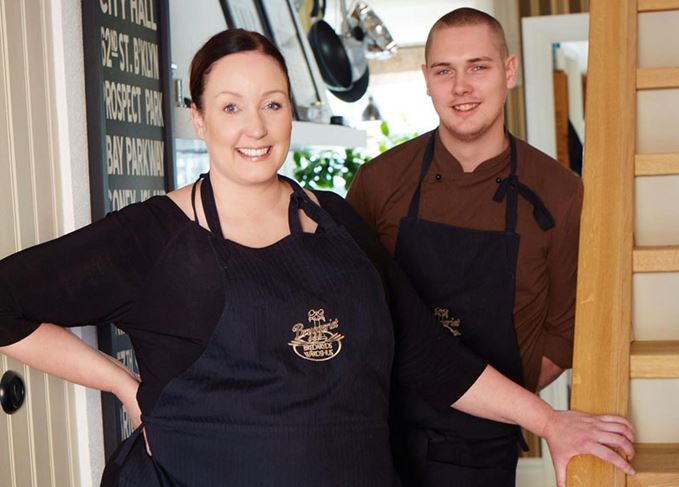 Helena Hugo is in many ways the personification of Swedish whisky passion: she is lively, bright and openly enthusiastic about her subject. Crucially her love of whisky ranges from traditional styles to the contemporary, and is not geographically confined to Scotland. Her interest in whisky began long ago in the 1990s that she has been fortunate enough to witness the upheaval of the past two decades, and to taste many remarkable drams along the way. Today much of her time is taken up by the business that her whisky enthusiasm eventually led her to – Bredaryds Wärdshus, a Scottish-themed hotel, restaurant and brewery in Bredaryd.
In fact, it was in the hospitality business that Hugo first discovered her interest in whisky. 'I've been working with food and beverages for over 25 years, and I wasn't that old when I made a terrible mistake and served a German gentleman an Irish Coffee with peated whisky instead of unpeated Irish... I promised myself to never repeat the same mistake again so I started studying whisky. It ended up becoming my biggest hobby.' Indeed, it wasn't long before Hugo's enthusiasm grew, helped by an era of burgeoning interest in whisky and a broad availability of interesting and generally affordable bottlings. 'Around 1995 I built a whisky room in my apartment. I started by searching for bottles from my [birth] year, 1974, and tried to buy two of each whenever possible. One to collect and one to open – if I liked it I tried to get more of the same bottling.'
Hugo quickly discovered a passion for beautiful labels as well as great whisky, which led her, almost inevitably, to the famous Moon Import series of bottlings, in particular the Costumes series, released in 1988, which features highly sought after gems as a 1963 Oban and a 1959 Glen Moray. These were to become some of her most cherished bottles, especially the 1974 Bowmore from her birth year.
Hugo certainly benefitted from the age of innocence that was the 1990s, a perfect time to start collecting and nurturing an interest in whisky. However, she hasn't lost the slightly carefree attitude to whisky which collectors who started in that era often developed. 'In those days I learned that nothing lasts forever, not even life. So I treat my bottles with respect and continue opening them, especially with good friends. I mean, it does not matter if you have a lot of great whiskies and wines if you can't share them with the people you care for and like spending time with. These days I always say that I've stopped collecting but I don't think that my husband will agree with that.'

Beautiful bottles: Moon Import's Costumes series were a must-collect for Hugo, particularly the Bowmore '74 (far right)

In 2005 Hugo founded the Bredaryd. It was a daunting task at first as the previous owner of the hotel had gone bankrupt on the back of a bad reputation. So it was hard in those early days to envision success. 'I started off working 24/7 with three employees: Viktor, Petra and Norma. We did everything on our own – brewing, cooking, cleaning the 18 hotel rooms. In 2006 we were selected as whisky bar of the year in Sweden. Actually we have been nominated again this year as well. Today we have around 6,000 annual visitors who visit us for beer and whisky tastings, and a lot of people who also come for the locally produced food.'
The influence of Hugo's passion for whisky, and for Scotland, is evident in Bredaryd. Everything from the decor and furniture to the drinks selection and the food has the sense of being crafted and curated from scratch – a kind of on-going and evolving expression of the personality and enthusiasm of its owners. 'Every year you can choose from 1,300 different beers and 800 different whiskies from our collection, which changes every day; some in, some out. The rarest we have in the beer cellar is matured Westvleteren 12, with vintages dating back 20 years. We now employ 20 staff and, most important to me, Viktor and Petra are both still with me [Viktor later became a co-director of the business in 2010]. I am so proud of my team.'
Given her head for business, it is perhaps unsurprising that Hugo is pragmatic about today's rather bullish secondary market for whisky and the prices many of her bottles achieve. 'Actually I've sold most of my most expensive bottles – I realised I could do so much more that way. For example I sold some Moon Import series and my single casks from 1974. I also sold all my Japanese whisky except a few I really enjoy for drinking, though I bought them early so I can afford to drink them.' This sense of pragmatism might seem at odds in someone who talks so readily about her enthusiasm for opening and sharing bottles with friends, but you need only take a look at the business she has built to understand that it is this careful, and truthful, mixture of pragmatism and genuine enthusiasm that has underpinned its success.
On the subject of whisky's future Hugo is cautiously optimistic, while being simultaneously philosophical about the whiskies of the past. 'You can build a brilliant new house, with a stunning view, with perfect techniques, but that doesn't give the house a soul and a mystique, right? I think it's the same way with older styles of whisky. You can't ever copy that feeling of the whisky that was made in the past. But for sure, there will be damned good whisky produced in the future, and hopefully they will know why when it happens.'

Scottish luxury: The Bredaryds Wärdshus has 11 whisky-themed rooms for guests to choose from

As for Sweden's own burgeoning whisky industry, Hugo sounds a note of caution about the risks of over-eagerness and overproduction, but remains hopeful that the domestic whisky scene will continue to grow. 'Of course we can produce whisky. We have a great environment, good knowledge and we have high quality ingredients. But can we afford it? I hate to think that the guy with most money will be the one who survives, not the best producer. But it's probably the truth as in many aspects of business. The future will tell.' For now her favourite remains Smögen, the characteristically peated malt made in tiny quantities by Pär Caldenby.
What's for sure is that Hugo is not short of things to say on her favourite subject – she is clearly not running out of love for it any time soon. 'I have the opportunity to travel to events and fairs for many years and visit Scotland at least 3-4 times a year. All over the place I meet lovely people. My whisky interest has given me friends from a wide variety of different backgrounds, people who are passionate about whisky who I probably never would have spent time with otherwise. My nearest and best friends come from those meetings. I remember the day in 2006 when, together with some Swedes, we were locked in the warehouse at Ardbeg by Stuart Thomson [the former distillery manager]. He left us in there with a valinch and said – enjoy! I especially remember one of the casks from 1975 – brilliant.'
In many ways the Bredaryd has been her way of expressing much of the passion and knowledge she has gained from 25 very lucky and eventful years in the whisky world.