Not one for letting old and rare bottlings sit collecting dust in a dank cellar or dusty attic, French wine producer Olivier Humbrecht first realised his penchant for Highland Park during a holiday in Italy. Here, he tells Angus MacRaild why he doesn't consider himself to be a conventional collector, how winemaking shaped his views on whisky and why he'd rather do away with NAS.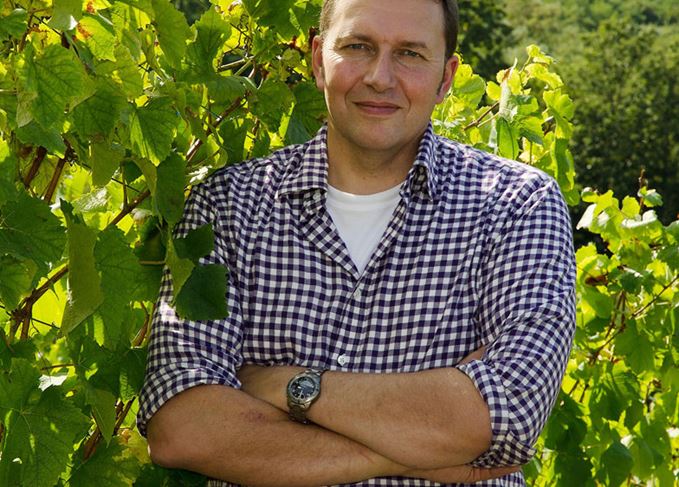 Who are you and what do you do?
'I am Olivier Humbrecht, co-owner and manager of Domaine Zind-Humbrecht since 1989. It is a family estate of 100 acres in Alsace. I don't like the word "winemaker", but that would basically describe my job at the winery. I also travel a lot representing the Domaine around the world.'
What whisky do you collect and why?
'Highland Park and a few other goodies. Not sure I am a collector any more, though… I do get a bit crazy if I see an interesting and especially old bottle of Highland Park, but I wouldn't hesitate to open some rare ones. I guess a real collector wouldn't touch them.
'I eventually started a collection because I bought more bottles than I could open and finish (Ok, no need to help me!). During a memorable trip to Italy in 2004 with Serge Valentin, Luc Timmermans and Johannes van den Heuvel, we went to visit Valentino Zagatti. He gave us a wonderful welcome and opened an old bottle of Highland Park 8-year-old bottled in the late '70s, which people describe as the "Sea of Orkney" label. I absolutely adored this whisky for the taste (gentle palate, roundness, discreet peat) and the charm of the label, combined together with friends. It was a great moment.
'I had never been on Orkney before, but I put a trip there on my bucket list. Then, whenever I could, I bought old Highland Parks during that trip.'
How did your passion for whisky begin?
'My wife Margaret is Scottish. We met in 1987 and spent our first long weekend together in Scotland, and not just anywhere – on Skye. Driving there, there was this shop in Inveraray (Loch Fyne Whiskies) and, driving to the Three Chimneys, there was this distillery called Talisker. This is why Talisker always has a place in my heart and in my cellar. I do not really collect, it but it does correspond to what I like in Scotch whisky: character, light peat, intensity and it is a beautiful place. The rest is history. For many years after, we would drive towards this part of Scotland and Loch Fyne Whiskies was an annual compulsory stop.'
How has being a whisky collector impacted on the rest of your life?
'First, I needed to get a room to put all the bottles in, so there was some physical work involved. Trying to find old and rare bottles meant that I would go to every whisky shop – even obscure ones – check the internet on a regular basis and travel to places to get a special bottle made only for a specific country or customer. Luckily, I get to travel a lot for work.'
Tell us a bit about your wines?
'In order to make a great wine, you need a great place, a team that is dedicated to doing well and some good ideas, while at the same time respecting some traditions. I hope that we do all of this uncompromisingly. Zind-Humbrecht is lucky to be able to work with some of the best vineyards in Alsace, thanks mostly to my father's (Léonard Humbrecht) visionary attitude in the '60s and '70s. Acquiring hard to work/fantastic vineyards in those days wasn't common. Today, all wine producers want the best land, but it is either too expensive or not available. Back then, nobody wanted to make the effort of cultivating steep hillsides.'
How has being a winemaker informed your passion for whisky?
'Being a winemaker probably makes me want to know more about certain technical aspects in the making of spirits. The constant search for complexity and character makes me question everything. I don't care about considerations such as "it's too complicated", "it's less efficient" or "it will cost more". This is why I am often very critical of practices that will increase productivity but alter taste. The notion of origin is very important to me.
'I am surprised that information such as Islay, Highland, Lowland, Islands, Coastal, Speyside etc have not been more defined and protected. In fact, Scotch whisky only has one AOP (Appellation d'Origine Protégée) for all of its production. The risk is that some ancient usage may disappear if they are not protected. When I taste whisky, I always look at the influence of the place, which for me is more important than the type of wood, finishing or shape of the box.'

Picture perfect: Humbrecht's father was one of the rare wine producers willing to tame steep hillsides in the '60s and '70s​

Do you think a knowledge of wine and a knowledge of whisky are mutually beneficial?
'Knowledge of any form is always beneficial. A winegrower that only knows his own wines is often not a very good one. Maybe it is the same for a distiller. What saddens me in the whisky world is the complete ignorance of the product used to produce Scotch whisky: barley. You wouldn't meet a winegrower of distinction that doesn't know about vines and grapes! Or, if there is knowledge, it is only used to produce the most productive and alcohol-yielding type of barley.
'The Scotch whisky industry has lost the link between the spirit and the earth of Scotland. What happens in the distillery is now more important than what happens in the field. With the growing importance of other regions in the whisky-producing world, I fear it will be more difficult to claim superiority if the product isn't linked to Scotland. I probably liked a lot of whiskies made from barley grown outside of Scotland, but I like to think that some of the best ones in the old style found before the '60s were made with local barleys (hang on, that expression rings a bell!).'
Were you ever tempted to try making your own whisky?
'Sure, but it isn't my tradition. I have tasted some interesting new makes in Alsace, but not the kind that makes you smile and gives you shivers. Our traditions are in marc and eaux-de-vie, and that's what we make very well in our region. We have the know-how and the products are grown here (at least the best ones are).
'I see too many people buying a vineyard, hiring the best consultants and often making dull wines at the end. Most of the time, failures can be explained by the wrong choice of vineyard, production optimisation instead of quality and no traditions. In the whisky world, it is probably the same thing. The terroir concept in wine can be translated in whisky words by origin and type of barley, the location of the distillery and tradition of distilling. So for me, the soil, environment of the distillery and people are forging the whisky.'
As a winemaker, what are your feelings on the approaches to fermentation in whisky production?
'Fermentation is definitely an important process in winemaking. A lot of the personality of a wine comes from the vineyard; structure, style and some of the aromatics also originate from the fermentation process. It is also a moment where everything can go wrong. Many of the major faults that can be found in wine are produced during or just around the time of alcoholic fermentation. Yeasts also have an important part to play in the stabilisation of wine through autolysis mechanisms.
'As I understand it, fermentation is also very important in the process of making whisky. Perhaps most of the aromatic precursors are built around that time and will be responsible for the character of the distillate. The type of yeast used will determine some of the flavours found in whisky. The conditions under which the yeasts work will probably also – as with wine – determine different styles of whisky and aromatics (temperature, time, size/style of vessel etc).
'In winemaking, we clearly believe that maximum character is obtained when multiple yeast strains are active at various times and, more importantly, when fermentation is not too fast. This is almost impossible to obtain with commercial yeasts, so we only allow indigenous yeasts to ferment. It's hugely important for the integrity of the building or, more precisely, the environment of the fermenting vessels. A building which is saturated with chlorine and has seen multiple uses of commercial yeasts will never allow for a wild fermentation.
'All commercial yeasts are stronger as they have been given a "killer gene", which means they kill all natural yeast in the liquid. They will be the only ones surviving, so even if a distillery stops using commercial yeast, it will be the same strain doing the job for years to come before nature takes over. In the wine business I've seen cellars infected with the same commercial yeast for over 20 years, with still no sign of indigenous yeasts taking over. It's amazing.
'And grape must isn't heated like wash, so it should be richer in wild yeasts. I'd be really curious to taste a new make produced from a real wild fermentation one day. There is a way to (re-)inoculate the wash with indigenous yeasts. There are labs that could isolate yeasts in the barley and multiply the most interesting strains. It would be fascinating.'

Spoilt for choice: A small selection of Highland Park whiskies from Humbrecht's collection

So you're not a fan of today's whisky production methodology?
'I think I already answered this question. But to be more blunt, I am not interested in fancy designs, stupid wood designations (how can oak not be fine?), no-age-statements (I don't care whether the whisky is only five years old – it can be very good, but I want to know its age), or anything that distracts me from the product. Saying this, I see more and more recent releases from the '90s and 2000s that are again more and more interesting.'
How has the changing character of Highland Park affected your approach to collecting it?
'It is hard to judge the production or potential of a distillery if one doesn't taste every batch made in a year. I believe it is easy to have a wrong impression by just tasting the standard releases. These are made to satisfy a certain price/demand. So, if Asian customers like Port wood character, I believe a distillery would be foolish not to produce some Port-finished batches.
'Unfortunately, I am not a great fan of wood finishing (what a dreadful expression), so there are quite a lot of modern expressions that I don't like – but I wouldn't dare say that they are not good! It is a personal taste. It seems that Highland Park is doing quite well in Nordic countries and there, luckily for me – and that's why I like this distillery a lot – they like quite pure whiskies. Luckily, Highland Park's main market isn't Asia.
'I also must admit that Highland Park is today one of the rare distilleries that still has a core range with full age statements going from 12 to 50 years old, and lots of vintage releases. The Norse Gods releases are fun and overall quite good, but will never replace a classic 21-, 25- or 30-year-old in my cellar. I recently tasted a sample I've kept from the 23-year-old (distilled 1982, bottled 2006) made for Park Avenue USA. The whisky developed such an amazing fruit quality and the texture/power/length was perfect. This was made in the early '80s at a time when many distilleries dropped in quality, but not Highland Park.'
Have rising prices affected your collecting?
'Good things always get more expensive with time. It's irritating that I have to work more to buy a great bottle, but ultimately, if the quality makes me not regret having bought the bottle, then I don't care. I remember this crazy Swiss friend who bought this crazy Port Ellen 'Queen's Visit' 12-year-old to a party last year in Islay. It cost an arm and a leg, but the sharing produced such an effect on the group that the memory of the moment is almost worth more than the whisky itself. Collecting great bottles is also about collecting and sharing great moments.'
What are the prize bottles in your collection?
'It really should be old Highland Park, like the dumpy 27-year-old made for Fortnum & Mason, or the 12-year-old official St Magnus label bottled around the late '40s or early '50s. However, since you're asking the question, Angus, I'm going to say that it is the Laphroaig 1967 Samaroli since you start to foam at the mouth each time you see it!'
(Well, probably about time you opened it, don't you think, Olivier...)
What would be your 'Holy Grail' bottle to find?
'The one that nobody knows exists!'
What would be your favourite everyday whiskies?
'Highland Park 21-year-old at 47.5% abv, Highland Park 18-year-old and Talisker 10-year-old.'
What has been the greatest whisky experience of your life so far?
'Too many… But at the top it was being able to taste an old 10-year-old Highland Park St Magnus label bottled in the early 1950s, mostly because I didn't know what to expect and the whisky was utterly amazing.'