Life-long Rosebank fan and Falkirk native Scott Jackson was inspired to start collecting whisky by his father-in-law. Now with the site's reopening on the horizon, he tells Angus MacRaild what made him fall in love with the distillery in the beginning.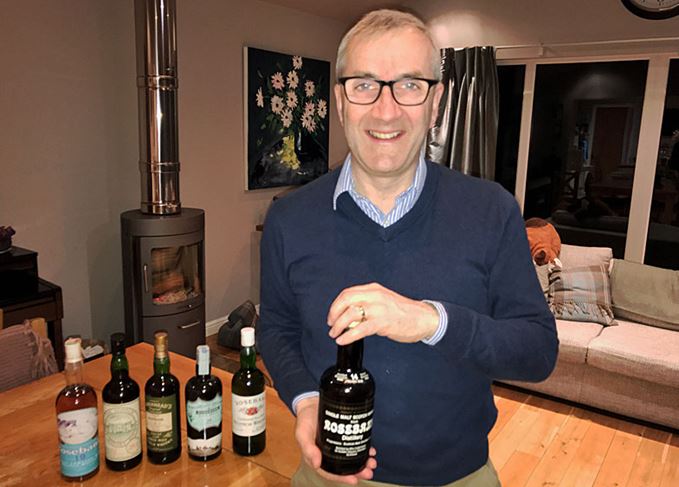 Who are you and what do you do?
'I'm Scott Jackson, I'm operations manager for Ineos Chemicals in Grangemouth. I live in Falkirk with my wife and kids.'
What whisky do you collect and why?
'I mainly collect Rosebank, my hometown distillery, plus old blends and grains but I've acquired bottles from most other distilleries over the last 30 years. I've been going to Islay for about 20 years so have picked up a fair number from there, particularly Ardbeg and Lagavulin, my second favourite distillery. I got into whisky because I like the aroma, taste and flavour. Also, I've always been interested in industrial history and I studied chemistry and engineering at university.
'My father-in-law, John Watson, was the operations director for Drambuie, so that combination made it an obvious thing to do. We also had an old neighbour who had worked at Rosebank and I remember, as a kid, him telling stories about working there. My father-in-law helped to cultivate my palate with old bottles that he had tucked away from his career at Invergordon, Inver House and Drambuie. My first Rosebank was a Flora & Fauna from my local corner shop. I bought it for £32 with my Sunday morning papers. That must have been around 1993, about the time the distillery was closing.'
How has being a collector impacted on the rest of your life?
'When I started collecting seriously it was mainly Rosebank and, although prices were modest by today's standards, I still felt a little guilty at spending too much on whisky. Especially given we had a young family at the time. Though I'm lucky, my wife has always been supportive. There have been plenty of examples of compulsive and obsessive behaviour and queuing or travelling to get the latest release. I remember staying on Islay and driving up to Caol Ila at 5am to get the single cask Port Ellen that was released back in 2008. The German guys were there already of course, having camped out all night.
'I've seen lots of queue jumping and selfish behaviour over the years but mostly it's been good-natured. In the last few years with the advent of online auctions I religiously scour the sites looking for certain bottles and have had mixed luck, sometimes paying over the odds. I've also gone through most of the stages of collecting behaviour, up to and including having bespoke furniture built to store and display some of my bottles. That all sounds a bit sad but I've really enjoyed the experience, the people I've met and the places I've been. I'm also involved in a wee amateur syndicate – we've bought and bottled a few casks over the years, which has been good fun.'
Given the prices of old bottles these days, has this affected the way you view your collection? Do you consider it more an investment?
'Not really. The value, although nice, has never been my main motivation, certainly not in the case of the Rosebanks. At 52 I'm starting to feel I need to open and enjoy more of my bottles; I've got more whisky than I could ever realistically drink. I've yet to sell a single bottle anywhere but with the kids approaching university age I might want to sell some to balance the books. I know a lot of folks get quite hot under the collar about people flipping bottles for profit but I don't give it a second thought. Everyone is different – some buy, sell and collect for profit – that is totally up to them. I do get annoyed when I see people being greedy and doing underhand things to get multiple bottles purely for profit, causing others to miss out. That is disappointing but it won't be stopped – capitalism at its worst.'

Whisky portrait: Jackson commissioned artist Ian Grey to create a bespoke painting of Rosebank bottles

Are you pleased Rosebank will be revived? What are your hopes for the new distillery?
'Delighted! It's great for the town and Rosebank and Lowland fans everywhere. Along with the Falkirk distillery, it will be amazing to have two working distilleries in the town. I really hope they do it properly and make a good quality spirit and don't compromise on quality for profit. I know there will be plenty of commercial pressure but a good quality spirit, triple distilled in the traditional Lowland style, would be great. I don't mind if Ian Macleod Distillers (IMD) don't recreate the original Rosebank profile as it will undoubtedly be different given changes in production methods and raw materials, but I hope they stick to the general Lowland style. I'd also like to see it bottled young, as it was originally. I've had some good old Rosebanks but some really woody ones too, and some cracking youngsters. An eight-year-old, triple distilled, floral, citrusy spirit would be a good starting point. I also hope they don't try to experiment with wood type too much either – stick to the well-established combinations. Having seen the plans that IMD have submitted for planning, the distillery building looks superb and it would be great to think that the old lady will become a hub for culture, distilling and business and a real focal point for Falkirk.'
What are your favourite Rosebanks from a drinking perspective?
'The younger OBs [own bottlings] from the '70s and '80s were very good but generally Rosebank has been of variable quality to be fair. That's one of the reasons it was closed. I think the recent 25-year-old OB was magnificent – a real citrus feast. Some of the SMWS [Scotch Malt Whisky Society] bottlings have been very good too. The last one, 25.70, was excellent – very balanced, sweet and fruity. Certainly not woody in any way, interestingly, as it was finished in a wine cask. Thankfully I didn't pick up any influence from that.'
What are your favourite bottles in your collection?
'I've always liked the SMWS bottles, especially the earlier ones. I've got most of the 70 they have released so those are fairly treasured, although I'd love a 25.1. I've also got a nice flight of Cadenhead's Rosebanks from 1989, and have a complete run from eight- right through to 21-years-old from that year, which I'm guessing is probably fairly unique. I also have quite a few King George IV blends from the '50s through to the '90s which were known to contain a fair bit of Rosebank. I remember as a kid seeing the big name of KG IV on the bond, which is now the Beefeater restaurant in Camelon – you can still see the outline of the lettering on the building if you look closely. Like most whisky drinkers/collectors all of the bottles mean something, but some more than others. I've got a Cadenhead 1966 Rosebank from the month after I was born so that's quite special too.'

Missing element: Just one bottle is missing from Jackson's collection of SMWS Rosebank: 25.1

What would be your holy grail bottle or bottles to find?
'Easy! SMWS 25.1 [the first Rosebank bottled by SMWS].'
What are your go-to everyday drams?
'Generally normal strength blends or Highland or Speyside drams, nothing too heavy. I really like Johnnie Walker Green Label which I think is still great value for money. I'd also say, pound for pound, Lagavulin 16 is hard to beat, although it's a reflective "late at night in front of the fire" kind of dram.
What are the best whiskies you have ever tasted?
'Macallan 1958 (Campbell, Hope & King); Rosebank 1981, 25-year-old; 1909 Overholt Rye (at the Old & Rare Whisky Show in Glasgow last year); Lagavulin 1966, 50-year-old (straight from the cask in the warehouse); Royal Lochnagar 1966 35-year-old; an ex-Drambuie bottling labelled as 'Old Crathie'; and Glencraig 1974 36-year-old (SMWS 104.13).'
What has been the greatest whisky experience of your life so far?
'A few spring to mind. I managed to persuade British Waterways to let me tour Rosebank many years ago, around 2000. Just me, my father-in-law, the night watchman and his dog. It was an eerily quiet, almost surreal experience and such a pilgrimage for me. I had a wee hip flask with me and toasted the old lady in the still room – a magic moment. From a tasting perspective I have to say that the Old & Rare show last year, and then again this year, have been incredible. To be able to taste some of the legendary drams on offer is truly amazing. The SMWS tasting at this year's show was an incredible experience – I'll never forget tasting 1.1, 2.2 and 63.1. The other tasting that will never be forgotten was a "lock in" at Lagavulin a few years back the year they had a 1966 cask in the warehouse. We were treated to a very generous dram of that nectar from the year I was born – a brilliant day for sure.'