He may not enjoy quite the renown of architect Charles Doig, but William Delmé-Evans was a central figure in Scotch whisky's post-war distillery building programme, numbering Tullibardine, Jura and Glenallachie among his projects. Gavin D Smith tells his story.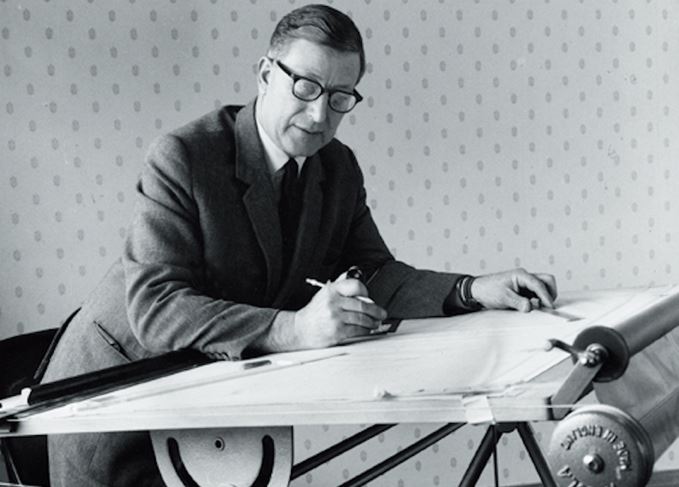 Each period of 'boom' in the Scotch whisky industry has seen the design and construction of new distilleries to meet growing demand. During the Victorian era, the best-known distillery architect was Charles Doig of Elgin, but the post-Second World War upturn in Scotch whisky's fortunes saw another designer make a significant contribution to Scotland's distillery landscape. His name was William Delmé-Evans, and he was a Welshman, with French blood in his lineage.
Delmé-Evans was born in 1920 and studied at Wellingborough College in Northamptonshire. He first visited a Scotch whisky distillery at the age of 12 and, by chance, a school friend happened to be the son of an excise officer. So, during the holidays, the young Delmé-Evans spent a great deal of time around Scottish distilleries, becoming fascinated with them as a result.
He trained as an agriculturalist and then as a surveyor, buying a farm in Northamptonshire, but a bout of tuberculosis ruled out war service or anything else that was too strenuous, and he found himself with lots of time in which to study the science and engineering of distilling.
As Delmé-Evans himself recalled, when I interviewed him in 2002: 'It was at this stage of my life that I decided to build an up-to-date gravity-flow distillery. When I was almost fully recovered I went to stay with my school friend, and on one of these holidays his father announced that he was going to retire.

Island life: As well as building Jura distillery, Delmé-Evans put in an airstrip nearby

'Knowing my desire to build a distillery, he found an advert in the paper for a disused brewery in the village of Blackford in Perthshire. The well that they drew the water from was still in existence, and I managed to get a sample and send it for analysis.
'The result came back and I knew the water was almost perfect for distilling. By the end of the week I had purchased the building.'
He went on to explain: 'With the help of my school friend's father, who kept me right on the Excise requirements, I went ahead and built Tullibardine distillery. This was in 1947, and by 1949 the distillery was completed and commissioned to production.
'By 1953, my own health was fading a bit. I had been working too hard. After a while, along came the firm Brodie Hepburn, who were whisky brokers, and I obtained a fair and reasonable price for Tullibardine.'
Delmé-Evans returned to his farm to recuperate, but three years later he was contacted by two major landowners on the Hebridean island of Jura, Fletcher and Riley-Smith. Concerned with increasing depopulation, they wanted to provide a source of local employment, and eventually it was decided to restore whisky-making to the island.

Speyside venture: Glenallachie was the culmination of all Delmé-Evans' experience

The old distillery in Jura's capital of Craighouse had closed in 1913, but it provided a basic footprint for the new venture. Delmé-Evans recalled: 'During 1958 I started designing a distillery which just about trebled the production capacity of the old one, and, by 1963, Jura distillery was commissioned.
'Although Jura is West Coast, and very close to Islay, the type of malt whisky it produces is completely different and is a fully-flavoured, almost a Highland, malt.
The new distillery was not created without the occasional problem, as Delmé-Evans recalled with a wry smile: 'Eventually there were more than 400 men in total, working on the distillery, building houses and enlarging the nearby hotel.
'The builders worked seven days a week, but we had some terrible times at the weekends, as most of them were either Celtic or Rangers fans and there were some awful fights on Friday and Saturday nights. Jura was an island with no policemen, and the local doctor had to patch men up after encounters in the hotel bar.'
Typical of the spirit of a man who took up golf at the age of 70 and could soon beat players with handicaps of less than 12, Delmé-Evans constructed an airstrip on the island, and then proceeded to obtain a pilot's licence, buying a Cessna 172 aeroplane to minimise the inconvenience of the commute between his Herefordshire home and Jura.

Silent partner: Delmé-Evans never mentioned his involvement with Macduff, home to Glen Deveron malt

Delmé-Evans served as distillery manager at Jura until 1975, but as he noted in his 2002 interview: 'No sooner had I opened Jura than Mackinlays [Mackinlay McPherson Ltd, a subsidiary of Scottish & Newcastle Breweries], whom I had brought in through Scottish & Newcastle Breweries as an outlet for some of our production and who owned half the shares in the distillery, wanted to build a Highland, Speyside, distillery.
'I first of all had to find a site, and then design the distillery and the buildings. It was quite a lot of trouble to find the right water, but I did, and I had it piped down from Benrinnes to a site that I had purchased near Aberlour.
'This was a big chance to put together all the knowledge I had gained over the past few years. By this time, I had worked out the velocities of the vapours being distilled and was able to design the actual stills, with all this knowledge behind me. I designed all the plant and the layout of the buildings.'
Glenallachie began production in 1968, and as far as the 'official' version of William Delmé-Evans' professional life is concerned, his fame rests on the creation of three Scottish distilleries. However, this is not the whole story.
Back in 1960, he had been engaged by a consortium of Glasgow-based whisky brokers, including Tullibardine owner Brodie Hepburn Ltd, to create a new distillery just outside the Moray Firth port of Macduff. The Macduff distillery was to produce a single malt marketed as Glen Deveron.
Part-way through the distillery's construction, however, and allegedly after disagreements with the consortium, Delmé-Evans resigned from his post, and for the rest of his life, never mentioned his involvement with the project.
William Delmé-Evans died at his Herefordshire home in 2003 at the age of 83, having made an all-too-often underestimated contribution to the growth and modernisation of the Scotch whisky industry in the decades following the Second World War.