Tullibardine distillery
Highland Single Malt Scotch Whisky
The requirements of a single malt house – which Tullibardine became – necessitated some tweaking of the spirit run (introducing more high-toned floral notes now coming to the fore, with the nuttiness being dialled down) and a more 21st century wood policy with a massive influx of fresh casks.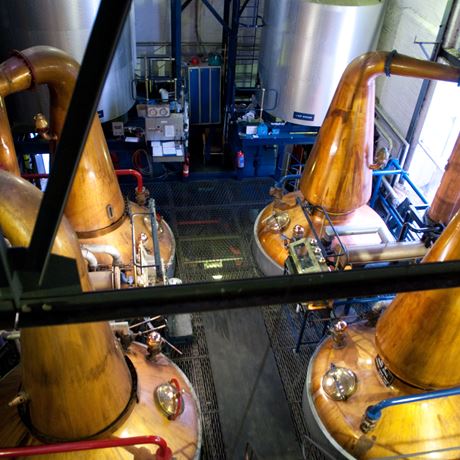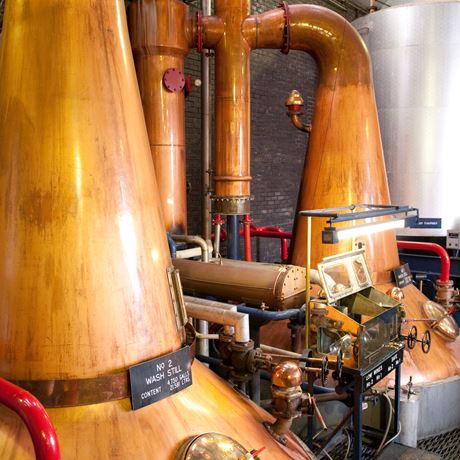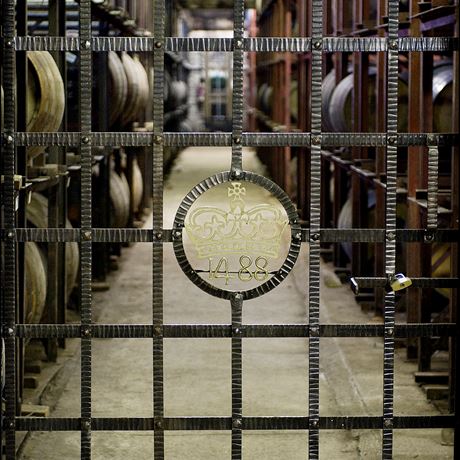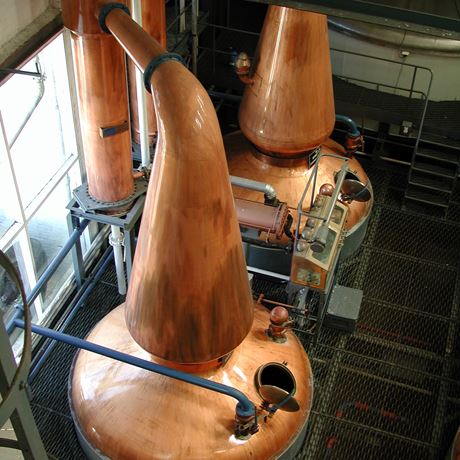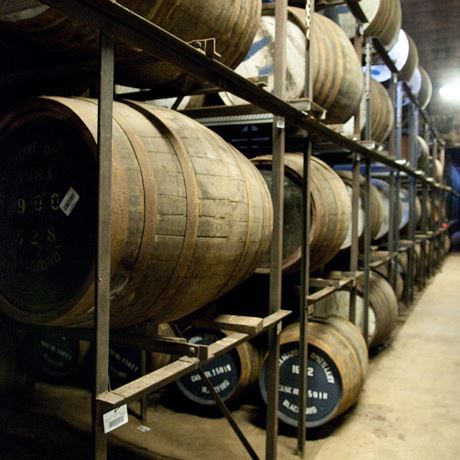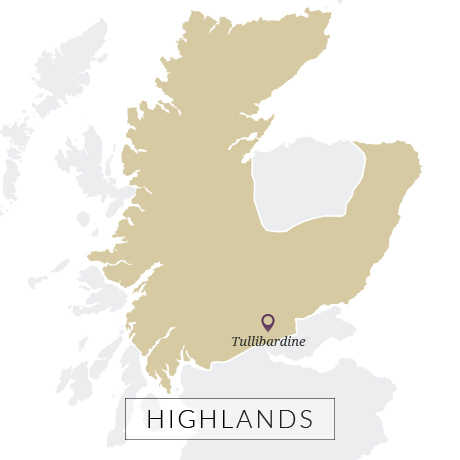 Region

Highland

Production type

Single malt

Distillery Status

Working
Tullibardine History
Alcohol has been produced in Blackford for over six centuries. A brewery was operational in 1488 when James IV [the King who famously asked Friar John Cor to make aqua vitae from eight bolls of malt in 1495] stopped to buy a barrel of ale after his coronation at Scone. It could lay claim to be the oldest 'public' brewery in the kingdom.
Distilling was also tried. In 1798, William & Henry Bannerman opened the first Tullibardine distillery, though it only ran for a year. In 1814, Andrew Bannerman (presumably a relative) tried again. This time it operated until 1837. By the 19th century, the town had a maltings and three breweries: the original one, Gleneagles Brewery, now owned by the Sharp family, the other two by the Eadie family. Both of Eadie's plants closed by the turn of the 20th century, leaving Gleneagles to soldier on until 1927. At this point it seemed as if this rich tradition had finally ceased, but in 1949 the famous distillery designer William Delme-Evans bought the Gleneagles Brewery site and built a new distillery there. It was the first to be built in Scotland since 1900.
In 1953 it was bought by blender Brodie Hepburn which increased capacity (see Glenturret) and from there via Invergordon (which bought Brodie Hepburn) into Whyte & Mackay (which in turn bought Invergordon) which promptly mothballed it, though retaining its extensive warehousing.
Tullibardine lay silent from 1994 until 2003, when a business consortium snapped it up. Their idea was to sell off some of the site as a retail park, using the money raised to get distilling up and running again.
In a similar fashion to Bruchladdich, the new owners found that most of the stock had been filled into old, tired casks which though suitable for some aspects of blending were not ideal for a stand-alone single malt brand. An extensive – and expensive – re-casking operation started along with the inevitable rash of 'finished' whiskies. The group sold their interest in 2011 to the French wine and spirit group, Picard which owns the Highland Queen and Muirhead's brands and was looking for capacity.
The (failed) retail park venture has been bought back and a newly repackaged and reformulated range of single malts has been introduced.
In a nod to tradition, Tulibardine has joined with Bridge of Allan brewery to produce an ale, appropriately enough called 1488.
Timeline
1949

William Delme-Evans purchases the Gleneagles Brewery and builds a distillery

1953

The distillery is sold onto blender Brodie Hepburn

1971

Brodie Hepburn is bought out by Invergordon Distillers

1973

Tullibardine's stills are increased to four

1993

Whyte & Mackay purchases Invergordon Distillers

1994

The distillery is closed down

2003

A consortium of investors purchases Tullibardine for £1.1m and brings it back into operation

2011

The site is sold to French wine and spirits group, Picard Vins & Spiritueux

2014

The Tullibardine Custodians Collection is released
Owners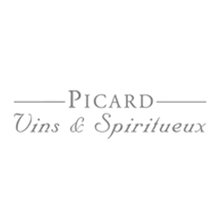 Parent company
Current owner
Previous owners
Michael Beamish and Douglas Ross

2003 - 2011

Invergordon Distillers

1971 - 1993

Brodie Hepburn

1953 - 1971

William Delme-Evans

1949 - 1953
Contact
Address

Tullibardine Distillery




Stirling Street




Blackford




Perthshire




PH4 1QG




United Kingdom

Phone

+44 1764 661809

Visitor Opening Hours

Contact distillery for details