Cardhu distillery
Speyside Single Malt Scotch Whisky
Cardhu's character is quite a change from the original, which was noted as being a heavy spirit from small stills. Only with the installation of new, larger stills in 1899 did the present Cardhu emerge.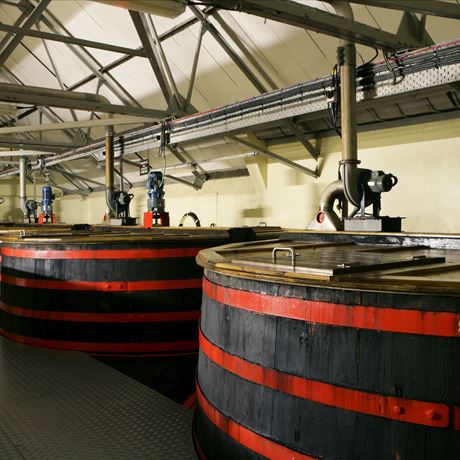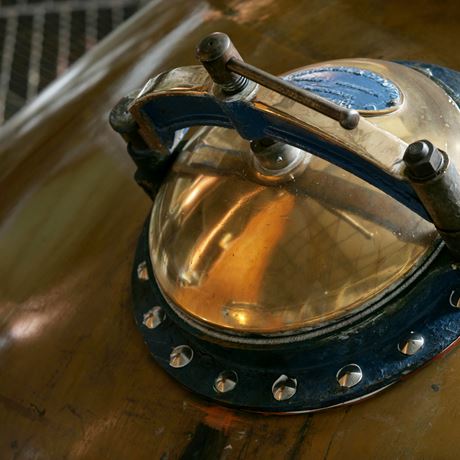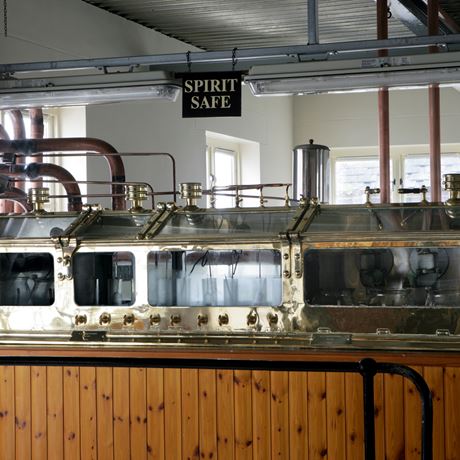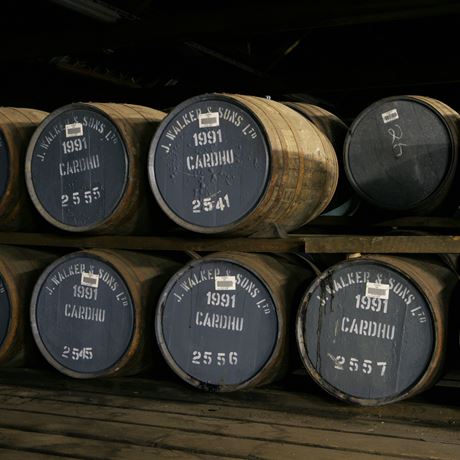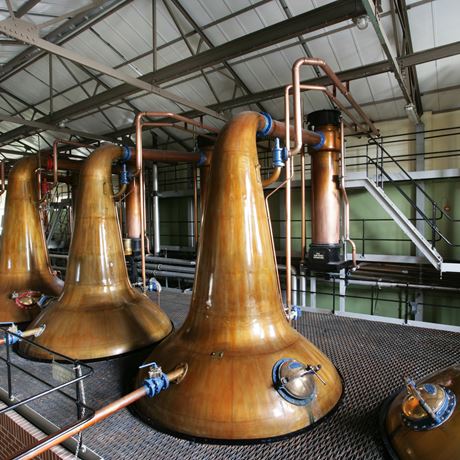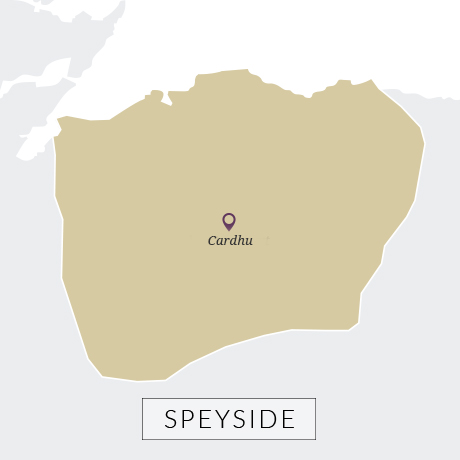 Region

Speyside

Production type

Blended malt
Single malt

Distillery Status

Working
Cardhu History
One of the oldest distilleries in Speyside, Cardhu (at that point Cardow) started life as a farm whose 'tack' was taken by John Cumming and his wife Helen in 1811. They soon started making illicit whisky – research suggests it was Helen who was in charge of operations – and operating the farm as an early warning station for the moonshiners in Glen Livet. Legend has it when the gaugers arrived at the farm, Helen would distract them and run a red flag up a pole alerting their cronies.
It is not surprising, perhaps, that Cardhu is also accepted to have been the first of the Speyside distilleries to take out one of the new licences after the Excise Act was passed in 1823.
Helen Cumming's daughter-in-law Elizabeth took charge of operations in 1872, completely rebuilding the primitive set-up in 1884, and selling the old stills and waterwheel to William Grant, who was planning to build his family distillery, called Glenfiddich, in Dufftown. By then, Cardhu had established itself as a favourite of blenders, but was also available as a single malt in London as early as 1888.
In 1893, the distillery was sold to long-term customer John Walker & Sons on the understanding that the family would still run the distillery and have a seat on the Walker board. The distillery was expanded from two stills to four in 1899 and then up to six in 1960.
By that time, Cardhu was seen as being the Highland base of Johnnie Walker, but as well as supplying liquid for the world's top-selling blend, from 1981 it was also the first venture into single malt branding in the modern era for industry giant DCL (today known as Diageo), whose chairman from 1963-67 was John and Helen's great-grandson, Sir Ronald Cumming.
Having a make which is both an important element of a blend and a single malt necessitates some tricky balancing acts. In 2002, this balancing act failed. Projected sales for the single malt in Spain and France were estimated to outstrip the distillery capacity – which also had to supply fillings for the growing Walker range.
The solution was to turn Cardhu the single malt brand into what was then known as a vatted malt (a mix of single malts from different distilleries), while retaining its overall character. Needless to say, this was deemed to be somewhat confusing to the consumer and, after a brief and somewhat farcical period when the distillery name was changed back to Cardow, the policy was dropped.
The fall-out from the incident resulted in a complete overhaul of Scotch whisky labelling regulations and the creation of a new term: 'blended malt'.
Today, Cardhu continues to act as 'home' for Johnnie Walker – complete with an impressive visitor centre – and bottlings of the single malt are once again increasing.
In 2018, Diageo revealed plans to spend £150m on upgrading tourism facilities across Scotland, including a new brand home for Johnnie Walker in Edinburgh, and improved visitor centres at Cardhu, Clynelish, Caol Ila and Glenkinchie, representing some of the regional styles present in Walker.
Cardhu's upgrade will highlight the history of the distillery, including the influence of Helen and Elizabeth Cumming. Access will be improved and an orchard created.
Timeline
1811

John and Helen Cumming start producing illicit whisky on their farm, Cardow

1823

Cardhu distillery becomes one of the first distilleries to obtain a licence

1839

John Cumming dies; by this time, his son Lewis is in charge

1872

Lewis Cumming dies, and his widow, Elizabeth, takes over

1884

Elizabeth completely rebuilds the distillery nearby

1893

Cardhu is sold to John Walker & Sons, although the family remains involved

1899

The distillery capacity is doubled with two new stills

1960

Cardhu's capacity is increased further, bringing its total number of stills to six

1963

Sir Ronald Cumming, John and Helen's great-grandson, becomes DCL chairman

2002

Cardhu is transformed from a single malt into a vatted malt to ease stock constraints

2004

Cardhu Pure Malt is withdrawn following a widespread industry backlash

2005

Cardhu 12 Year Old single malt is launched

2018

Diageo reveals plans to revamp Cardhu's visitor centre
Owners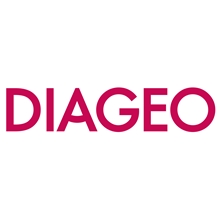 Current owner
Previous owners
Contact
Address

Cardhu Distillery




Knockando




Moray




AB38 7RY




United Kingdom

Phone

+44 1479 874635

Visitor Opening Hours

Monday

10am to 3pm (Oct-Mar), 5pm (Apr-Sept)

Tuesday

10am to 3pm (Oct-Mar), 5pm (Apr-Sept)

Wednesday

10am to 3pm (Oct-Mar), 5pm (Apr-Sept)

Thursday

10am to 3pm (Oct-Mar), 5pm (Apr-Sept)

Friday

10am to 3pm (Oct-Mar), 5pm (Apr and May), 7pm (June-Sept)

Saturday

10am to 5pm (Easter Sat and May-Sept)

Sunday

10am to 4pm (Easter Sun and July-Sept)