Excitement has been building over the past 12 months, ever since Glasgow's popular winter music festival, Celtic Connections, announced it was extending its reach into the world of whisky. Felipe Schrieberg reports on the inaugural event.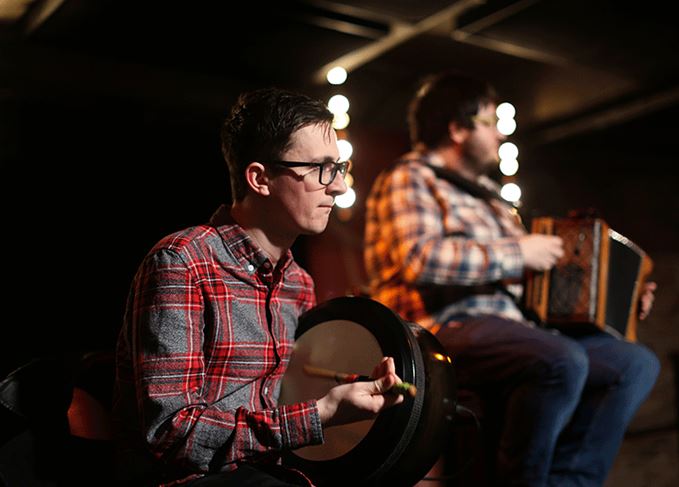 When one of Europe's top music festivals announced it was expanding into whisky, it was worth paying attention to what its organisers were cooking up.
Since its founding in 1994, Celtic Connections has boasted a programme spanning almost three weeks and featuring 2,100 artists from Scotland and all over the world, who descend upon Glasgow to host concerts, workshops, talks, ceilidhs and plenty of parties.
This year, they collaborated with Glasgow music promoter Synergy Concerts to create the National Whisky Festival (NWF), featuring performances from Celtic Connections artists while we punters – all 1,450 of us, split over two sessions – wandered across the floor enjoying our tipples.
The festival took place in SWG3 in Glasgow, a trendy warehouse venue more likely to host electronic dance nights than a whisky festival, but it worked surprisingly well. Lights normally used to illuminate the dance floor were instead firmly focused on different whisky exhibitors spread across two floors, while masterclasses proved popular in numerous other rooms.
The organisers emphasised four different components for the day, which was split into two sessions, each lasting 3.5 hours: music, masterclasses, food and, of course, whisky.
Synergy director Brian Reynolds told me: 'As this is our inaugural year, we're keen to make a statement with the entire festival. The location; the treatment of the venue; how we would handle the interweaving of music and culture into proceedings; and of course the very selection of the distilleries and other exhibitors have all been carefully considered to maximise the level of enjoyment ticket holders can expect on the day.'
Among the 40 or so whisky exhibitors, I was pleased to see a healthy representation of the industry from across the globe. New Scotch microdistilleries with products too young to even be legally called 'whisky', larger distilleries, independent bottlers, boutique blenders and a selection of world whiskies were all present.
To help our stomachs deal with all the whisky consumed in such a short amount of time, a variety of local Glasgow restaurants had also set up stands. Designers and photographers who specialise in whisky themes were also featured, and I happily purchased a set of Islay distillery postcards from the excellent designer Jane Taylor, herself based on the island.
It figures that one of the most notable elements of the festival was the music, given the NWF's link with Celtic Connections. A variety of artists both international and from Glasgow played 15-minute sets every hour, headlined by Québécois folk band La Vent du Nord.

Take your pick: Consumers chose from a wide array of whiskies from around the world

Personally, I could understand the choice to have such short sets. Too long a set and the musicians become nothing more than glamorous background music to the whisky. But too short, and it negates the point of having them on at all. The decision seemed to work, as healthy crowds gathered by the stage whenever musicians started playing.
Three-and-a-half hours, as any whisky fanatic knows, is a very short time frame indeed to be able to experience a whisky festival as thoroughly as possible, without rushing from booth to booth in a mad chase for drams – and that's before considering the masterclasses.
Among the many whiskies on offer, one surprising standout was the Paul John Peated Select Cask from India, boasting a full-bodied palate filled with gentle smoke and beef jerky.
The Northland from Wolfburn, the northern-most whisky distillery on the Scottish mainland, was superb for its young age (barely legal and three years old), full of bready maltiness, vanilla and undergirded by a smoky meaty finish. A good sign of things to come from a microdistillery that has had tongues wagging.
The chance to finally try the Cragganmore Distillers Edition for the first time at the Speyside Sessions masterclass was also welcome, with rich caramel and fruity elements of pears and peaches. Extra plaudits must also be given to the #LoveScotch pop-up bar, dedicated to creating delicious whisky cocktails throughout the day for anyone who wanted them. My favourite was a tropical number featuring Caol Ila Moch.
Overall, the National Whisky Festival certainly has promise, and made an ambitious first effort as it seeks to successfully blend together many different elements into one festival.
Despite large crowds, getting to and from masterclasses was pretty straightforward without the need to wait around for too long for anything. If I was to have one criticism, it would be that some masterclasses, at a bit short of 30 minutes long, created a rushed feeling at times.
The focus on music and art, the local food stands and the cocktails all added a nice touch to the affair, though I hope that for future iterations the festival will expand on its connection to music and other senses, and as a result occupy a unique space in the whisky festival circuit.