A day of surprises as the Islay Festival of Music and Malt splits its activities between two distilleries: Kilchoman, the youngest on Islay, and Jura, a short ferry ride away. Just don't ask about the weather. Becky Paskin reports.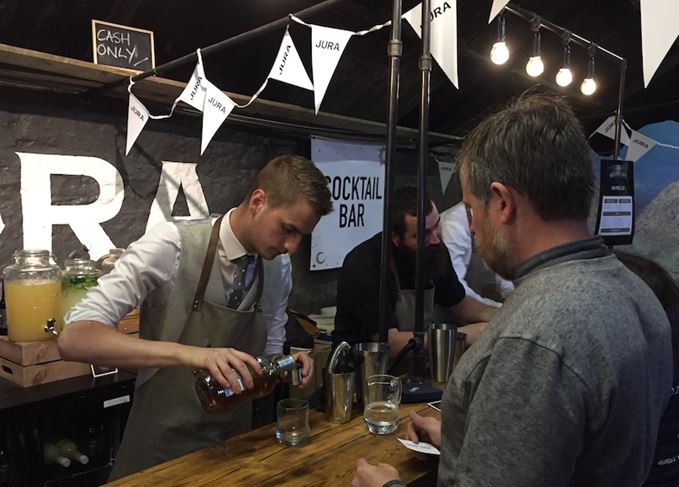 'Expect to be surprised today' was the line from Whyte & Mackay's newest whisky maker, Gregg Glass, as a room of quizzical faces stared back blinkingly. I hoped he was referring to the inclement weather, which showed no sign of letting up but, five minutes later, the understudy to renowned blender Richard Paterson was blowing bubbles made from Jura Tastival across the room.
Cue bouts of grasping in the air and open-mouthed goldfish gulps at a sea of frustratingly elusive, floating translucent whisky spheres. An altogether more pleasant surprise, in my view, particularly seeing as this was a Whisky 101 class.
I'd been curious to hear Whyte & Mackay's approach to teaching beginners – arming students with the right information from the start, and in an engaging way, can create an army of lifelong whisky fans.
Rather than the anticipated insipid patter on production process, wood influence and time, Glass focused solely on flavour. No mention of barley, distillation or (gasp) age. 'You'll be experiencing whisky in different ways today, some in liquid form, some in solid,' he explained.
Three drams – Jura Origin, Superstition and this year's Tastival bottling – were paired with sweet treats to invoke a sense of nostalgia as 'taste is directly linked to memory'. Each sweet, while admittedly flat on its own, was designed to accentuate certain qualities in Jura's whisky, whether the identifiably citric edge in Origin, or smoky notes in Superstition.
Before we could even touch the whisky, Glass presented a homemade limoncello (his wife is still cleaning the kitchen of lemons and spilled sugar), together with a small sample of Jura new make spirit and a tiny mint leaf. 'Consider each one separately,' he instructed. 'Now, mix all three together.'

Elusive spheres: Bubbles made from Jura Tastival were part of Gregg Glass's presentation

The zesty and overwhelmingly pungent limoncello, akin to washing up liquid, was transformed by the addition of mint and spirit into a drink resembling a glass of creamy, caramelised lemon meringue pie.
All very impressive, but what on earth was the purpose of this exercise? 'I wanted to demonstrate our approach to blending and creating a new product. We take inspiration from the characteristics of each individual cask and consider the ultimate flavour profile of the blend we're trying to create.'
Bingo. Blending for the uninitiated, explained on a level we can all understand: desserts. Considering Glass's background working under John Glaser at Compass Box for 11 years, I shouldn't have been surprised at all.
The whole set-up at Jura Tastival, which had returned to a one-day format after last year's two-day event, had a decidedly youthful energy – trendy, bearded bartenders from Edinburgh were making whisky Punches and Collins, while jam jars filled with sweets dotted tables in the cooperage, which had been transformed into a colourful barn lined with bunting. Beginners were in their element, whether first-timers or partners dragged along by whisky enthusiasts seeking out distillery bottlings.
That's not to say a geekier experience was elusive – while I was busy catching whisky bubbles, much like Charlie and Grandpa Joe in Wonka's chocolate factory, Jura distillery manager Graham Logan was giving visitors a hands-on tutorial in how to operate a distillery, including checking the spirit gauge, testing the mash and wash, rolling barrels and siphoning whisky from casks.
Although on a different island and held on quite possibly the worst day for weather during Fèis Ìle so far, visitor numbers were strong. A free ferry operated between Port Askaig on Islay and Port Feolin on the day, making the five-minute journey between the islands an easy transition.
Jura traditionally shares its open day with Kilchoman distillery, back on the other side of Islay. It's a 45-minute journey between the two (longer if you have the misfortune of being stuck behind a spirit tanker on a single-lane track), so a car is a must, particularly on rain-sodden days.
The distance, just like the rain, was nae bother as they say, and on arrival in the early afternoon Kilchoman's car park was overflowing, as was the distillery maltings which had been transformed into a music hall, lined with hay bales and wild flowers. The Blueswater, which had played at several open days throughout the week, generated such a roaring atmosphere that the downpours outside were irrelevant.

Roaring atmosphere: The Blueswater's music drowned out the downpours at Kilchoman

Every corner of the distillery had been utilised for Fèis: warehouses became tasting rooms, bottling halls became masterclass arenas, sheds became dramming bars, while every nook and cranny was crammed full of high-spirited visitors sipping on whisky and cocktails, strangers united through a shared grumble about the rain.
I bumped into distillery founder Anthony Wills, beaming and jubilant as always. 'How was Jura?' he asked me. 'Wetter than us?' Actually it was a tie, but it's how you make do that counts, and both distilleries adopted a typically Islay 'oh, well' attitude that rubbed off on visitors.
George Wills, Anthony's son and Kilchoman's sales and marketing manager, joined me in the visitor centre to help present one of the live reports Scotchwhisky.com has been posting every day of the festival so far.
Sadly I'd missed his one and only masterclass presented with his two brothers – Peter and James, who are also involved in the business – exclusively for Kilchoman club members. A tasting of some of the distillery's first releases, as well as a 2007 Sherry butt cask sample, the brothers regaled the room in typical Wills fashion with stories about the distillery's early years, and news of its upcoming expansion.
A quick stop by The Whisky Exchange's pop-up rare whisky bar at Ramsay Hall in Port Ellen, where an impressive list of vintage malts were on offer (a takeaway dram of 1977 Bruichladdich for me), made me reflect on how diverse Fèis Ìle is. An event for both beginners and nerds, drinkers and collectors, the festival unites all over a shared passion for whisky and Islay's intoxicating charm, whether that's slowly savouring a 1960s Bowmore or tripping through childhood nostalgia while munching on whisky-laced sweets.
Watch our video report from the open days at Jura and Kilchoman distilleries on day six of this year's Islay Festival…