Brussels drinks fair Spirit in the Sky represents the end of the festival season, as brands – from whisky to rum and Calvados – stand side-by-side as one. This is partly why the event embodies the spirit of camaraderie like no other, says Dave Broom.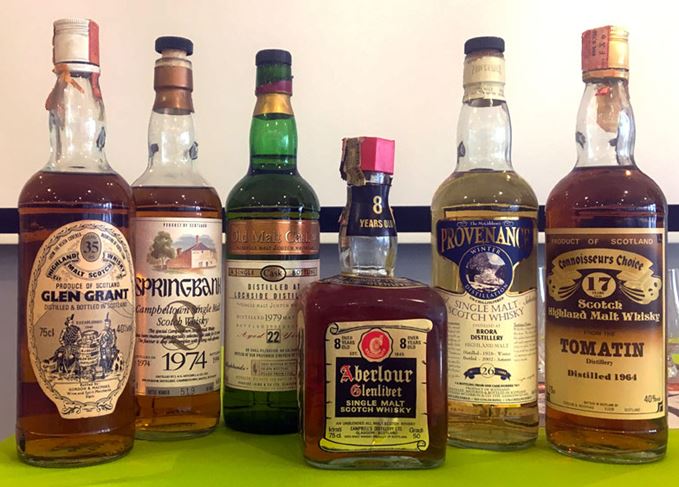 To Brussels, then, for the 10th anniversary of Spirits in the Sky, the annual two-day festival run by Belgium's importer/distributor/bottler/retailer The Nectar. 'The key,' says the firm's marketing and sales director Mario Groteklaes, 'is fun. We keep the numbers small so people have a chance to learn and enjoy themselves. It's a festival for the freaks and the retailers.'
Spread across the conference centre of Brussels' Thon EU Hotel were three tasting rooms, a shop, a bar and two masterclass spaces. The event kicked off in one of those, with the knockabout, but somehow still serious, 'Happy Masters' tasting of six rare-as-hen's-teeth malts (which will feature in one of our Old and Rare tastings soon).
'We want them to leave with a smile on their faces,' said Groteklaes as he balanced jibes with colleague Bert Bruyneel and the collector/doctor Paul Dejong, while also delving into deeper areas of geekdom with talk of rancio and, this being Belgium, yeast and fermentation.
Though Scotch dominates the offerings this, as its name suggests, is a showcase for all spirits. Rather than zoning the different offerings in the tasting rooms – rum here, grappa there, world whisky in one corner, Scotch somewhere else – everything was mixed together, allowing the visitor to slip easily from Scotch to Armagnac, to Bourbon, to Port, to Calvados and back to Scotch again.

Happy Masters: Paul Dejong, Bert Bruyneel and Mario Groteklaes enjoy a tasting of six rare malts

Arranging the exhibitors in this way (and having spittoons) kept all the stands busy and increased the chances of making some new discoveries and connections. The only exception was the gin area, which seemed to only fill up towards the end of the show on both days – the fact that it also contained a gin bar might just have contributed to that.
There were also two collectors' stands, weighed down with offerings of rarities for knock-down prices. One on show was a Highland Park from Caledonian Selection, the independent bottling firm owed by Anthony Wills in his pre-Kilchoman days. 'This was only on sale in Taiwan,' he told me, looking at this long-lost offering with some amazement, 'then the market collapsed. It was at that point I thought: let's build a distillery.'
Other independent bottlers had a hefty presence, with Douglas Laing, Cadenhead's, Blackadder, Wemyss, Berry Bros. and an extensive selection from Signatory Vintage (and a rare festival appearance by boss Andrew Symington).
The Nectar's own 'Daily Drams' range was, inevitably, also out in full force. These share a distinct house style – one where fruit, subtlety and complexity are to the fore, rather than wood or extreme flavour. Laid-back, but with lots going on – which when you think of it is pretty much the attitude of the festival.
For all the enthusiasm on show, retailers all expressed concern over legislative moves by the Belgian Government which have adversely affected sales in recent years. In November 2015, excise duty was raised by more than 40%, the third increase since January the previous year. It means that Belgium now has roughly double the amount of duty compared to three of its neighbours: the Netherlands, Germany and France, and almost three times as much as the fourth, Luxembourg.

Morning after: Bloody Marys were a welcome sight for many attendees on the second day

The situation formed part of a passionate speech delivered by Groteklaes while standing on a chair on the Saturday night. 'Belgium is a transit country,' he said. 'No matter where you live, you are just 45 minutes away from a border. Now, one bottle out of four consumed in Belgium is no longer bought here – and the government has lost €126m on VAT on alcohol in the first six months of this year.
'It's only the Minister of Health who is pushing this. It's ridiculous, and puts the industry here in a real crisis. Dutch internet sites are benefiting a lot from it, as is Luxembourg, while even whisky.fr now offers free delivery to Belgium. We have to stand together to get this changed.'
While this gave an important perspective to proceedings, it didn't spoil the party. There was a certain end-of-term feeling to events as the road-weary whisky warriors picked themselves up again for the last push before the much-needed Christmas break.
'I love this festival,' said Springbank's David Allen (fresh from an extended trip to China). 'It's the one where you meet up with your friends for one last bash.' A family reunion as much as a festival, and one which the public were invited to join.
While most of these events involve some form of importers' dinner, Spirits in the Sky to my knowledge is the only one which puts on a free buffet for guests and exhibitors, throws in a free bar and DJ, and lets the party run until breakfast is being set up. It could also explain why the queue for Bloody Marys at the show bar the next morning was so long.
Fun, community, education, sharing, friendship. It's what whisky should be about. Spirits in the Sky isn't your normal festival, but some others could do with a little injection of the good spirits which abounded in Brussels.