From historical accounts of Vikings and Arctic explorers, to fishing ports and even a little property investment advice, Tom Bruce-Gardyne travels through the Orkney archipelago to learn more about the region's whisky heritage.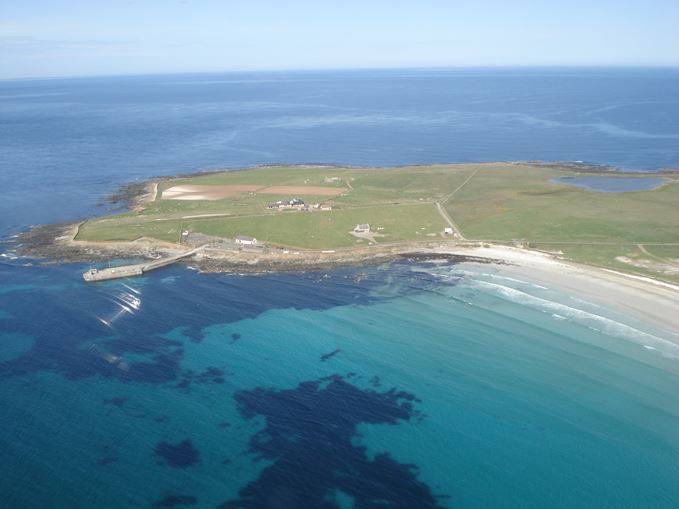 As we drive into Stromness, a mighty Viking looms into view. With flowing beard, fearsome gaze and horned helmet, he has come straight from central casting and is painted on the side of the Northlink ferry. The passengers appear peaceful – no rape and pillage this time – but my companion, Kinlay Francis, can't help wincing. This hoary old image, as familiar as Santa Claus, deserves a complete reboot in his view. 'Well, they didn't have horns on their helmets for starters,' he says. 'That's just a myth from the theatre and Hollywood.'
As the founder of specialist tour operator Orkney Uncovered, Francis could have been just the PR man the Vikings needed. By the 9th century AD, their longboats had reached Orkney – an archipelago of some 70 islands, which they soon colonised.
As well as being an obvious stepping-stone across the North Sea from Norway, it was an ideal launchpad for raids on coastal monasteries and settlements around Britain and Ireland. Orkney remained under Norse rule until it was annexed by the Scots for non-payment of a dowry following the marriage in 1469 of Margaret of Denmark and James III of Scotland – of which more later.
I had read somewhere that Inverness-to-Orkney was Britain's first ever scheduled flight in 1933. Passengers boarded a precarious-looking biplane, sat frozen on canvas chairs bolted to the floor and flew to the island capital of Kirkwall via Wick for £5 return.
Compared to which my cosy, direct flight from Edinburgh was the lap of luxury – and nothing like the ferry endured by Alfred Barnard on his great Scotch whisky odyssey in the 1880s. The poor man spent five hours crossing the Pentland Firth, where the Atlantic funnels into the North Sea around the northern edge of Scotland. He wrote:
'Within a quarter of an hour of leaving the harbour, we were in thick of it… One moment in the air, and the next in a seething cauldron of enraged waters.'
Following in Barnard's footsteps, I set off for Highland Park – still the most northerly whisky distillery in Britain, though maybe not for much longer. Rumours trickle south that Shetland's drawn-out saga with whisky distilling may finally be nearing a conclusion.

Sunny Stromness: Explorers used the fishing port to pick up men, supplies and whisky

In the meantime, this distillery's passion for Orkney's fiery past has cooled a little. In 2012, its Valhalla collection unleashed first Thor, the Norse God of thunder and lightning, then Loki, Freya and lastly Odin. Today's Highland Park has relaxed into being 'the Orkney single malt with Viking soul'. Somehow it sounds a bit softer.
Either way, the distillery appears to have changed little since its last big overhaul in 1907. The same bittersweet whiff of peat smoke still billows from the twin pagoda roofs and drifts down to the compact stone courtyard, as it always has.
Sadly, we couldn't see the floor maltings in operation the day I was there, but my guide Mark took me up above the old kilns. We watched as the damp, warm malt soaked up the heathery blue smoke from the peat below. On the way back, he pointed to a washback, saying: 'That's Siberian larch – it's what the Vikings made their longships from.' Apparently they also worked out how to cut planks at an angle to prevent leaks – a technique that was later adopted by coopers for their staves.
In Barnard's day, everything was sourced locally, from the ancient bere barley and peat from Hobbister Moor, to the sprigs of heather that were lain on the fire for added sweetness. The old 'heather house' where the heather was stored has long gone, while four-fifths of the malt is now shipped in.
And yet there is still a self-sufficient feel to Highland Park that reflects Orkney itself. On this side of the Pentland Firth, people famously refer to the main island as the mainland, and many see themselves as Orcadian first, British second and Scots a distant third. 'I've lived up here so long,' says Kinlay Francis, 'I find myself saying: "Oh, Scotland's just across the water there." It's ridiculous – we're part of Scotland, but we feel separate.'
It is said that one-third of the islanders have Viking DNA – something Magnus Eunson, the nefarious smuggler and part-time preacher who founded Highland Park, must have had in spades. And that a majority would rather be part of Norway if the Norwegians could somehow pay off that old wedding dowry, estimated at £7m for Orkney and £2m for Shetland in today's money.
The idea of Scotland bravely going it alone after voting for independence, only to find it had lost both islands and most of its oil, has a certain comic irony to it. Just imagine how Nicola Sturgeon would react if Orkney and Shetland ever did declare UDI...
But, whatever the politics, these islands are certainly different. There are none of the Gaelic road signs that pepper the Highlands, nor many kilts, and instead of saltires you are more likely to see the island's Norwegian-looking flag fluttering in the breeze.
To be honest, the word 'breeze' doesn't quite cut it for the third-windiest place in Britain. When Billy Connolly claimed that mums in Kirkwall tied their babies to their prams to stop them blowing away, he was only half-joking. Back in 1850, Orkney's famous Stone Age village of Skara Brae was revealed by a storm that removed an entire sand dune.

The Old Man of Hoy: Europe's tallest sea stack lost one of its 'legs' 300 years ago

But if you really want to feel nature in the raw, you should head for the outlying island of Hoy. Here the Atlantic breakers batter the cliffs with such force that it can make the ground shudder half-a-mile inland, while the waves toss up boulders like pebbles to create extraordinary natural sculptures like the Old Man of Hoy. At 450ft high, Europe's tallest sea stack stood on two legs until 300 years ago, when the sea swept one of them away. One day the Old Man himself will be toppled.
The Vikings founded Kirkwall – or Kirkjuvagr, meaning 'church in the bay' – in the 11th century after they converted from paganism. It began under King Olaf of Norway, who took a fundamentalist, jihadi-style approach to religion. 'Olaf was a tyrant,' says Francis. 'Instead of a "let's be nice and have a gradual movement to Christianity", he murdered anyone who refused.'
Things got easier after Olaf and, in the end, the Viking legacy was positive – certainly compared to the brutal Scottish earls who came next.
Orkney's only other town of Stromness is a classic fishing port that supplied most of the workforce for the Hudson Bay Company in the late 18th century. Their ships and those of Arctic explorers and whaling fleets would come here to recruit men and pick up supplies, including fresh water and whisky. 'And there were the British Navy press gangs who used to hide a shilling in the bottom of a pint to see who would "bite the King's shilling",' says Francis.
One wonders how many Orcadians fell for that old ruse. Either way, the town was soon engulfed in the herring boom. Thousands came to man the boats and gut, pickle and pack the fish into barrels on the seafront – and to drink whisky, causing all manner of 'outrageous and turbulent proceedings', to quote a report from 1842. It was clearly a similar story to Wick and Old Pulteney – and, like Wick, Stromness voted to go dry in 1920, causing the Stromness distillery to fail eight years later.
Gazing out to sea, my companion points to a small island for sale. It comes with a six-bedroom bungalow, its own wind turbine and jetty, and they throw in a second island for free. At just £300,000 – probably less than a garage in Chelsea – it is certainly tempting. The endless summer nights would be heaven, but would I survive the long months of winter? Somehow the darkness and the whisky might be a dangerous cocktail.
For private tours, contact Kinlay Francis at www.orkneyuncovered.co.uk.

Travel in style: Loganair offers daily flights from mainland Scotland to Kirkwall

Getting there
By air: Loganair operates a daily, direct service to Kirkwall from Edinburgh, Glasgow, Inverness and Aberdeen, on behalf of Flybe.
By sea: Northlink Ferries operates a daily service from Scrabster (near Thurso) to Stromness, and from Aberdeen to Kirkwall, while Pentland Ferries operates from Gills Bay in Caithness to South Ronaldsay.
Where to stay
Visit Orkney can help with accommodation, but good options include the Orkney Hotel in Kirkwall with its award-winning restaurant, the Ferry Inn in Stromness and the family-run Bellevue Inn in South Ronaldsay.
Where to eat
In Kirkwall, Helgi's, St Ola Hotel and the nearby Foveran. The best option in Stromness is the Ferry Inn.
Activities
Aside from whisky (Highland Park and Scapa), Orkney is rich in ancient sites like Skara Brae, the Ring of Brodgar, and the Neolithic burial chamber of Maeshowe. And there is endless scope for island-hopping with personal favourites being Hoy, Rathsay and Papa Westray at the end of the world's shortest flight.
And, if visiting Kirkwall for Christmas or New Year, there's no escaping the uniquely Orcadian street football match known as the Ba'.