No fruit is more strongly associated with autumn than the apple, in all its versatile forms and flavours. It's a great seasonal staple in a range of savoury and sweet dishes – and the perfect match with a variety of whiskies. Martine Nouet reports.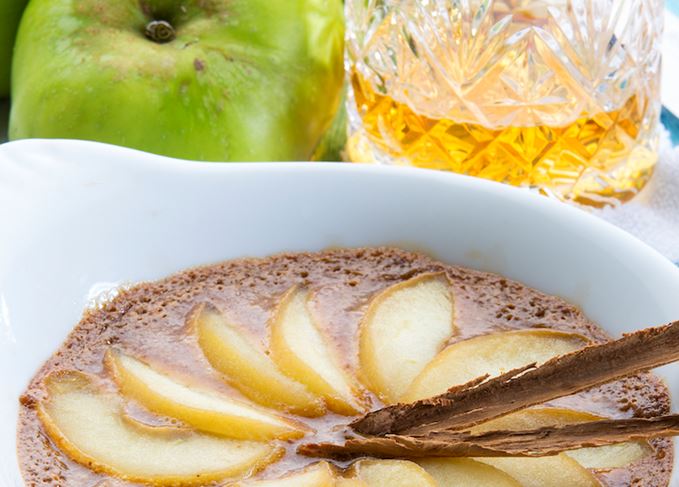 When it comes to fruit, apples (and pears to a lesser extent) are the stars of autumn. Each of us has childhood memories of biting into a juicy apple on our way to school, or salivating at the freshly baked apple pie made by granny for afternoon tea.
In Normandy, where I was born and grew up, we were rather offered a glass of freshly pressed apple juice or 'new' apple cider, even as kids. October and early November was cider season, and the air was filled with this sweet, fruity fragrance as tractors relentlessly conveyed their loads of coloured apples to the cider press in the farms.
I loved lending a hand to gather the apples in the orchards. I also loved picking up table apples, anticipating the delicious cakes and tarts that my mother and my granny would make out of them.
We were spoiled with the best varieties of cooking apples. One of them, La Calville Rouge, stays in my memory as the 'madeleine' which inspired French writer Marcel Proust's famous words about olfactory memory. When I take a bite of this plump, melt-in-your-mouth fruit, it awakens childhood memories.
Calville apples are dark red, nearly crimson and offer a perfect balance between sweetness and sourness. I can't really think of an equivalent in the varieties we can find in shops. As cooking apples, I will always buy Bramleys (more sour than 'my' apple) when I am in UK, and Boskoops when I am in France. If used raw, I would recommend Cox's Orange, Braeburn or Granny Smith, which are juicy and crunchy.
But I would totally ignore mass-production varieties such as Golden, Fuji, Elstar, Pink Lady or Royal Gala. I find some have this unpleasant nail varnish taste, and a watery flesh which makes them soggy when you cook them. When you have been used to the best, you certainly become fussy. I'd recommend buying apples at farmers' markets or at your local retailer.

Calville Rouge: This variety of apple evokes a Proustian mood of nostalgia in Martine Nouet

Anyway, apples and whisky gang together in more than one way.
The apple note appears in many single malt whiskies, ranging from raw green apple to caramelised cooked apple in the Tatin style, or cider apple. These notes are often associated with spices, cinnamon, nutmeg and ginger. Even when considering floral flavours, one can find the apple blossom character, tinted by a touch of honey.
To me, these flavours are often characteristic of Speyside single malts, although – being used to nosing Calvados from an early age – I may have a greater sensitivity to this character.
How can we combine whisky and apples on the plate? Such a versatile fruit offers a wide array of combinations: savoury dishes as well as sweet ones, raw or cooked, in juice, purée, chopped, grated or sliced. You can also accentuate the flavours by using apple juice, cider or cider vinegar.
Here are a few suggestions with a selection of good pairing whiskies.
SAVOURY
Add thin slices of a green apple (Granny Smith) to a walnut, blue cheese and endive salad, with a French mustard dressing. They will add a crunchy texture and a sour note, which will complement Clynelish 14 Year Old.
Mix grated apples (Cox's Orange, for instance) with black pudding in a flan, or with grated cheese in a quiche. The apple will give a softer consistency. Knockando 12 Year Old, Strathisla 12 Year Old or Glen Garioch Founder's Reserve will work well here.
Cook sour apples (Bramley or Boskoop) and purée them. Add a big spoonful of this apple purée to a roast sauce – especially pork – to give a fruity flavour. Also, instead of adding water to the oven dish before cooking the roast, choose a good organic apple juice, and add a tablespoon of cider vinegar to balance the sweetness. The same whiskies as above will be best for the pairing.
Apple chutneys (with spices, raisins, honey) will accompany Comté, Cheddar or any matured hard cheese. Aberlour 16 or 18 Year Old, The Glenlivet 15 Year Old or Glenrothes Vintage Reserve will be a good match with the spicy apples.
Cider can also be chosen to poach apples, served with meat or added to a sauce reduction.

Bearing fruit: Autumn is the perfect time to enjoy all manner of apple-accented dishes

SWEET
Who could ever get tired of the traditional apple tart? There are many ways of presenting it. In Normandy, we make the shortcrust pastry with a generous quantity of butter.
I personally prefer a whole fruit tart, with a layer of stewed apple on the pastry, covered by apple slices. Then a dusting of brown sugar and, when the tart is cooked, a shiny addition of soft apple jelly on the top.
The best is to serve it warm, with a quenelle of crème fraîche laced with whisky. Invite Glenfiddich Solera Reserve, The Glenlivet Founder's Reserve, Longmorn and similar single malts to the table.
Poached apples served with ice cream or a salted caramel sauce are a perfect autumnal dessert. Poach Cox's Orange or Boskoop apples in cider or apple juice with spices. Make a caramel that you will stop by adding double cream and knobs of salted butter.
Present the apples in glass bowls, top them with the sauce or make a gratin, pouring the sauce into a porcelain dish and covering it with apples, then brown them under the grill. To be enjoyed with GlenDronach 12 Year Old, Macallan Gold or Glen Moray 16 Year Old.
Now fill your basket with the best apples you can find on the market and remember the old saying that 'an apple a day keeps the doctor away'. So does a good dram, apparently.