Scotch is finding its way into more classic cocktails as bartenders – and whisky drinkers – experiment with flavour. As the most complex and diverse whisky style, it's about time Scotch Old Fashioneds had their day, and this Old Fashioned Week (2-11 November) is the perfect time to explore them. Becky Paskin reveals the best London bars to track one down.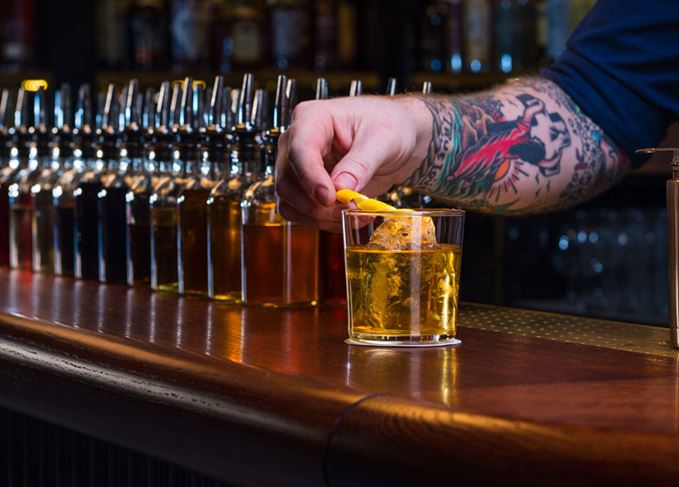 The Old Fashioned is arguably the most recognised whisky-based cocktail on the planet. And one of the simplest too.
It dates from the early 19th century, when it was widely known as a Whiskey Cocktail, under the 1806 definition of a cocktail as the combination of any kind of spirit, bitters, sugar and water.
Over time, the Whiskey Cocktail became corrupted with the addition of muddled fruit and an unhealthily large slug of sugar syrup, quite possibly to compensate for the poor-quality spirits available during Prohibition in the US. Following its Repeal and the widespread availability of quality whiskey, purists began asking for the drink to be made 'the old-fashioned way'.
Today the Old Fashioned has become a staple cocktail on bar menus around the world, where it's listed in its purest form – a blend of whisky, sugar and bitters stirred down over ice. Traditional recipes call for Bourbon or rye whiskey and a few dashes of Angostura Bitters, but in the modern cocktail age inventive bartenders have devised creative twists designed to heighten the existing flavours in the base whisky, utilising a rainbow of flavoured bitters and exotic garnishes.
Scotch, being the most complex style of whisky, lends itself perfectly to being mixed in an Old Fashioned, particularly when its supporting ingredients are used in synergy to pronounce specific flavours.
With Old Fashioned Week upon us (2-11 November), there's no better time to switch your regular, reliable Bourbon-based Old Fashioned for an updated drink with a Scotch twist. Here are a few suggestions of where to find a Scotch Old Fashioned in London, the cocktail capital of the world.
Merchant House of Fleet Street
8 Bride Court, EC4Y 8DU; merchanthouselondon.com

Big Malt Easy
Monkey Shoulder, Salted Malt Extract, Uncle Kieran's Toasted Barley Bitters, Angostura Bitters, garnished with a small stout.
Nate Brown, co-owner of Merchant House, says: 'At the Merchant House bars, we very much take the Old Fashioned as a style, not a recipe, which allows us to highlight some of the best things about Monkey Shoulder, namely the malty profile. The salted malt extract brings an unexpected freshness, whilst the stout complements the richer notes.'

London Cocktail Club, Shoreditch
Unit 12, 229 Sclater Street, E1 6HR; londoncocktailclub.co.uk

Strongfashioned
Monkey Shoulder, Bourbon, Ferro China Baliva, Maple Syrup, Black Walnut Bitters, Angostura Bitters and an orange zest garnish.
Mattia Conti, bar manager of LCC Shoreditch, says the Strongfashioned is a meeting of Scotland and the US. 'Our main focus at the London Cocktail Club in Shoreditch is around American whiskey, but we were keen to mix things up with the inclusion of Monkey Shoulder, which fits really well in this drink.'

The Bloomsbury Club
16-22 Great Russell St, WC1B 3NN; thebloomsburyclub.com

Mark Gertler
Chivas Regal 12-year-old, Byrrh, Luxardo Maraschino, Angostura Bitters
Brian Calleja, bar manager at The Bloomsbury Club Bar, believes the Old Fashioned to be 'one of the most venerable drinks in cocktail history'. The bar serves its own twist on an Old Fashioned, using Chivas Regal 12-year-old, Byrrh and maraschino, which is named after a British artist. 'Mark Gertler was a well-known successful artist/painter of society portraits and became acquainted with the Bloomsbury Set after falling in love with one of its members,' says Calleja. 'His paintings are held in numerous public art collections.'

The Ivy
1-5 West Street, WC2H 9NQ; the-ivy.co.uk

Umami Old Fashioned
Glenmorangie 10 Year Old slow-cooked with porcini mushrooms, apricot brandy and cardamom bitters.
Mushroom is the flavour of autumn (and a cocktail trend if you ask us), so infusing it in a Scotch Old Fashioned at this time of year is a fitting way to celebrate the season. Darren Ball, bar manager of historic West End restaurant The Ivy, which celebrates its 100th anniversary this year, created a drinks menu inspired by a playbill.
Split into four 'acts', the menu covers four eras of cocktail trends. The Umami Old Fashioned can be found in the Age of the Bar Chef section and is an autumnal blend of Glenmorangie whisky and porcini mushrooms, with sweet and herbal notes of apricot and cardamom.

Swift
12 Old Compton Street, W1D 4TQ; barswift.com

The Fourth Gentleman
Chivas Regal 12 Year Old, Umeshu and crème de poire
This Old Fashioned-style libation can be found on the menu at the downstairs bar at Swift, one of the newest openings in London's Soho. Devised by co-owner Bobby Hiddleston, The Fourth Gentleman is a rich, deep yet elegant take on an Old Fashioned, the addition of umeshu and pear liqueur heightening the fruity characteristics of Chivas Regal.
'People are almost forgetting about Scotch to an extent and we want people to come up and try something they've maybe never had before, and remember Scotch is still there and still very vibrant,' Hiddleston says.

Devil's Darling at The Napoleon Hotel
9 Christopher Street, EC2A 2BS; napoleon-hotel.com/the-devils-darling

Old Fashioned
Johnnie Walker Gold Label Reserve, Caol Ila 12 Year Old, sugar syrup and Angostura Bitters, garnished with an orange twist.
The combination of soft and sweet Johnnie Walker with a hit of smoky Caol Ila from Islay creates a rich, complex and softly smoky Old Fashioned. Jaz Arwand, bar manager at Devil's Darling, says the classic cocktail may be a simple go-to, but when done properly it is delicious.
'Old Fashioneds, to me, are a solid pinnacle within the drinking world. It's easy to overdo an Old Fashioned, but you just have to keep the whisky choice at the forefront of the flavour you want to create. Mixing Johnnie Walker Gold with a smoked whisky is my dream. Adding that small amount of Caol Ila makes the drink pop with smoke for a while longer than expected.'

Mr Lyan's Bonfire Old Fashioned
Available for £29.95 from thewhiskyexchange.com; and masterofmalt.com

Mr Lyan's Scotch, cola bitters, lapsang souchong tea.
If braving the cold weather and streets of London bustling with Christmas shoppers is too much to bear, cocktail supremo Ryan Chetiyawardana has created the perfect solution. You can still enjoy a Scotch Old Fashioned from the comfort of your couch with Mr Lyan's Bonfire Old Fashioned, a cocktail based on a blended Scotch designed to mimic old-style blends – fat, fruity, waxy and a touch smoky.
Combined with cola bitters and lapsang souchong tea in a ready-to-serve bottle, it's probably the easiest way to explore Scotch's role in the world of Old Fashioneds. Order online, chill and pour. Simples.
Not based in London? Browse the Old Fashioned Week website for bars near you showcasing their version of the classic cocktail.