Master distillers are often idolised by whisky lovers around the globe. But as the digital world evolves and industry innovation thrives, the role of the master distiller has changed enormously in recent years. Ian Wisniewski reports.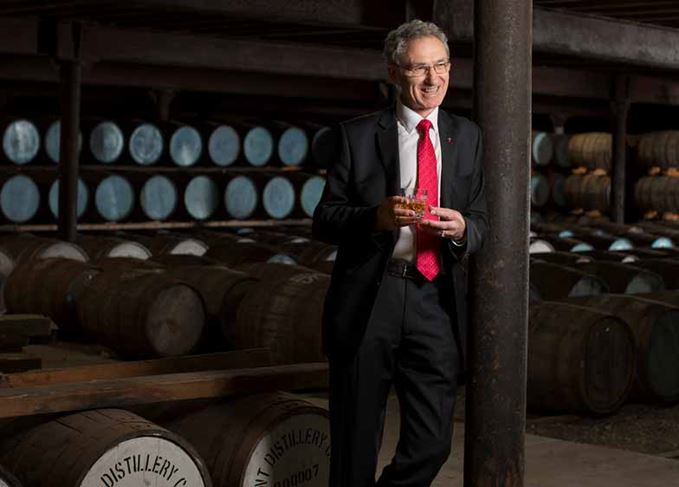 Seeing film stars, pop groups or sports idols is very exciting for many people. But some of us are looking at another celestial firmament, and the stars we long to see are master blenders and master distillers, striding the red carpet of the whisky world.
What a great double act they make! After all, without master distillers the master blenders wouldn't have anything to blend, and the success of every whisky begins with the quality of the new make spirit.
Consequently, being a master distiller is an enormous responsibility. It's also a role that has evolved significantly over the past 50 years, which means anyone working in the industry long-term has witnessed major developments.
The title of master distiller is granted by individual Scotch whisky companies (though there isn't a standard approach as some companies use other titles which entail similar responsibilities). So, what is a master distiller's job description?
'On a typical day I walk around the distillery supervising and monitoring, checking all the control panels and chatting to all the individual operators who have been trained to supervise each stage of production. These operators are key; they don't work for you, they work with you,' says Dennis Malcolm, who has worked as Glen Grant's master distiller since 2006.
This reflects how computerised production has become, which means master distillers also need to be masters of technology.
'The technology can be compared to providing skilled craftsmen with a superior set of tools to deliver an ever-improving quality product, as they are able to control the inputs to their craft with far greater precision,' says Nick Savage, who was appointed Macallan's master distiller in 2016.
In addition to greater control, technology also, of course, provides significant reassurance. Malcolm adds: 'I know that I and all the operators feel the benefit of computer control. The fact that it's constantly checking every single millisecond means the process is always monitored and maintained to perfection, thus protecting and ensuring a consistent quality of spirit. Of course, it takes someone to set the parameters for this consistency, which is the main reason that I am here.'
This level of automation is the result of evolution, though some master distillers, such as Malcolm, still remember how things used to be: 'When I started at Glen Grant, in 1961, there were a lot of green and red buttons and handles in the distillery. It was very hands-on, as we operated all the machinery manually.'
And then everything changed.
'It was in the 1970s that technology came into the industry,' Malcolm continues. 'Initially, this resembled a video player in which small cartridges were placed. One cartridge controlled milling, another mashing, and so on. You saw a diagram, flicked the monitor to automatic, selected the right grist bin, opened all the valves, and it effectively ran the process for you, though we did of course carefully monitor each stage.'

New generation: Nick Savage was appointed Macallan master distiller in 2016

The next change was in the early 1990s, when more sophisticated computerisation arrived. Needless to say, technology, and the role it plays, has continued to evolve.
'How well and how quickly a computer presents the data, and how we interpret this data, has improved enormously in the last 15 years,' says Stuart Watts, Girvan site leader, William Grant & Sons.
Moreover, it's not simply a case of loading software onto a computer and logging on, as there's hardly a 'standard' program that suits every distillery.
'No two distilleries are fundamentally the same,' explains Watts. 'For example, the stills are different sizes, distilling rates vary, and so on. These differences are very important for the uniqueness of each distillery. Consequently, there is a lot of customising that our in-house experts have to do to the software.'
And, however useful computerisation is, it has limitations. A computer can indicate a problem, but can't fix it. That's when human expertise takes over. Various issues can arise, as working with natural resources entails a number of variables.
'If your water source to cool the condensers is a river, the water temperature can change by 10C between summer and winter. If the water is warmer, the condensers have a different influence, which affects the new make spirit character, so we have to step in and make adjustments,' says Watts.
While there are still situations to deal with in person, ever more sophisticated technology and greater knowledge of the production process have also helped to redefine the role of a master distiller.
'Decades ago, distillation, casks, maturation and whisky-making would all have been individual responsibilities for different people, and most likely within different areas of a business,' says Savage.
'The current role of a master distiller encompasses the whole stream, as the understanding behind each area is far greater in relation to the impact on the final product, and therefore needs to be monitored through one entity, with the support of all the expertise in each area.'
Another way of quantifying all the changes is to remember what has remained the same, such as looking after the day-to-day production and quality of malt whisky. 'Another aspect of production is all the accompanying administration, but at least I don't have to remember to send my financial figures every week; the computer sends them automatically,' says Alan Winchester, who has been The Glenlivet master distiller since 2009.

Hands-on approach: The Glenlivet's Alan Winchester is pleased some aspects of whisky making have been computerised

Consequently, the various advantages of computerisation enable master distillers to have more time for other responsibilities, such as leading a tasting panel to assess new make spirit. And intense interest in malt whisky also means continual demand for new expressions.
'Creating new products now takes up much more of my time. I'm always experimenting at the distillery, looking at new cask types that we could use, and selecting casks of mature malt whisky to create new expressions,' adds Malcolm.
New product development also uses computerisation, albeit in practical rather than creative ways.
'At Chivas Brothers we have a vast inventory and the computer allows for huge stocks of casks to be very well managed. Using a computer to look through the available stocks and order up samples is far easier and quicker than thumbing through a ledger, which is how it used to be done,' says Winchester.
Having created a new expression, there's then the launch to plan, bearing in mind that Scotch whisky fans have certain expectations of how this should be done, ie by the master distiller making personal appearances at whisky fairs and other events.
'Ambassadorial work is a very enjoyable part of the role, as it's great to interact with people who enjoy the products and have such a passion for the detail behind the production,' says Savage, 'plus I can talk to people for hours on this. However, there has to be a balance as the quality of products is always the number one priority, so time away from the day job has to be planned well in advance.'
We have to hope that planning gives us the maximum number of opportunities to see our idols. Being able to taste a new expression in the presence of the master distiller who created it certainly heightens the sense of occasion. And it's a great pleasure to applaud a maestro in person, while also hoping for an encore.