For years rising whisky demand has encouraged distilleries to prioritise yield. Now, as new distilleries come online and more experiment with the boundaries of flavour creation, yeast's role has come front of mind. Dave Broom investigates.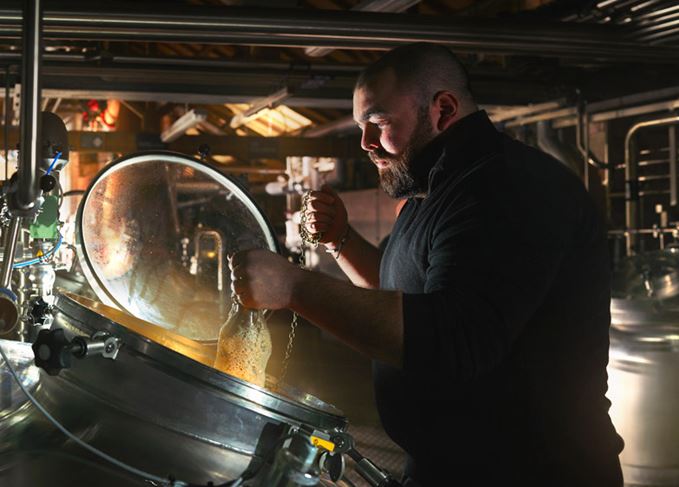 Where does a whisky's flavour come from? Barley? Distillation? Wood? Think again. In the words of Dhavall Gandhi, master blender at Lakes distillery, 'fermentation is the frontier that offers tremendous possibilities in terms of flavour creation'. That, in turn, means looking afresh at the influence of yeast.
It might not be surprising in the week that Glenmorangie's Allta (claimed to be the first whisky in the modern era to be made using a distillery's own yeast strain), was launched that Gandhi finds an ally in Dr. Bill Lumsden, whose career started in yeast physiology. 'It's an area which is close to my heart,' Lumsden says. 'Yeast is one of the great unexplored areas of whisky flavour.'
Ever since the phasing out of brewer's yeast in the 1970s, the Scotch industry has used the 'M' strain of distiller's yeast. Now it appears that yeast is suddenly being talked about, though as Lumsden points out, his experiments started more than 20 years ago.
It is not as if Scotch distillers have lived in a bubble. It is widely accepted that yeast strains can have an effect on flavour, so why have they been so apparently resistant?

Fields of glory: Glenmorangie discovered its house yeast strain amid its Cadboll barley

For Ian Palmer, managing director at InchDairnie, 'circumstances dictate direction. It was quality, consistency and economics that drove the yeast type.' In other words, yield.
'Scotch distilleries have had no reason to look at this vital ingredient in the past because yield has become the industry obsession,' was how Lone Wolf's distiller Steven Kersley saw it.
'The 'M' strain is one tough cookie. It's efficient, converting almost all fermentable sugars into alcohol, and does this at great speed, which nicely increases a distillery's working capacity. This yield obsession has meant a great opportunity to introduce different flavours has been missed.'
However it seems that things are shifting. For Glenmorangie it started by looking at yeasts on its own barley fields. 'I knew that barley was a good place to start,' Lumsden explains, 'So Gillian [Macdonald] and Karen [Fullerton] ran with it.' They took swabs from the Cadboll estate barley, which the distillery uses for 1.5 weeks a year, and then worked with yeast research and development firm Lallemand to isolate a strain, then culture it to commercial levels. The result is a new strain called Saccharomyces diamath [Gaelic for 'God is Good'].
While the utilisation of new strains appears to represent a sudden shift in thinking, the decades-long timescale suggests otherwise. A similar lengthy process is also underway at Diageo.
'We're fortunate to have the scope and resources to be running experiments on a constant basis,' says Richard Cowley, distillery manager at the firm's Leven pilot plant. It starts with bench trials, which can then be scaled up to 500kg cereal batches at Leven. 'This allows us to lay down casks, which is invaluable to our blenders as it provides a huge insight into how the spirit will perform.
'Right now, we have full-scale batches maturing under the watchful eye of the whisky specialist team. I can imagine in five to 10 years some of these trials appearing on a whisky bar somewhere near you.'

Pilot plant: Diageo conducts the majority of its whisky experiments at its Leven test facility

Yeast trials have been part of the original concept at many new distilleries. At Lakes, Gandhi is using yeasts from Pinnacle, Fermentis & Lallemand and is in the process of trialling a fourth strain.
'The new make is divided into three distinct groups based on aroma and flavour profile,' he explains. 'Each group is distilled separately using a unique yeast strain and fermentation profile, then the groups are blended to create a final spirit with the desired quantity of base, middle and top notes.'
At Lone Wolf, trials started with ale, wine and distillers' yeasts. 'We knew it would play its role in determining new make flavour profiles, but its impact was incredible,' says Kersley. 'The red wine yeast delivers big on dark and stone fruits. The distiller's yeast helps with showcasing malt flavours and supports in areas where the other yeast struggles.'
InchDairnie's Palmer has worked with supplier Mauri with a number of different ale and wine yeasts in combination with its standard distillers' yeast. Kingsbarns meanwhile uses two strains ('M' and a fruit-generating strain from Lesaffre) for its ferments.
Creating a wider range of flavour was not the sole learning from the trials. 'When we used Saccharomyces diamath, the new make was immediately different, and yields were substantially lower, which made it all the more compelling for me,' says Lumsden with evident glee. 'I've always had a gut feeling that the lower the yield is the tastier the spirit.'

Flavour creator: Yeast produces both alcohol and congeners during fermentation

​​​​​Yield is of secondary importance to Gandhi. 'I select a yeast based on the congeners it produces. Whisky is all about creative expression. As the writer Haruki Murakami once said: "If you only read the books that everyone else is reading, you can only think what everyone else is thinking".'
While the work done by Glenmorangie and Diageo shows that yeast trials are industry-wide, is it of greater importance to new distillers needing to establish a point of difference?
'Some of us are foregoing efficiency gains and replacing this with added value from a different direction, a differentiated flavour profile,' says Palmer. 'Yes, this is particularly true of the newer distillers where differentiated flavour is key to building a brand and there is little baggage holding things back.' Yeast can be an additional element within a large player's portfolio, and it can help define a newcomer's character.
Yeast's role in whisky's flavour matrix may be rising, but it is only one element within many. As Palmer says, 'Yeast is part of the mix. We are working with different cereals, malts and processing parameters. The yeast selection is complementary to the development of the flavour. It is the distillery and the maturation as a whole that matters.'
This is borne out at Lone Wolf, where the yeast trials have been run in tandem with work on barley varieties Maris Otter and Golden Promise. This, in turn, has led Kersley to develop a different distillation regime, running a high reflux, single distillation which in his words gives 'an oily distillate full of esters but which, importantly, is bold on the Marris Otter and Golden Promise malt'.

All about flavour: Spirit yield is of little concern to LoneWolf distiller Steven Kersley

​​For Cowley it was all part of a natural evolution of whisky. 'I think that as consumers we're looking for new experiences, new knowledge and stories, so naturally as an industry there is an openness to embrace the opportunity.
'We can see this with changes to the standard mash bills using more specialised malts, yeast strains and differing maturation regimes. It's really an exciting time for innovation in Scotch.
'There's a whole world of flavours that we can unlock with yeasts, which helps us to have new conversations with consumers. For me that can be only a good thing.'
Are we now at the start of a step-change in whisky's development? Neither Palmer nor Lumsden feel so.
'We will continue to use Saccharomyces diamath once a year and it's not outside the realms of possibility that it may be joined by other strains,' said the latter. 'The research time, the cost and the drop-off in yield mean I don't see this as a step-change. The industry is still driven by efficiency. But if you want flavour, yeast is one area to explore.'
Kersley was more bullish. 'The curious among us wish to understand how to move the needle on flavour and develop new flavour concepts for the betterment of whisky. Yield doesn't come into the conversation.
'With the flavour impact being so tangible, yeast will undoubtedly make up a big part of this conversation in the future. As distillers, we have a responsibility to learn and explore this as much as possible.'
Something new is clearly bubbling away under the surface.