The discovery of the earliest known reference to a still in Aberdeen is just the latest in a series of exciting finds in the field of whisky archaeology. In the years to come, reports Richard Woodard, further light could be cast on the dark and mysterious early days of Scotch whisky.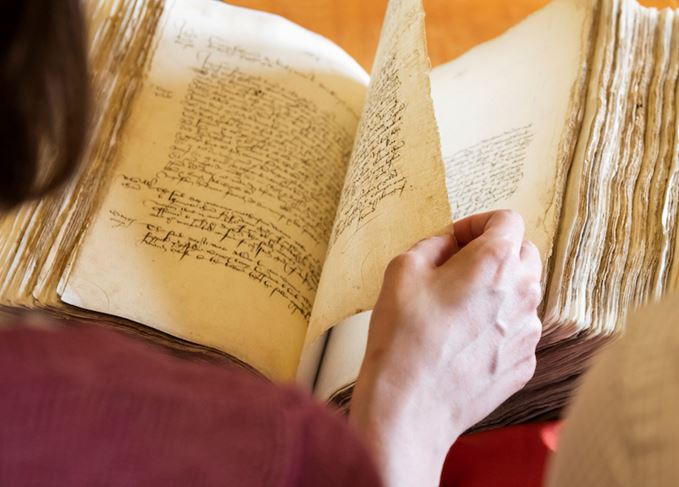 On 20 June 1505, the bailie court of Aberdeen convened to hear an inquest into the inheritance of Sir Andrew Gray, chantry chaplain in the parish church of St Nicholas, who had died some six months earlier.
Named among his 'moveable possessions' was, to quote the city's Burgh Records, 'ane stellatour for aquavite and ros wattir' ('a still for aqua vitae and rose water'). More than 500 years later, this humble reference is being hailed as one of the most significant finds from the early history of Scotch whisky.
In common with the scant other references to distillation from the contemporary record, the mention is tantalising, raising as many questions as it answers. But, taken collectively with other research projects in the same field – the finds at Lindores Abbey, plus excavations at Dunyvaig on Islay and at Blackmiddens in the remote Cabrach area of Speyside – it adds to the growing weight of interest in the early history of Scotch whisky distillation.
Thanks to the painstaking work of University of Aberdeen research fellow Dr Claire Hawes in deciphering the 1.5 million words of the city's municipal records (1398-1511), we have the reference to Sir Andrew's still, and we know a little about the people surrounding it.
At the time of that bailie court hearing, George Barbour had the still, but Robert Kervour (or Carver), Sir Andrew's heir, was petitioning the court to hand it over to him.

Written record: Dr Jackson Armstrong, Dr Claire Hawes and city archivist Phil Astley

Barbour was active in early medicine, while Kervour is almost certainly the same George Carver who became a famous choral composer later in the 16th century. Meanwhile, Sir Andrew had associations with a number of people involved in science, learning and culture in renaissance Scotland.
According to Dr Jackson Armstrong, deputy head of the School of Divinity, History & Philosophy at the University of Aberdeen, the way the still is described – for the making of aquavite and rose water – 'may suggest' that it was being used to make whisky to drink.
There is, however, no proof of that. 'It's a tantalising suggestion, but I don't think we can take it any further than that,' Dr Armstrong acknowledges. The problem is that aqua vitae, to give it its Latin name, had a number of uses in renaissance Scotland: medical/pharmaceutical, in the manufacture of gunpowder, and, as whisky, for drinking.
'Anything that can tell us absolutely anything about the early history of whisky is incredibly valuable,' says Darroch Bratt, a historical archaeologist and PhD student at the University of Highlands & Islands. 'There's a real paucity of understanding about that period, but it's a really important time for whisky.'

Significant find?: This 'still pit' at Lindores could have had a number of uses

Can we be confident that the Aberdeen still was making whisky for drinking? 'It's very difficult to say,' says Bratt. 'One of the problems is that we don't have much evidence of what distilling apparatus should look like. We haven't excavated examples of whisky distillation from that period, other than what was found at Lindores.'
Lindores Abbey stands at the centre of the most famous early mention of the making of aqua vitae, found in the Exchequer Rolls of 1494/5, in which 'Friar John Cor' is given '8 bolls of malt, wherewith to make aqua vitae for the King [James IV]'.
But this too is a teasing reference, says Dr Armstrong. 'It doesn't mention much at all, beyond the name of John Cor, a Friar. It doesn't mention the abbey, monks or a still.'
Was John Cor making whisky? We can't be sure, because James IV seems to have been interested in all of aqua vitae's many potential applications: in alchemy, as an ingredient in the making of gunpowder (he was keen to build up the royal artillery) – and as a drink.
Was John Cor making whisky at Lindores? Again, uncertain. 'It's a very significant reference, but it's hard to say he was making it at that site,' says Bratt. Lindores' case, however, has been strengthened by archaeological discoveries revealed late last year.
Two pits found on the site share characteristic features with kiln bases, and further research into the 'flots', or plant material, in the pits reveals evidence of charcoal and cereal grains.

Whisky link: Dunyvaig Castle, near Lagavulin, is another potential source of new finds

It's a potentially exciting find, but again one which tantalises, rather than offering definite proof. Would you expect to find barley grains near a still? 'Once you get to the distilling phase of the operation, the barley would have been separated a long time before that,' points out Bratt.
But he adds: 'There were a lot of drains around that feature, so I think they were fully capable of managing water for an industrial process. I think it's likely that they would have distilled at that site, but [the pits] could have been used for brewing, tanning – a whole variety of things.'
For the historian, this series of uncertainties and unanswered questions is a double-edged sword. 'It's what makes it exciting, but it's also what makes it quite frustrating,' says Bratt. 'It's an amazing time for the study of whisky history right now, with what's happening at Lindores, Aberdeen, Dunyvaig near Lagavulin and the Cabrach Trust, who have carried out the first ever excavation of a farmstead distillery.'
The Aberdeen project has now been handed £15,000 by Chivas Brothers to continue its work. As a result, a part-time research fellow will spend six months sifting through the Latin and Middle Scots of the Burgh Records, deciphering the text and drawing connections between the people connected to Sir Andrew's still.

Farmstead distillery: Blackmiddens in the Cabrach is the first dig of its kind

'There's a great opportunity here to research fresh sources, to help advance the understanding of how whisky began and build a convincing context of who these early whisky pioneers were,' says Dr Armstrong.
What is more, research findings could say much about the place of whisky – or aqua vitae – in the broader Scottish renaissance. '[The 1505 discovery] is a clear written reference to the early development of Scotch whisky, not in a royal context, but in an urban, renaissance context in the Burgh of Aberdeen,' points out Dr Armstrong.
'This is an urban world of education and religion that's interested in experimenting with chemistry and medicine. It's a story of new science and experimentation, and that's very much a part of the culture of the time.'
The more research is done – and the more it is supported by the whisky industry, as has happened with Chivas and Aberdeen, Diageo and Dunyvaig, and Lindores Abbey Distillery – the more light will be shed on these mysterious early years of Scotch whisky distillation in Scotland, not to mention its broader Scottish context.
'In the last few years, there's been this snowballing of interest,' says Bratt. 'There's now this recognition that whisky holds a very important place in the culture of Scotland, as well as in the economy.
'There's been so much time spent developing Scotch whisky as an industry; now there's a growing realisation that it also says something about who we are.'
Aberdeen Registers Online: 1398-1511 is a digital transcription of the first eight volumes of the Aberdeen Council Registers, the earliest and most complete run of books of civic government in Scotland, and is openly accessible to the public. The project also has its own blog.