Master blender Billy Leighton's long list of responsibilities is testament to the current boom in Irish whiskey: Jameson, Redbreast, Green Spot, Midleton, Method & Madness… While welcoming Ireland's whiskey-making renaissance, he also remains mindful of its chequered past. Richard Woodard reports.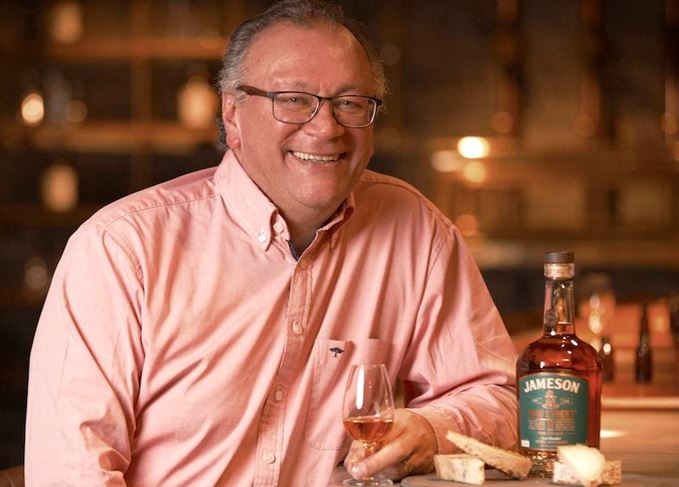 Just for a moment, Billy Leighton has been transported back more than four decades to his early years in Irish whiskey, working as a junior accountant at Bushmills. Whiskey had never been a big thing in the family home – 'maybe a special occasion, or a hot whiskey if you'd a cold' – but something about his new workplace was puzzling him.
'There were a lot of smells coming from the plant – the brewing, the fermentation – that I was familiar with, and I couldn't figure out why,' he recalls. 'I thought: "Is it a bakery? Where do I know that smell from?"
'All of a sudden it hit me that Bushmills had a sister distillery, the Coleraine distillery, that was operational until 1978, and I was living in Coleraine at that time. So the smells I was getting at Bushmills were smells I would have smelled in Coleraine without even realising it.'
Apart from illustrating the powerful links between smell and memory, it's a story that shows just how quickly fortunes have shifted in Irish whiskey. 'We had a warehouse adjacent to the distillery in Coleraine which we had whisky in for quite a few years after the distillery closed, but where the warehouse was there's now an abandoned petrol filling station,' Leighton says ruefully.
'Where the distillery itself was, there's a few retail units in there, and actually I'm down there most Saturday mornings, buying treats for my little dog from the pet supplies shop.'
Irish whiskey sales have grown continuously for almost three decades now, spearheaded by Jameson, which sits at more than seven million nine-litre cases – bigger than any Scotch brand, bar Johnnie Walker. Distilleries are opening all over the country, and an industry that was on life support when Leighton joined it is now thriving.

History lesson: Leighton remains mindful of Irish whiskey's long heritage

'I think the proliferation in Ireland is a good thing,' he says. 'What we have to be mindful of is that, probably through Jameson, we have set a very high quality standard for the Irish category, and that the new entrants can maintain that high standard.'
In that spirit, Irish Distillers' Midleton distillery now offers a mentoring scheme to whiskey start-ups. 'We're not Big Brother,' Leighton insists. 'We're not telling you how to make your whiskey – that would be a sad thing, if everyone was making the same whiskey – but we have experience, and we can offer advice in certain aspects, things to look out for.'
With more players come more styles of Irish whiskey, and bigger questions about identity. Does Irish whiskey need to cling on to a clear and distinctive character – or explore greater diversity?
Leighton thinks for a moment. 'You can do both,' he says. 'I think you can retain the style – if you want, generalising, triple-distilled, no peat, all the things that we see as traditionally Irish – but I suppose it was inevitable that the time was going to come when there were going to be more players in the category, and those new players were going to want to make their own mark – so it opened the doors for a bit more lateral thinking.'
And can you learn from these newcomers? 'Absolutely, and the more new thinking that comes into the Irish whiskey business, the better it is, not only for business in general, but for the Irish whiskey consumer as well.'

Essential character: Single pot still is the 'DNA' of Jameson, Leighton believes

However golden the present and future, the ghosts of Irish whiskey's darker past still lurk, particularly here. We're speaking at Jameson Distillery Bow St in Dublin, now a tourist attraction but, back in the dark days of the 1970s, another casualty of the production cull of the time – one in a series of multiple amputations deemed necessary to keep Irish whiskey alive.
'John's Lane distillery would have closed in 1976 or thereabouts; Jameson was round about '74, '75, '76 – all around that era, and now they're all springing up again,' says Leighton. 'If it hadn't been for the amalgamation of Irish Distillers in '66 and how things have progressed since then, probably we wouldn't be sitting here today talking about 29 consecutive years of growth in the Irish whiskey category. It doesn't really bear thinking about.'
It's unlikely that distillation will return to Bow Street any time soon – 'Back in 1780, Dublin was a different place – you've got to think about the logistics of your grain deliveries, your barrel deliveries' – but at least one aspect of whiskey-making has come home.
Jameson Bow Street 18 Years Cask Strength is a blend of grain and pot still whiskeys produced at Midleton, then recasked into first-fill ex-Bourbon for a final year's ageing in a maturation room at Bow Street.
'It was an inspired idea, because not only did it add to the visitor experience, but it gave us that opportunity to bring part of the production process back here to Bow Street,' says Leighton.

Vintage variation: Midleton Very Rare allows whiskey makers a little more latitude

'People might be sceptical and say: "You're just warehousing it in a different place," but the different place is a very special place for me, and when you listen to Carol [archivist Carol Quinn] talking about the history of what happened in Bow Street 230-240 years ago, it just makes you feel like you're continuing what the Jameson family were doing back from day one – so there is that kind of emotional aspect. And it's not Midleton, you know? I do feel that there is a different interaction happening in the warehouse here.'
The only widely available cask-strength Jameson bottling, Bow Street is priced at €240 – a venture into the luxury end of the market for the increasingly sprawling Jameson family. With so many diverse expressions now available – Black Barrel, Caskmates, Deconstructed, Makers – what is Jameson's essential identity?
'A blended whiskey which contains Midleton pot still whiskey – and I think it's that pot still style that is effectively the DNA that is right across the Jameson range,' says Leighton. 'It's all very approachable, smooth and appealing to a very wide cross-section of whisky consumers.'
Maintaining that identity while exploring an ever broader palette of flavours is the challenge with Jameson. Other products that are part of Leighton's brief, however, allow for more latitude.
'The style of Midleton Very Rare allows for maybe a little bit more variation in flavour profile from year to year. It remains in the Midleton style, but we kind of allow ourselves a little bit more flexibility in the final presentation – and I think that's what people are looking for, because you do see social media debates on "what was your favourite year for Midleton Very Rare?".

'Great fun': Leighton got the most enjoyment out of creating Redbreast Dream Cask

'I think the one that I have absolutely had most enjoyment out of is the Redbreast Dream Cask, which was great fun to do. It was about doing something for World Whisky Day and, whenever the Redbreast Dream Cask got out to those people that were lucky enough to get a sample, the feedback came back saying: "You must bottle this."
'Eventually we did, and that was fantastic. The reaction wherever we launched it was that it sold out in about four-and-a-half hours – 816 bottles at €500 and a 500ml bottle too.'
Like the broader historical sweep of Irish whiskey, the story of Redbreast is one of survival. 'It's one of those ones that really stood the test of time,' says Leighton. 'Between Redbreast and Green Spot, I think they kept single pot still Irish whiskey alive through the darkest of times.
'I did a Redbreast event in Tokyo last April; it was the official launch of Redbreast in Japan, and it was Redbreast 12, Redbreast 15 and Redbreast 21.
'We did a few bartender sessions, and the questions were: "Well, where's the 12-year-old Cask Strength? Where's the Redbreast Lustau?" They already knew about it, and that's what I love – the word has spread.'
He contrasts this with an encounter with an older demographic at The Telegraph Whisky Experience in London last December. 'That was interesting because the afternoon sessions were a certain sort of generation of people that had some spare time on their hands, and lot of them were told to go over there and try that Redbreast stuff – and they hadn't heard of it.
'That was great, because the single pot still category for me is still in its infancy. There's still such a long way for us to go.'