It's been a busy year for Rosey Mitchell. Having won Compass Box's global bartender competition The Circle, the London-based bartender created a blended malt alongside whisky makers John Glaser and Jill Boyd. She tells Kirsten Amor the process of blending a new whisky, why low-abv drinks are here to stay and why Glasgow's bars are underrated.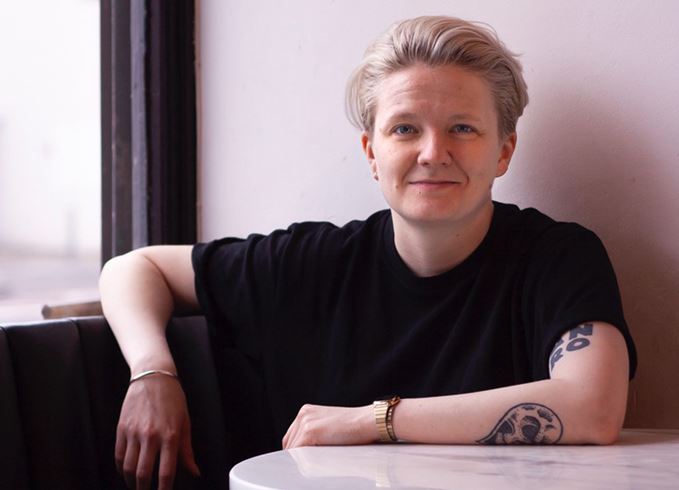 'Everyone is going for long, Highball-style drinks with a low abv at the moment. People want to be seen out all the time drinking, particularly in the digital age where everyone is on Instagram. They want to be out more and with a glass in their hands, but they don't want to be drinking more alcohol. These low-abv or no-alcohol drinks are really hitting off in London at the moment, and I think they are here to stay. It's a good thing – it keeps people drinking out in bars and customers are continuing to visit places.
'Low-abv spirits are allowing people to become more creative with drinks. It used to be that a non-alcoholic cocktail would just have loads of sugar in the glass, be juice-based or a virgin Mojito. To make a non-alcoholic cocktail is more difficult than a regular alcoholic drink because it needs to be delicious, approachable and cater for adult taste preferences.
'The way people view Scotch, and how they approach drinking whisky, are changing. I see customers enjoying single malt Scotch and soda in the daytime; whisky is not viewed as something that has to be drunk in dark, moody cocktail bars anymore. The Japanese whisky market has also opened people up to the different ways whisky can be drunk. There's still a long way to go, but I'm definitely seeing a good start.

Neighborhood haunt: Mitchell describes Three Sheets as a relaxed, friendly bar

'People are also experimenting more with peated whiskies, and I think customers are more open to tasting them. Since there's been a lot more focus on peated whiskies, people are asking: "How can/should I drink this?" You can change the way they would approach it. We can suggest having it with a little water or other alternatives, rather than just drinking it straight.
'I recently got back from Tel Aviv and there's a budding whisky scene over there. Israel I think is one of the fastest-growing whisky-drinking countries, and they're really into their Scotch. Everything over there is open a lot later so they have a different approach to drinking. It's spread out over the course of the day and far more relaxed, which is how I like to drink. Tel Aviv has some great whisky bars, and is just up-and-coming – it's definitely a place to head to now, while it is still calm.
'Keeping it slightly more local though, Glasgow is my favourite city in the UK currently to drink cocktails and I think it's really underrated. There are some very good bars and restaurants doing interesting things up there. I always feel very welcomed and at home when drinking in cocktail bars in Glasgow.

Shared purpose: Mitchell worked with Compass Box's John Glaser and Jill Boyd to create The Circle blended malt

'I wanted to enter [Compass Box's] The Circle as it really is one-of-a-kind when it comes to cocktail competitions. The heats of the national part of the competition were totally different to other contests, it wasn't the usual "make a drink using the product". One of the rounds was to blend your own whisky and John [Glaser, Compass Box founder] would judge the overall end product, which you never get a chance to do. I've always been a fan of Compass Box, so when given the chance to be involved in a competition with the potential to blend my own Compass Box whisky, I had to be involved.
'John Glaser is one of the most fascinating people I've met in my life. I didn't know what to expect when I first met him to create the blend, but he's knowledgeable on so many topics and is wonderful company. Ultimately, Jill [Boyd, whisky maker] and John really left it down to me. When you think about the idea of blending a whisky, you wonder, "Where do I start?" John gave me guidance while letting me maintain my creative process towards creating The Circle.

Inclusive spirit: Mitchell strived to make The Circle an 'approachable' whisky

'It took 21 attempts to get to the final blend, usually making three variations of the product whenever we met up. Sometimes when we felt we were really heading in the right direction he would say: "Take it away, try it somewhere where you would like to drink it, and tell me what you think next time." He would then ask, "What do you think of it?" and I might say, "Oh, I didn't like it," or "I want to take the flavour profile down more down this route". We would then go back and look at whiskies we had previously made notes on, or he would suggest something new. When we first started the blending process we tried maybe 30 whiskies and made notes and ruled out what worked and what didn't for the blend. But throughout the course of the blending process we would try new whiskies that fit.
'The minimalist style at Three Sheets was achieved by Max and Noel [Venning, owners], who first opened the bar. It's a friendly, approachable cocktail bar; no nonsense or concepts. I always find inspiration in the simplicity of design. This approach works across any medium: drinks, food, digital, etc. When you refine things back, you can make something work on this wonderful, beautifully-serene level. You have a better understanding of the ingredients, and the creation process. It's become a signature for Three Sheets, but you can also put it across to simplicity in service. We have a relaxed style at Three Sheets, what I like to call "living room service". It's straightforward, warm service that everyone can relate to, and I think that's important.

Simplistic approach: Focus on ingredients to better understand cocktail and whisky making, says Mitchell

'When it comes to the cocktails we'll update the menu every month, but we won't ever change the entire thing. We focus on a certain aspect, a spirit or a fruit that is in season, and we build the drink from there. We never rush menus either. It forces creativity. You could come up with a great idea, but if you are working towards a strict deadline you might not be able to fully explore what you've thought of, and sometimes ideas can completely change, but you don't have the opportunity to follow the idea entirely.
'My dream would be to have a music venue; it would bring all my interests together. Somewhere small and intimate so that it is friendly, but also does cocktails and has a great spirits collection. The music industry nowadays can be quite commercial and I would love to make it more approachable and friendly. Music can bring people together so quickly; no matter who you are or where you're from, you're there for one single purpose. For this reason live music has always been something I loved.'