Glasgow-based blender Whyte & Mackay has introduced a new, low-abv 'spirit drink' for those who are 'keeping an eye on their alcohol intake'.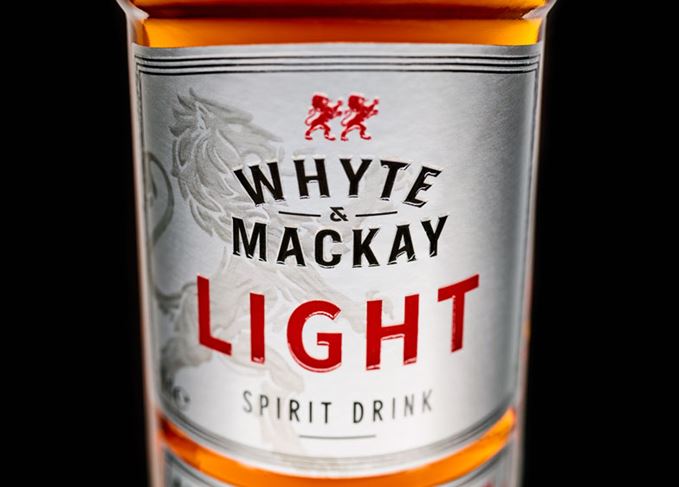 Whyte & Mackay Light is a 'lighter spirit drink from Scotland' made using spirits distilled from malt and grain that have spent time in ex-Sherry and Bourbon casks and bottled at 21.5% abv.
The expression is legally defined as a 'spirit drink' as it is bottled at a lower alcohol strength than the legal minimum of 40% abv for Scotch.
Described as having a 'rich, smooth and slightly smoky' character, Whyte & Mackay Light has been designed for mixing as a long drink, or enjoying neat or over ice.
Rod Gillies, head of innovation at Whyte & Mackay, which also owns the Jura, Dalmore and Fettercairn distilleries, said: 'People trust Whyte & Mackay to make a great-tasting spirit and, thanks to our expert distilling team, Whyte & Mackay Light tastes fantastic – either straight over ice, or served with your favourite mixer.
'Now, with Whyte & Mackay Light, we're using the strength of one of our existing brands to deliver an attractive option for the growing number of consumers who may be looking to keep an eye on their alcohol intake.'
A study conducted by The Lancet showed that Britons are drinking less alcohol, with the average consumption falling from 12.6 litres of pure alcohol a year in 1990, to 11.4 litres in 2017.
The medical journal has also predicted the statistic will drop by a further 11 litres per adult by 2030.
Whyte & Mackay said where there are more 'low and no' abv beer, cider and wine options than ever before, it recognised a gap in the market for low-abv spirit drinks.
Ruairi Perry, head of brand, said: 'It's a different product with the same younger consumer in mind.
'It leads the way in the spirits category as a quality spirit drink, available at a lower abv, expertly crafted to be surprisingly smooth, whether it is enjoyed neat or as a long-serve.'
The new Whyte & Mackay expression will be exclusively available in Tesco for £12 per 70cl bottle, and will be rolled out across other UK retailers by the end of the year.
Whyte & Mackay, which makes a range of blended whiskies for various markets around the world, expects to introduce lower-abv spirit drink versions of its core blended whisky brands in the near future.
Diageo was the first to introduce a low-abv 'whisky' in Korea in 2015, with the introduction of W Ice by Windsor.