It's a hoary, old debate that won't go away – namely whether regions like Speyside, Islay and Highland mean much these days. Do they enlighten or confuse the poor whisky drinker? Tom Bruce-Gardyne reports.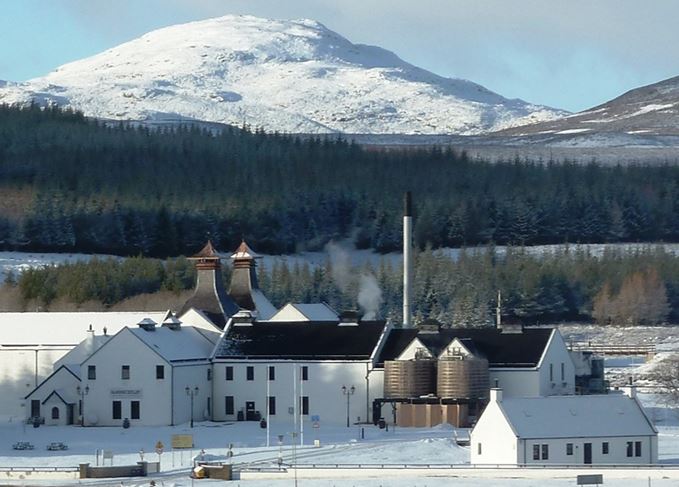 Scotch whisky was first split along the old Highland line in the 18th century with everything to the north regulated and taxed differently from the south. With their small pot stills, whisky makers in the Highlands were set on a different path from the big Lowland distillers. Then came blended Scotch a century later and with it further divisions including Campbeltown, Islay and Glenlivet, or Speyside as it became.
These whisky regions meant nothing to your average Scotch drinker, and existed purely in the minds of the blenders. So it was perhaps inevitable that UDV (now Diageo), a company with blended whisky in its bones, took a regional approach when it launched its six Classic Malts in 1988. Drinkers could make their journey along the little plinth from the Lowlands' grassy Glenkinchie to Islay's smoky Lagavulin.
Lagavulin was then working a three-day week, so making it onto the plinth may have saved it, while Rosebank was not so lucky. You can dispute the choice of distilleries, but there's no doubt it introduced many to single malts, myself included. But maybe those whisky regions have served their purpose, and it's time to ask whether they're still relevant.

NO: STEVEN KERSLEY, HEAD OF DISTILLATION, LONEWOLF DISTILLERY
My feeling is that any classification of whisky flavour or style based on a distillery's location is obsolete. Some people may argue that 'Islay' is still a viable descriptor but that does a disservice to Bunnahabhain and Bruichladdich [which are unpeated].
For me, a distillery should only use location to describe where it is located, and it shouldn't have any bearing on how the spirit's flavour is interpreted. The difficulty in categorising whisky by region is that there is sometimes absolutely no commonality between the distilleries. As an example, you can see Dalmore distillery from Teaninich's front door. When put alongside each other you couldn't possibly say that they're both in keeping with a Highland style as they're at opposite ends of the flavour scale.
At LoneWolf we are developing different styles of whisky under one roof, in one still house in Aberdeenshire. The flavours of these whiskies will showcase the ingredients which we have used. I have no intention of developing a traditional Highland style, mainly because I don't think it exists and furthermore nor should it exist. We'll never be persuaded to commit ourselves to one particular 'style' of whisky.
Having the freedom to experiment across the board within the creation process is the most rewarding part of being a distiller because it yields new findings that were unknown to you before. There's a variety of different tunes that we can play throughout the spirit's creation and as a distiller I enjoy exploring these. The concept of distilling to achieve a particular regional style doesn't excite me and I feel it stymies creativity.
A great example of such creativity would be the global craft distillers who are importing peated malt and creating some incredibly unique expressions of their whisky. Though in Scotland we're characterising one west coast island as the peaty region, we're doing a disservice to those on the island who don't heavily peat their malt and also forgetting that peated whisky is now not limited to just Scotland.
We need to refocus the conversation back onto the quality of the liquid as opposed to where it's been distilled. Assumptions made on style and flavour cannot be taken for granted based on location. The process behind a liquid's creation should be all that you need to make an assumption, and even then you may end up being surprised. My opinion is that we need to move past the geographical flavour association and get back to what the spirit actually tastes like.

YES: JAMIE DAWSON, ON-TRADE ACCOUNT MANAGER, ROYAL MILE WHISKIES & DRINKMONGER
It is a very complex subject, but from my own experience, I would argue that the whisky regions are still very relevant. They represent an entry-level tier in terms of education within single malt whisky, and they act as a signpost for consumers into the complexities of the category. At the same time, many other countries are coming forward with their own single malts, and I feel Scotland could be squeezed somewhat without a strong regional approach. I think these signposts are very valuable as they highlight our depth of history because these regions have been established for such a long time.
Whisky education for anyone working in the trade has tended to begin with a vague introduction to regions to highlight that there are geographical differences that have led to differences in style. From there you would expect people in the industry and consumers to progress to the next level where they'll find the whisky regions may not necessarily give an accurate representation of style, and that the bigger picture is much more complex.
That said, I believe everyone can experiment and produce whatever they want within their distillery, but that doesn't make their location irrelevant. You can make peated whiskies on Speyside as easily as on Islay, but the peat involved will be different, as anyone would be able to taste in the finished product. Essentially the regions are about unlocking the category, by showing consumers that there are historical and regional differences which do relate to different styles of whisky, albeit vaguely.
There's an increasing trend in whisky education away from a reliance on region and style, towards more brand education, and I don't think that's necessarily a good thing. If each brand only tells its own story, we'll end up with people coming into single malts having only several pieces of the jigsaw puzzle. Once we get beyond those regional signposts, I think there's a responsibility for those of us in the industry to be more transparent about where the barley's coming from, what water we're cutting our whiskies with before bottling, and so on.
Rather than throw out the regional whisky map, and say 'it's a bit old school and doesn't paint a clear enough picture', I would love to see it updated with sub-regions related back to stylistic differences. If we do abandon this approach and don't replace it with a new one that works we could end up with chaos, and deny people the wonderful regional complexity of Scotch single malts.

IN CONCLUSION…
Talking about a single malt's terroir can be risky given how the grain, for example, is often trucked in from the other side of Scotland or imported from abroad. In the past, there would have been a stronger regional connection and a distillery like Talisker somehow needed to reflect its harsh, windswept environment in its whisky. Its early customers would have been local, and offering them anything light and delicate would have been spat out. Arguably, its present owner has kept faith with that original idea, or at least tried to.
Sometimes provenance has a pretty tenuous impact on style, but reject any connection between the two and what have you got left? A great cacophony of brands babbling about themselves? Or an endless conversation about Sherry, Bourbon and those myriad casks, be they first-fill, refill, dechar/rechar, the cha-cha-cha or whatever. Somehow wood doesn't sound the best way to recruit people into malt whisky.
On the other hand Steven Kersley quite rightly doesn't want to be boxed in by some imposed regional style, and he makes a good point about Dalmore and Teaninich. Tasted blind you would never guess they are next-door neighbours. So it is a very complex subject, and this debate will run and run. Of that, you can be sure.