Diageo has revealed nine of the 10 whiskies to be launched as part of its 2017 Special Releases six months early, a series it calls 'the worst kept secret in malts'.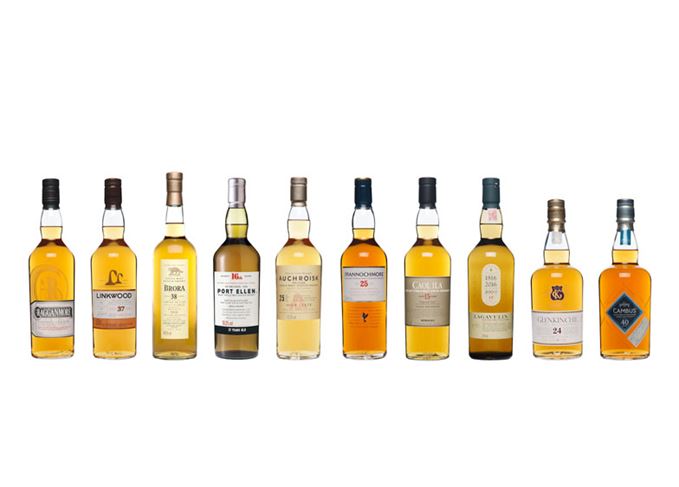 The annual collection of limited edition whiskies – a series that began in 2001 and has featured whiskies from lost distilleries such as Port Ellen, Brora and Caledonian – has whisky enthusiasts clamouring to discover which bottlings will be released each year.
The anticipation for their release is so great that Diageo has struggled in recent years to keep details about the bottlings a surprise.
Dr Nick Morgan, head of whisky outreach at Diageo, said today in a statement: 'One of our most cherished moments in the whisky calendar is the annual announcement of the Diageo Special Releases collection – a group of limited edition and natural cask strength whiskies that are highly anticipated around the world and revered for their quality and collectability.
'So highly awaited are the releases, you may have noticed that we struggle to keep them under lock and key. Special Releases has rapidly become the worst kept secret in malts due to your enthusiasm and dedication to the collection.'
The world's largest Scotch whisky producer has only revealed nine of the 10 whiskies that will comprise the 2017 Special Releases (listed below) when released this autumn.
Morgan added: 'We're keeping one in our back pocket as a surprise for you all later on this year.'
Making a return are annual expressions from lost distilleries Port Ellen and Brora, the limited edition Lagavulin 12-year-old, and unpeated Caol Ila. The Special Releases usually features a curveball no-age-statement (NAS) expression, although one hasn't been mentioned so far. Could it be the surprise whisky to be announced later this year?
The 2017 Diageo Special Releases will include:
Blair Athol 23-year-old
58.4% abv
Distilled 1993
Cask: Ex-bodega European oak butts
Availability: 5,514 bottles
Price: £400
Brora 34-year-old
51.9% abv
Distilled: 1982
Cask: Refill American oak hogsheads
Availability: 3,000 bottles
Price: £1,450
Caol Ila 18-year-old
59.8% abv
Cask: Refill American oak hogsheads
Availability: Limited quantities worldwide
Price: £100
Collectivium XXVII (announced August 2017)
NAS
57.3% abv
Availability: Limited quantities worldwide
Price: £150
Convalmore 32-year-old
Distilled: 1984
48.2% abv
Cask: Refill American oak hogsheads
Availability: 3,972 bottles
Price: £1,200
Glen Elgin 18-year-old
Distilled: 1998
54.8% abv
Cask: Ex-bodega European oak butts
Availability: 5,352 bottles
Price: £300
Lagavulin 12-year-old
56.5% abv
Cask: Refill American oak hogsheads
Availability: Limited quantities worldwide
Price: £90
Port Dundas 52-year-old
Distilled: 1964
44.6% abv
Cask: Refill American oak hogsheads
Availability: 752 bottles
Price: £775
Port Ellen 37-year-old
Distilled: 1979
51% abv
Cask: Refill American oak hogsheads & refill American oak butts
Availability: 2,988 bottles
Price: £2,625
Teaninich 17-year-old
Distilled: 1999
55.9% abv
Cask: Refill American oak hogsheads & refill American oak barrels
Availability: Limited quantities worldwide
Price: £275