Blended Scotch whisky Dewar's has launched the Dewar's Scotch Egg Club, a global series of events to celebrate Tommy Dewar's three passions: whisky, games… and chicken.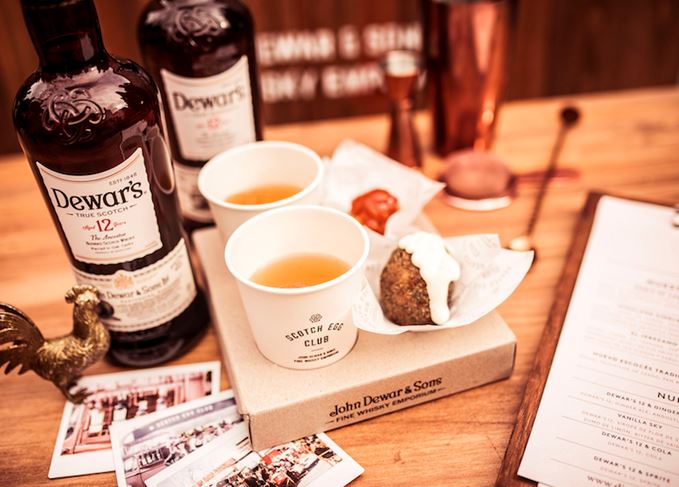 Set to take place in major cities around the world, the events feature Dewar's blended Scotch and its constituent single malts, such as Aberfeldy and Craigellachie.
There will also be whisky cocktails, 'chicken-inspired games' and Scotch eggs with a twist, featuring local mixologists, chefs and artists.
After previews in Paris and Lisbon in early July, the tour began in Barcelona last week, before heading to other cities including Moscow, Berlin, Stockholm and New York.
Son of Dewar's founder John Dewar, Tommy Dewar was known as a highly skilled marketer – and an award-winning chicken breeder.
'At Dewar's, we aspire every day to live life through the eyes of Tommy Dewar and revel in his pure zest for life,' said Fraser Campbell, global brand ambassador for Dewar's.
The club will target nearly 30 cities around the world, with events ranging from the John Dewar & Sons Traveling Whisky Emporium in the US to smaller bar takeovers and culinary initiatives at food festivals.
You can catch the Dewar's Scotch Egg Club in the following locations this year:
23-26 July: Lambada Market in Moscow, Russia
July-September: Bite Club in Berlin, Germany
July-December: Holy Food Market in Ghent, Belgium
July-December: Various locations, USA
1-2 September: Street Bouche Festival in Strasbourg, France
8-10 September: Street Food Festival in Lyon, France
19-22 September: Street Food International Festival in Paris, France
Month of October: Beefsteak Club in Amsterdam, Netherlands
3-8 October: TT Liquor in London, UK
15-17 October: Street Food International Festival in Avigon, France