The first official whisky from the silent North of Scotland distillery has been released, 37 years after its closure.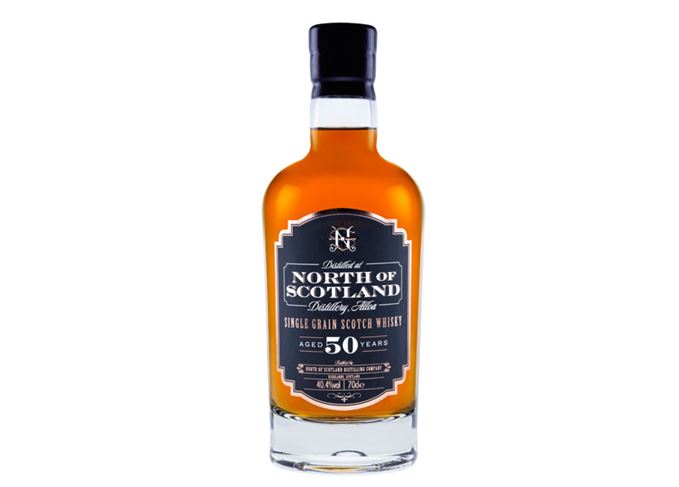 Ricky Christie, son of the distillery's founder George Christie, partnered with Elixir Distillers to acquire some of the last remaining stock distilled at North of Scotland.
Just six American oak casks from 1965 were recovered, and vatted together to bottle as a 50-year-old single grain at 40.4% abv.
Just 1,500 bottles of the rare North of Scotland release are being made available globally, for £950 each.
Oliver Chilton, business manager for Elixir Distillers, said: 'This is the first and only official bottling from the closed North of Scotland distillery.
'At 50 years of age it's a very old grain whisky of an extremely high quality, with notes of blood orange, spice and vanilla fudge from full maturation in ex-Bourbon casks.'
North of Scotland distillery was founded in 1957 by George Christie, the founder of Speyside distillery in Kingussie who purchased and converted the old Forth Brewery at Cambus into a malt and grain distillery.
The Lowlands site was known for distilling malted barley in its column stills – as well as at its short-lived on-site malt distillery, Strathmore – rather than the more prevalent maize or wheat.
As such, Chilton said that the distillery's first and only official bottling, which was distilled in 1965, could well be made from malted barley.
He said: 'North of Scotland distillery was using malted barley at the time it was built in 1957, so the likelihood is this whisky was also made from malt. However, there are no records for these specific casks.'

Lost distillery: North of Scotland was closed in 1980, just 23 years after its founding

The official release, under North of Scotland Distilling Company – now operated by Ricky Christie, follows several well-aged expressions from independent bottlers in recent years.
While it is though to be the last remaining stock of whisky from North of Scotland, Chilton said he couldn't rule out that some forgotten casks may still exist.
'North of Scotland's grain whisky was heavily traded for blends,' he said.
'Most of it was probably used quite young as you'd expect, but it's likely there are a few casks lying in the corner of a warehouse somewhere.
'You never know who still has hold of what would now be some really old stock.'
North of Scotland's whisky was primarily sold for use in blends such as Ballantine's, Chivas Regal and Teacher's.
Following its closure in 1980, the distillery was sold to Distillers Company Ltd (which later became Diageo), and its stills and equipment stripped and transferred to other sites.
George Christie went on to open Speyside distillery near Kingussie in 1990, which is today operated by Harvey's of Edinburgh. He passed away in 2012.
Ricky Christie said: 'The one thing my father always wanted was for people to enjoy themselves; as he'd always say, there's at least one good yarn in every bottle.
'He would be pleased to see North of Scotland has reached this age and that there was still something around of him that people could enjoy.'