A mysterious whisky miniature, thought to contain some of the only remaining spirit from the lost Malt Mill distillery, has sold at auction for £3,400.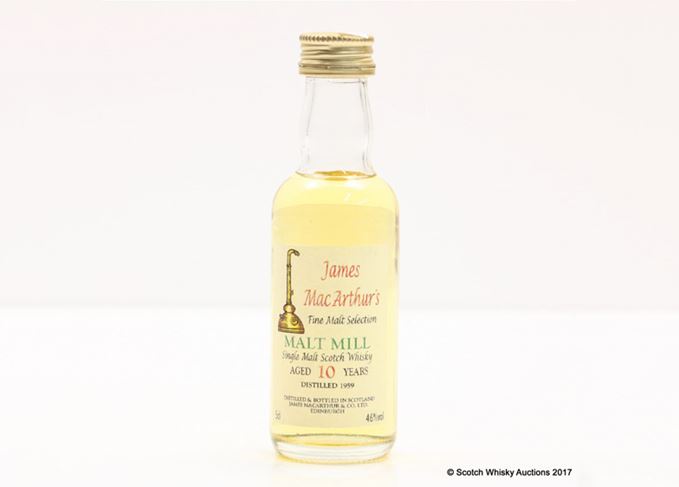 The 5cl bottle more than doubled its reserve of £1,500 when it sold via Scotch Whisky Auctions on Sunday (4 February).
However, as the miniature is so rare, unlike most lots sold at auction the provenance of the bottle's liquid is almost impossible to trace.
The Malt Mill distillery, built on the site of Lagavulin on Islay, produced single malt for use in blends before its closure in 1962.
Never officially bottled as a single malt, all of its whisky was used in blends such as White Horse and Mackie's Ancient Scotch.
Aside from a bottle of new make spirit on display at the Lagavulin distillery visitor centre, it's thought no other Malt Mill spirit still exists.
The mystery surrounding the bottle is so significant that the Glasgow-based auction house added a clause to its listing.
'As a disclaimer, we here at SWA must say that we have had our experts scrutinise this mystical little wonder, and it is impossible to comment either way as to whether it is what it says on the tin,' a note on the lot said.
'This, of course, adds to the esoteric awe and contemplation associated with this lot. It is ultimately up to the bidders to set the tone!'
The story behind the miniature is that two friends – Mike Barbakoff and Alex Barclay – acquired a lab sample of 10-year-old Malt Mill from a former distillery worker in the 1990s. The sample is said to have been distilled in 1959 – three years before the Islay distillery closed.
The pair took the sample to James MacArthur & Co. to be bottled into four miniatures for sale within the UK Mini Bottle Club.
Although the provenance of the liquid cannot be proven, as there is no other mature Malt Mill in existence to compare it with, Tom Gardiner, director of Scotch Whisky Auctions, said he was 'almost certain' the story behind the miniature is true.
'The seller is a very respected person within the mini community and he bought it from somebody else within the Mini Bottle Club, someone also very well respected in the mini community,' he said.
'I'm as sure it's authentic as I am about every other bottle we have.'