One of the only bottles of whisky believed to contain liquid from the enigmatic lost distillery Malt Mill is being auctioned this week.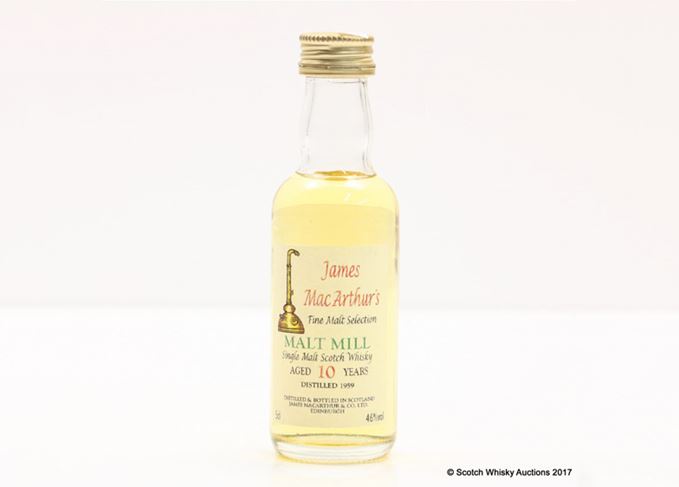 The 5cl miniature, being sold by Glasgow-based Scotch Whisky Auctions, is believed to contain a sample of 10-year-old Malt Mill distilled in 1959 – three years before the distillery closed.
Built in the grounds of Lagavulin distillery in 1908, Malt Mill produced a peated Islay single malt that was used in blends such as White Horse and Mackie's Ancient Scotch.
It was never bottled as a single malt, and all but a single bottle containing its new make spirit – now on display at Lagavulin distillery – was thought to have been blended away.
Rumours that bottles of pure Malt Mill whisky still exist have circulated among whisky enthusiasts for years, and even inspired the storyline of award-winning Ken Loach film, The Angel's Share.
Now it appears the rumours may have had basis in reality. The miniature being auctioned is thought to have originated from a blender's sample obtained by a collector in the mid-1990s, which was decanted into four 5cl miniatures by independent bottler James MacArthur & Co.
The bottle, which has a reserve price of £1,500, is thought to be the first expression of Malt Mill to be sold at auction, and as such has been deemed 'priceless'.
Tam Gardiner, director of Scotch Whisky Auctions, said: 'I haven't a clue on its value; that's the whole joy of an auction. This never comes up, or very rarely comes up, and the market will set the price for it.'

Historical significance: The last run of new make from Malt Mill is on display at Lagavulin distillery

However, he added that, as the expression is the only one of its kind to come to auction, there is no way to officially authenticate its provenance.
'The first question to ask is, is this the real deal? Every miniature expert we've spoken to has said yes, but the problem is who knows what's in that bottle? Even if you opened it up and tasted it, who knows what Malt Mill tastes like?'
One person who does know is Alex Barclay, a miniature collector who, along with fellow collector Mike Barbakoff, helped source the sample of Malt Mill and brought it to James MacArthur & Co for bottling.
'Mike acquired a blender's sample of Malt Mill in the early to mid-1990s, and it looked absolutely genuine – clear bottle, black cap, details that it had been reduced to 46% abv,' Barclay told Scotchwhisky.com.
'We opened it, we nosed it, we took a small taste; it was a peated malt whisky. I remember the flask was quite dusty and didn't look like something that had been fabricated in any shape or form. I remember the whisky nosing and tasting and it was, if I'm honest, peaty but nothing special.'
The Angels' Share (2012) - Official Trailer
Barbakoff added that he acquired the sample from a former Lagavulin distillery worker while on holiday on Islay during the 1990s.
'This chap was retired, and I met him in a pub in Bowmore,' Barbakoff said. 'We got to talking and he said he had samples of all different Lagavulins they'd made over the years, and he'd kept some of them, one of which was a sample of Malt Mill.
'I said I'd like to have it and he said: "Make me an offer." I think I gave him £20 for it, which he was quite happy with.'
The four miniatures created from the sample were sold on to members of the UK Mini Bottle Club.
Barbakoff added: 'One thing is for sure – I don't know without opening up one of these miniatures that anybody's going to actually test the provenance of the liquid within it. I took it on trust, and everything's fallen from that.'
Christine McCafferty, head archivist for Diageo, added that the company was not aware of any examples of Malt Mill having been bottled as a single malt.
'Diageo has a bottle of Malt Mill new make at Lagavulin and that is the only bottle that we have come across,' she said.
The current auction at scotchwhiskyauctions.com ends on 4 February.