South African spirits company Distell is launching a new annual collection of limited edition single malts from its Bunnahabhain, Deanston and Tobermory distilleries.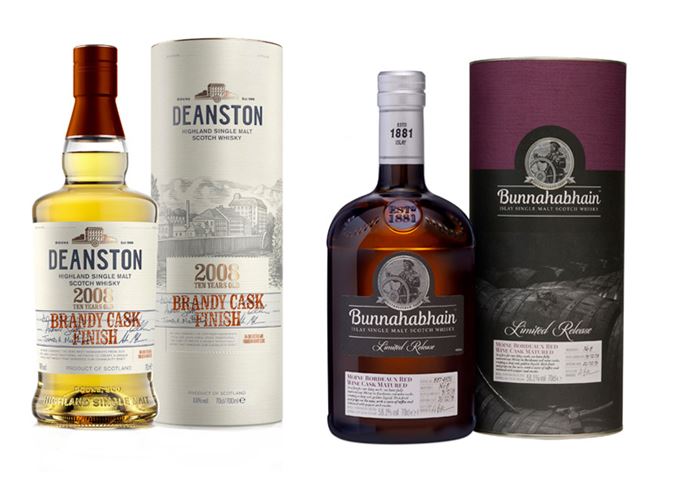 The 2018 collection is comprised of six whiskies, each of which has been matured or finished in casks seasoned with Sherry, brandy or red wine.
Derek Scott, brand manager for malt whisky at Distell, said: 'Using the flavour profile each brand is known for as the guide to select the finishing casks, we've been able to create six limited release whiskies that are not just of interest for their points of difference, but are also fantastic drams that remain true to the whisky's style.'
Two of the six editions are available now, with the remaining four released in September.
Bunnahabhain 2008 Mòine Bordeaux Red Wine Cask Matured is already available in global specialist whisky stores, priced around £75.
The peated single malt, which is bottled at a cask strength of 58.1% abv, is fully matured in red wine casks from Bordeaux to provide 'rich grape and peppery smoke notes' with 'hints of toffee and tobacco' on the palate.
Deanston 2008 Brandy Cask Finish is also currently available, priced around £60. The expression, which is bottled at 56.4% abv, was matured for seven years in American oak casks before being transferred to Brandy butts for an additional maturation period, providing 'rich oak with a distinctive dried fruit and brandy influence' on the palate.
The remaining four expressions in the 2018 collection, which will be released globally from 12 September, include malts from Tobermory distillery on Mull – including its peated variant Ledaig – and Bunnahabhain on Islay:
Tobermory 2005 Fino Cask Finish, £110
Ledaig 1998 Oloroso Sherry Cask Finish, £130
Ledaig 1998 PX Cask Finish, £150
Bunnahabhain Palo Cortado Cask Finish, £275
Scott added: 'We're lucky to have three very different distilleries and this showcase will allow us to share the stories of each and highlight how these are reflected in the bold new releases.'