Cult 'lost' distillery Rosebank hopes to reopen in autumn 2020 as plans to resurrect the Lowland single malt await council approval.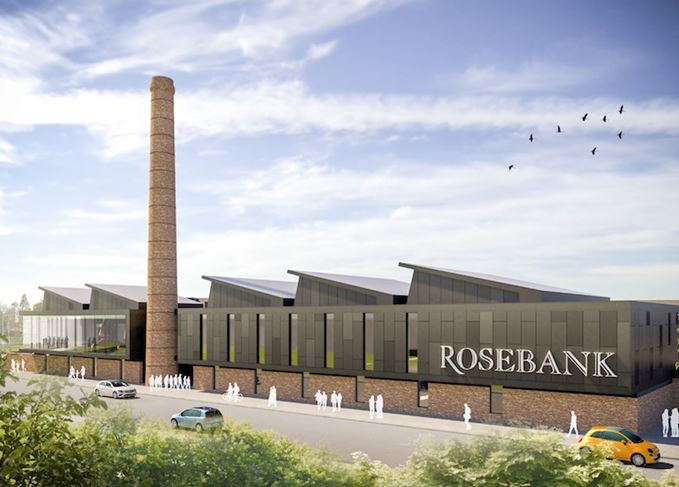 Ian Macleod Distillers, which announced plans to revive Rosebank a year ago today (10 October), wants to demolish most of the old distillery, replacing it with an 'efficient, contemporary building', according to proposals lodged with Falkirk Council.
The 'historically significant' buildings alongside the Forth & Clyde Canal will be retained and refurbished for use as a visitor centre, café, tasting room, shop and exhibition space.
Rosebank ceased production in 1993 when then owner UDV (now Diageo) mothballed the site; most of the distillery equipment, including the stills and mash tun, was stolen in late 2008, and its maltings were converted into a Beefeater restaurant.
'It's derelict now,' Robbie Hughes, group distillation manager at Ian Macleod Distillers, told Scotchwhisky.com. 'The pigeons have taken over, doing what pigeons do best. It's a horrible-looking site.'
Plans for Rosebank's revival, which could cost up to £12m, were lodged with Falkirk Council during the summer, and Ian Macleod hopes to have a final decision in the next few weeks.

The present...: Rosebank's historic canalside buildings will be retained and refurbished

'There's a lot of enthusiasm for this,' said Hughes. 'The people of the town want this to happen, the council wants this to happen. We're 97% of the way there [with securing planning permission].'
The new distillery will have three stills for triple distillation, plus worm tub condensers, aiming to mirror as closely as possible Rosebank's historic and much-loved style.
There are records of the process and new make spirit style from 1970s but, said Hughes, these were of limited use. 'Things have moved on so much since then … It's triple distillation, so there are a lot more permutations.'
The only piece of equipment likely to survive from the old distillery is the mill – which was second-hand, coming to Rosebank from Port Ellen on Islay during the 1930s.
Early forecasts that the distillery could be operational as early as 2019 have proven ambitious. 'I think we're likely to be operating two years from now, in autumn 2020,' said Hughes.

...and the future: Ian Macleod hopes Rosebank will attract 50,000 visitors a year

The new Rosebank will have a production capacity of up to 1m litres of pure alcohol a year, with no intention to release young whiskies. 'We don't need to do that,' said Hughes.
'We'll release the cask when the quality is right, not just to make money … We might look at a smaller cask at eight years, like a Bourbon barrel, if the quality's right – but it's more likely to be 10 or 12 years.'
Ian Macleod is still to purchase the Rosebank site – the acquisition from current owner Scottish Canals is contingent on planning permission – but has already bought the Rosebank brand and stocks from Diageo.
The company expects to use these stocks for official Rosebank releases in 2019 of 'one or two' single cask bottlings, likely to date from the late 1980s or early 1990s.
When open, the new Rosebank hopes to attract up to 50,000 visitors a year to its visitor centre and distillery tours.