Having joined the industry in the turbulent '80s, Ian Macleod Distillers' MD made a series of canny decisions that led to the purchase of Glengoyne, Tamdhu and, most recently, Rosebank distilleries. Here he tells Dave Broom about taking calculated risks and creating the 'new old Macallan'.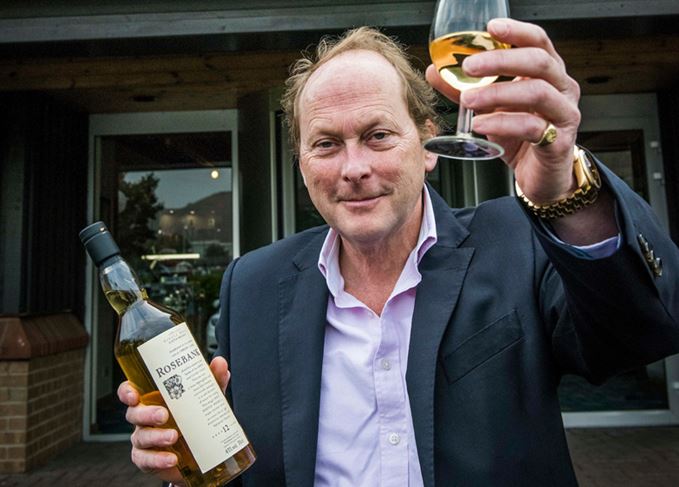 Ian Macleod Distillers (IMD) – stealth distiller. In recent years it's acquired Glengoyne, then Tamdhu and, most surprisingly, Rosebank. Stir in the acquisition of cash flow-boosting Edinburgh Gin, and the transformation of the firm is complete.
The man to tell me how a provider of retailer-exclusive bottlings metamorphosed into a distiller is managing director Leonard Russell, though getting to the heart of the story involves just sitting back and being carried on a journey with many digressions, double backs and dead ends. Avenues of conversation head off in one direction, then dive off into the opposite. It is enormously entertaining and, after a while, reveals someone who is alive to the bigger picture.
'My grandfather was a whisky broker who worked with all the major blenders,' he tells me as we sit in the firm's Broxburn headquarters. 'He maintained that, if he had a briefcase full of cash, there was always marginal production [to purchase]. Since the price for single malts was broadly speaking the same, he would fill the best blending malts which, in retrospect, is a brilliant plan. Why would you fill something which was a second or third-class bulk packer? These relationships, I'm happy to say, have continued.'
In the late 1960s, IMD shifted from broking to brand owning [Isle of Skye for example] under Leonard's father Peter, who also began to blend and bottle for what was then new supermarket-exclusive labels – Sainsbury's specifically.
By the late '80s, change was on the way. European discounters [Netto, Lidl and Aldi] had moved in, blended sales were falling, and the category was rapidly becoming commoditised. 'When I joined [in 1989], the price of a three-year-old bulk blend was £3.26. Then it dropped to £1.50. It was disturbing. Quite difficult times. Because they were overstocked, bigger distillers joined in and viewed private label as a way of turning stock around.

Strategic Scotch: The whisky industry is a long-term business, says Russell

'It is scary being chucked around on the ocean of stock and volatile pricing. We had to be price followers, which is an unpleasant way to run your business because you're not in control of your profitability – and other companies are bidding for your core business. The industry is now rather conveniently forgetting the times of bust.'
It was clear to him that the reliance on private label had to change. Enter single malt, and specifically in 2003, Glengoyne. As ever, there's a story to accompany the hard facts.
'Edrington are sticklers for being proper, and they wouldn't let us on the site until the money had gone through, so we sat in the van outside and drank a bottle of whisky. Then, when it [the money] went through, I entered. The team genuinely didn't know who had bought them. I said I didn't know how to make whisky, and that we'd lost the Glengoyne manual, so we'd like them to stay on and keep on doing what they'd always done.
'They loved that, because they went from being not a top priority to our core focus with a bit of love and joy… and they're all still there.
'Then, you see, we had a stroke of luck as the property market collapsed.' The comment, as is often the case, seems to come out of left field. 'It was very difficult for us to borrow money at that time. The banks were more interested in property developers. It was easy for them to borrow money and build up a land bank, whereas in whisky, things hadn't been going well.
'With the crash, the banks wanted to reduce their reliance on property and came up with asset-based finance, which is a very good plan…' – there is a pause for dramatic effect – '...if you have a lot of assets. It meant you could borrow against your maturing whisky. That was fortuitous as it meant we had access to capital, and we could distil more and invest in more stock.'

Diverse business: IMD bought Glengoyne distillery from Edrington in 2003

So it was then inevitable that IMD would buy Tamdhu? 'No,' he laughs. 'No. I was against the idea because we went into a period of having considerable debts, but there was a shortage of old stock and Tamdhu had a really interesting stock profile, including some old malt.'
But you ended up with the distillery anyway. 'The spirit quality was good. It was just unloved. We could make it loved again.'
As he explains though, there's a difference between buying stocks, and creating a style. 'I didn't want to launch something that didn't have an identity. Thankfully there was a rich seam of Sherry.
'With Tamdhu, the idea has been to build stock and be the "new old Macallan", which I'd rather other people say than me. There's room for another Sherried malt, which could slip nicely into that niche.'
How much of a learning curve was this switch from broker to distiller?
'Steep. For me at least, but my father always told me if you are going to recruit people, make sure they are better than you. Now that's counter-intuitive, because if you're a senior manager and you recruit someone who is better than you they might well take your job. But they can't take mine because I own the company... he said smugly.' There's more laughter.
'I've always tried to recruit people who are better than me and people I would enjoy going to dinner with. Those are my rules. Being a small independent is beneficial because…' Hang on Russell, you're the same size as Whyte & Mackay. There's an expletive and a shake of the head. 'I know. How did that happen? We're in a better position because we're not under any huge financial pressure to consistently over-perform every year, so we're not having to push sales. If we don't sell any 12-year-old whiskies this year, we can sell some 15-year-old in three years' time. Actually, the lazier you are the more valuable you become.'
Is there also an issue that there's not enough people who understand that whisky's a long-term business? 'Possibly. If you're managing the stocks within a large company and you see you have some 30-year-old, wouldn't you sell it because it would give a huge spike in your profits?
'A lot of firms are driven by short-term profit targets.' He guffaws. 'Avarice and greed. But really, if you are a whisky division [of a large distiller] you have to have targets. Our only target was to be able to manage the debt, so as long as we were able to finance that I was happy, and not under pressure to take short-term sales sacrifices at the expense of long-term gain.'
Subsequently, there's been the purchase of Edinburgh Gin just at the point when that category exploded, and there's now plans to open a distillery in the centre of the city. Glengoyne has become Scotland's most-visited distillery and one of its greenest. Then there's Rosebank.

Distillery aspirations: Russell says it is a 'dream' to be reopening Rosebank

After the chat, we head along the road to Falkirk to have a look at the site. The warehouses are pretty sound, but the distillery is cold and ravaged. Pigeon shit everywhere, holes where copper thieves ripped out the stills, the enormous mash tun rusted, its gears seized up. The old distillery buildings have to be rebuilt. A palimpsest. The same, yet different.
'It was too good to be true that the lease was up for grabs,' he says looking around the courtyard. 'We didn't do any business planning. You didn't need to, because it was too obvious. We were really lucky. It obviously wasn't in Diageo's plans – I imagine they'd been thinking about Port Ellen and Brora – and they didn't own the site.'
The key was getting the stock? 'Absolutely. I thought that even if we had the stock in isolation, we will not be embarrassed because it will be valuable. If cash flow prohibited a rebuild, we could always sit on it and look after the whisky with care and love.' But all fell into place perfectly. Diageo sold the stock, and Scottish Canals sold them the site.
'It's made me so proud, because Rosebank is a proper, proper whisky. This is a dream.'
So what are the plans? 'We won't launch until we get it right. We are determined to replicate what it was. Fabulously, the stillmaker [Abercrombie] still had the plans and Diageo's archive team gave us all the background information, so we will get the same people to make the same stills from the original plans. It's fucking cool. We can make whisky as it was made in the past, but in a different layout because we are creating a visitor experience around it.'
We wander into the warehouse. 'It's a long-term legacy I want to build,' he says. 'Three distilleries – four with the gin – are exciting and it is going to take a long time, but we have sufficient sales to be able to take a long-term view. The old stock we have will help with the rebuilding of the new distillery, but I'm nervous of what people will say about it.

Inherited whisky: Russell believes Rosebank's old stocks will help rebuild the distillery

'Managing the change [from bottler to distiller] has been a challenge, but to be able to manage the growth we've achieved is remarkable, and a lot of that comes down to being lucky.'
You keep mentioning luck.
'The chances that we exist, that the sperm hits the egg, are slim at best. The fact that we were born into a developed economy and had money to go to university and choose a career is outrageously lucky.
'I know I'm fortunate to be able to ponce around in this industry, which is the best in the world because we are friendly to each other. I'm the luckiest person I know.'
But do you make your own luck?
A pause.
'I suppose you do. It's often the deals that you don't do which make you successful. I do take calculated risks, and have a team around me whom I trust and who are extremely good at what they do. I couldn't do anything without them.'
But you've made some pretty canny decisions.
A longer pause. A smile. 'Yeah. I have actually,' he laughs.
'I can't be that modest all the time, but luck has played a major part. The macro environment has moved in our favour, consumer demand has moved into single malt. Let's find out in 10 years' time if I'm right, but we have the right people and the right model, so I'm quite relaxed.'