Johnnie Walker has opened its first flagship retail store in Madrid, offering cocktail classes, whisky tastings, personalised engravings and bespoke blends.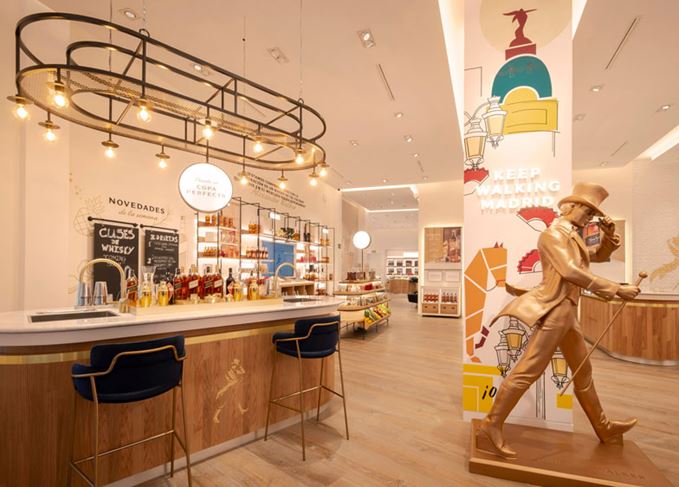 The store, situated on Calle Serrano in the Spanish city's fashionable Salamanca district, will be used as a 'laboratory' to trial experimental whisky experiences that could be introduced to future Johnnie Walker stores around the world, including the upcoming Johnnie Walker Experience in Edinburgh.
Officially opened to the public today (9 November), the store offers several interactive areas to immerse visitors in the world of Johnnie Walker.
Visitors are able to book one of several masterclasses including classic cocktail making, and a deconstruction of Johnnie Walker Black Label through a tasting of its main constituent malts and grain whiskies.
The world's first My Edition station, meanwhile, allows visitors to choose one of six different blends, before personalising a bottle with a bespoke label and engraving.

Cocktail station: Visitors can purchase glassware and other ingredients needed to make drinks at home

Every core Johnnie Walker expression will be available to purchase in-store, with interactive guides available to help visitors choose their favourite.
'We're always looking for new ways to surprise and engage our customers and this kind of experiential Johnnie Walker flagship store does just that,' said John Williams, Johnnie Walker global brand director.
'It also adds a sense of fun and discovery to shopping and is a whole new way of experiencing the diversity and rich heritage of Johnnie Walker.'
The flagship Madrid store replaces the brand's more exclusive, invite-only Johnnie Walker House concept.
The four Houses in Beijing, Shanghai, Chengdu and Seoul, as well as the 'boutiques' at several airport locations around the world, including Taoyuan International Airport in Taiwan, Mumbai International, Changi Singapore, Schiphol Amsterdam and Bahrain International, have now all been closed, with only a small 'private client' offering remaining at brand owner Diageo's Singapore office.

Revised concept: The exclusive Johnnie Walker Houses, including the Chengdu location, have been discontinued

Greg Klingaman, global reserve retail director for Diageo, said: 'They [the Johnnie Walker Houses] served their purpose; they achieved what they were set out to do, which was to put the super deluxe on the map.
'Within China there are some other forays into the retail space which are also an evolution of the Johnnie Walker House.
'We designed this store with the idea that it would travel well, and with some localisation it would work… we want to be consistent while having local flavour.'
The Johnnie Walker store forms part of Diageo's £150 million investment in Scotch whisky tourism, which includes plans for a new visitor experience in Edinburgh.
Diageo is expected to release an update regarding the experience's location by the end of the year.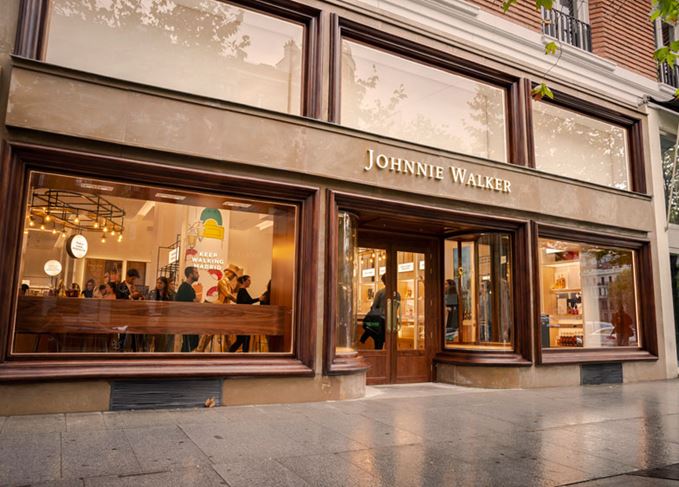 Trendy street: The Madrid Johnnie Walker store is located just doors away from Prada, Boss and Michael Kors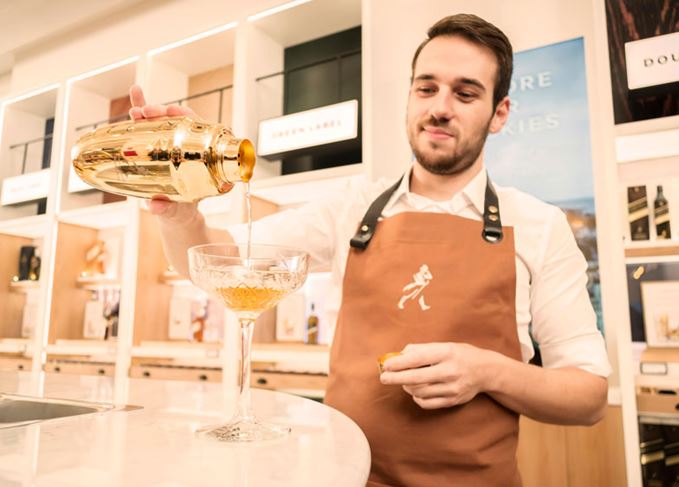 Drink 'n' shop: Visitors can order a personalised cocktail in-store for €8 to drink as they browse