New distillery Killowen is out to overturn 'myths' about Irish whiskey by using traditional production methods, such as double distillation, direct firing and worm tub condensers.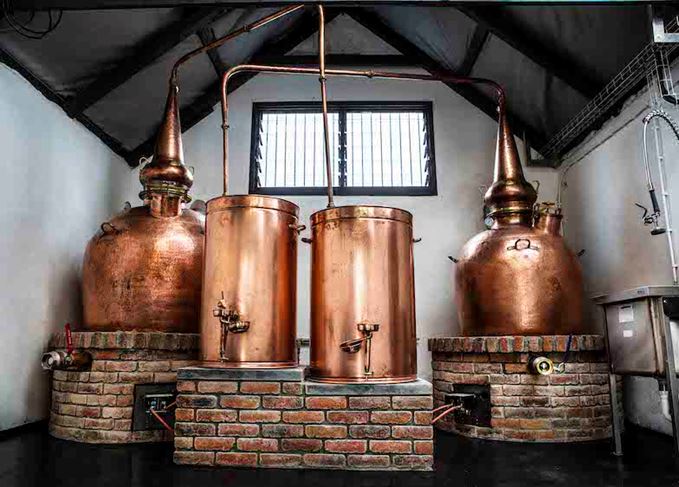 Killowen began whiskey production at its small distillery in the Mourne Mountains of County Down a few weeks ago, making it the 23rd operational Irish whiskey distillery (Clonakilty in County Cork has since become the 24th).
It will focus on making pot still Irish whiskey, using two distinctively-shaped Portuguese stills named Christoir (1,000 litres) and Broc (800 litres), heated by direct fire. It will also make grain poitins and oat whiskeys using locally-sourced grain.
Killowen is thought to be the only distillery in Ireland to use worm tub condensers, designed to give its spirit a robust and complex character.
Its mash bills will include oats and wheat, as well as unmalted and malted barley, some of it Maris Otter, according to distillery director Brendan Carty.
'One of my ambitions is to dispel those three myths about Irish whiskey: Irish whiskey is triple-distilled, Irish whiskey is smooth, and Irish whiskey is unsmoked,' he said.
'For us, Irish whiskey is smoked, complex and double-distilled, and that's the way it was before the turn of the last century.'
Carty added: 'Unmalted barley gives our spirit a spicy character; oats give it an oiliness and great viscosity. Historically, every Irish whiskey had its own mash bill. With the decline of the Irish whiskey industry, all these mash bills fell out of fashion. We're trying to revive that.'

Hillside home: Killowen is located in the Mourne Mountains of County Down

Asked about using direct-fired stills, Carty said: 'People tend to debate that until they taste it. It creates caramelisation and smokiness. A lot of those yeast residues tend to get burnt and caramelised at the bottom of the wash still. It's a very big flavour.'
So far, Killowen has made one 'safe' pot still spirit which abides by the technical file attached to the current pot still Irish whiskey GI (geographical indication), which specifies a minimum 30% of both malted and unmalted barley, plus up to 5% of other cereal grains.
However, Carty is planning to use another mash bill with up to 30% of non-barley grains, which he hopes might qualify for a revised GI in future.
He voiced respect for the way that established producers and the Irish Whiskey Association (IWA) had safeguarded the industry, but said he would like to see 'positive reform' of the GI.
Peter Mulryan of Blackwater distillery in County Waterford has called for the pot still rules to be changed, arguing that they are too narrowly defined in favour of leading producer Irish Distillers.
Killowen's opening comes as it was announced that Irish whiskey products worth €654m were exported in 2018 (distillery gate prices, not final retail prices), up 13% on 2017, according to figures from the Irish Central Statistics Office (CSO).
William Lavelle, head of the IWA, said the resurgence of Irish whiskey showed 'no signs of abating', adding that the US accounted for 43% of sales, with Canada, Australia and Central/Eastern Europe key growth markets.