Johnnie Walker owner Diageo could face disruption to Scotch whisky production after more than 1,500 workers threatened to strike over a pay dispute.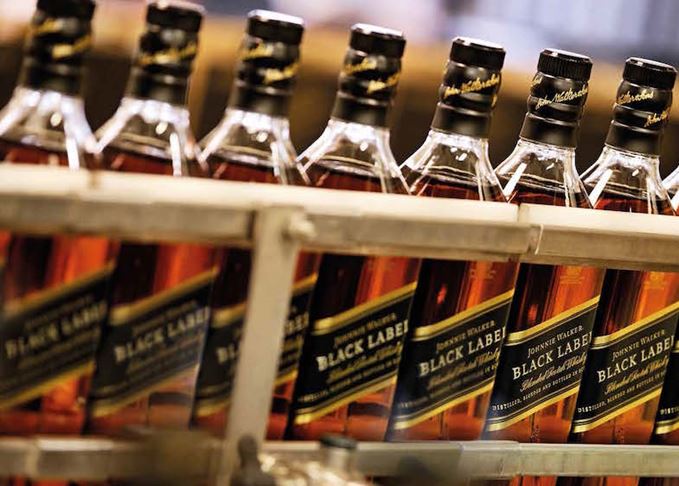 Members of the Unite and GMB unions have rejected what they call an 'insulting' proposed pay rise of 2.5%, with Unite confirming that it will ballot its members for strike action ahead of last-ditch talks this Friday.
Any action could potentially affect production at Diageo's dozens of sites across Scotland, including its 28 malt whisky distilleries and Cameronbridge, Europe's largest grain distillery.
Roughly 1,500 of Diageo's 3,500 Scottish workforce are members of the GMB or Unite unions, with 95% of Unite members rejecting the company's pay offer, which the union described as 'derisory'.
Referring to Diageo's plans to build a multi-million-pound Johnnie Walker tourist attraction in Edinburgh, Unite regional industrial officer Bob McGregor said: 'Diageo appears willing to spend millions creating a whisky shop for Edinburgh's tourists, while offering the workers who built the Diageo brands we all know and recognise a paltry 2.5%.
'This offer is not only insulting, it's disgusting, given the profits made off the backs of hard-working Unite members, who deserve a fairer share of the profits they generate for this hugely successful company.'
The GMB failed to return Scotchwhisky.com requests for comment on the dispute, but the union told BBC News that its members had rejected the pay deal 'by a large majority'.
A Diageo spokesperson said: 'Annual wage negotiations have been taking place with both the GMB and Unite unions in Scotland.
'Following a consultative ballot of their members, the unions have rejected our offer, equal to an increase of 2.8% on overall benefit and pay packages for our employees.
'This is made in the context of maintaining a strong reward package and the need for our manufacturing operations to remain competitive.
'Unite have informed us that they now plan to progress to a ballot for industrial action and we remain open to continued talks to secure an acceptable resolution.'
Asked how any strike action might affect production, the spokesperson said: 'We are open to continue talks with the unions, but as you would expect we have well-developed contingency plans for a number of scenarios.'