A commemorative bottle of Brora 40 Year Old has been created to mark the 200th anniversary of the silent distillery's original opening.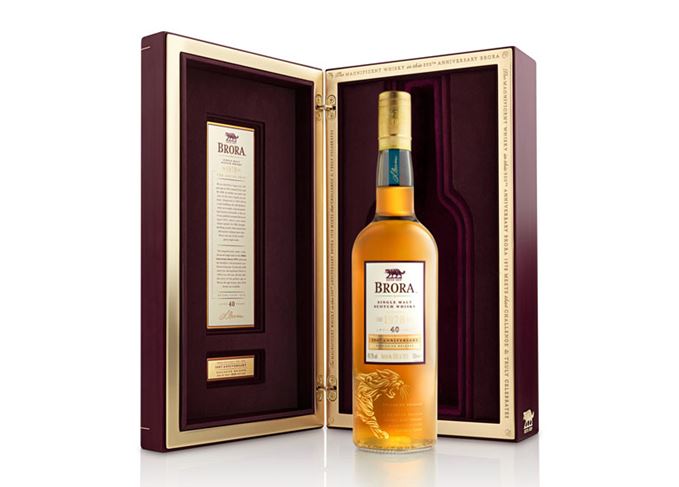 The 40-year-old whisky is a vatting of 12 American oak hogsheads laid down in 1978 during an era of peated whisky production at the Sutherland distillery.
Just 1,819 bottles have been produced – reflecting Brora's foundation year – which will be available for £4,500 each.
Bottled at 49.2% abv, the whisky is described as having aromas of 'rich, sweet fruit, ripe figs… and fire and brimstone', with a 'smooth, lightly waxy texture and a powerful, rich, darkly sweet, savoury then finally smoky taste'.
The expression is the first official release from Brora since it was axed from Diageo's annual Special Releases in 2017.
The distillery, which was founded in 1819 but closed in 1983, produced a limited run of peated malt whisky during its final 14 years of operation.

Restoration project: Brora's original pot stills are being repaired ahead of its reopening

Dr Craig Wilson, master blender at Diageo, which owns Brora, said: 'Of all the stories of Brora, there is one that seemed particularly fitting to tell on its 200th anniversary.
'From 1969-83, there was a new experimentation phase in production and the Brora distillers created a smoky malt used heavily peated northern Highland barley.'
Wilson worked with the Diageo archive team to scour the original Brora production records and establish the vintages that best represented the distillery's smoky style at its peak.
He added: 'Used primarily in blends at the time, the few casks that are left from this "age of peat", matured remarkably well and what remains is a multi-layered and complex single malt of astonishing quality.'
The Brora 40 Year Old 200th Anniversary edition is being released one year before the distillery is set to reopen.
Construction work is already underway to bring the distillery back to life, although the style of whisky it will produce has not been confirmed.