Jura has launched its first chinkapin-finished whisky as part of a new series of single malts dedicated to the island's community of (roughly) 212 residents.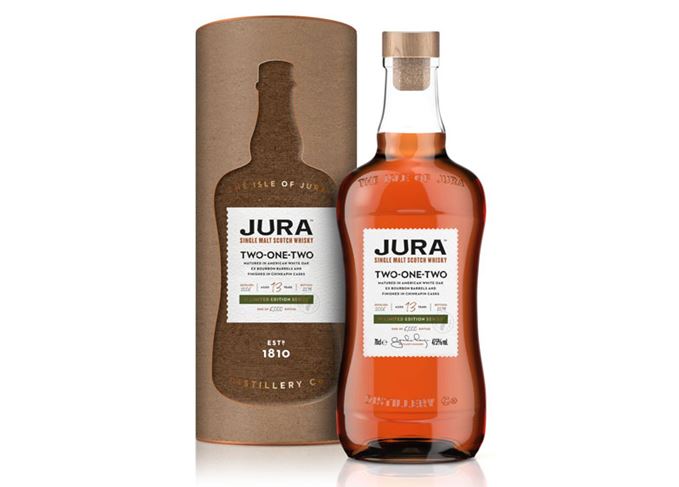 Jura Two-One-Two will be a series of limited edition whiskies kicking off this September with a 13-year-old expression matured in ex-Bourbon barrels and finished in chinkapin oak casks.
The additional chinkapin maturation is said to give Jura's sweet, smoky single malt whisky a 'distinctive twist'.
Gregg Glass, whisky maker at Whyte & Mackay, said: 'Chinkapin is a wood that is rarely seen in the industry, but the impact it imparts on Jura's light grassy spirit is worth the experiment.
'It's a fantastic partner which pushes the boundaries of what people expect of Jura's house style, while its pioneering nature is the perfect way to celebrate the exceptional community which our distillery sits at the heart of.'
Chinkapin, or Quercus muehlenbergii, is a sub-species of white American oak that grows in areas of the north-east United States, including the Ozarks in Missouri.
Jura Two-One-Two #1 is bottled at 47.5% abv and is said to have aromas of lemon cake, cinnamon spice and toffee, with flavours of poached pear, sherbet and roasted pistachio.
Kirsteen Beeston, head of international malts at Whyte & Mackay, said: 'We talk about Jura being a long way from ordinary and this latest creation certainly supports this.
'By celebrating the people who make up our community, we are not only acknowledging the fundamental role they each play in our whisky, we are also highlighting the vital role of community to the Jura brand.'
Just 6,000 bottles will be available in select markets including the UK, France, Germany, Africa, Russia and Europe for around £90/ €100/ US$120.
The island distillery previously honoured its local community with the release of a three-strong limited edtion series of whiskies – One For The Road, released in 2016 to mark the retirement of Jura distillery manager Willie Cochrane; Jura One And All, released in 2017 to celebrate Jura's community and distillery workers, and Jura One For You released in 2018.