Great whiskies old and new offered a sometimes cerebral juxtaposition at this year's London event, where the overriding theme was 'masterpieces'. Angus MacRaild was there.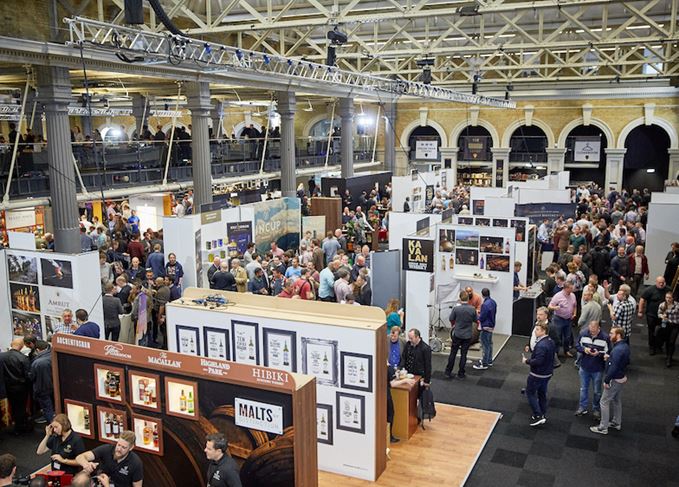 There is no doubt that London itself lends a kind of gravitas to The Whisky Exchange Whisky Show each year. I still suspect, however, that were it to move location the show would retain its place in people's calendars. It's been an essential part of the whisky year almost since its inception and, wandering around Old Billingsgate this past weekend – blethering; dramming; learning – it's not difficult to understand why.
The first thing that strikes me about the show is the space itself. It's something that is probably quite easy to overlook but, if you think back to the sweat box which was previous venue Vinopolis, the space is so essential to a show like this.
To be able to wander freely and dram without overheating, speak to exhibitors without feeling like cattle crammed in a pen, and talk without struggling to make yourself heard – these are all aspects which heighten the physical experience of the show.
It hasn't always been this way, but the fact that this is the second year on the trot at Old Billingsgate suggests that the team behind the show have finally found a space to settle into for the longer term. Speaking to them over the course of the weekend, it certainly seems that way.
It's something that marks The Whisky Show out from other shows or festivals, that sense of something organic, of an event that wants to evolve and to learn and improve. You can feel it, not just in the way the show has moved and explored different venues over the years, but in the ever-tweaked and carefully-structured layouts, and the increasing thematic emphasis of the tastings and exhibitors at each year's show.
The theme for 2016 was 'Masterpieces', something made quite clear in some of the tastings put together over the course of the weekend. I was able to attend three of them.
The first was 200 Years Of Lagavulin at the Saturday session. I hadn't been to a Nick Morgan tasting before, and it was an illumination to say the least. It was a rather beguiling mix of nerd-level whisky history, interspersed with swear-laden mini-rants about everything from marketing to whisky 'enthusiasts'.

Bicentenary bonanza: A Lagavulin masterclass included six 'exquisite' drams

Dr Morgan, head of whisky outreach at Lagavulin-owner Diageo, comes across as a mild-mannered sort, but his penchant for music obviously bleeds through into his presentation style. You couldn't help but feel that he'd managed to make the history of Lagavulin just a little bit more 'rock 'n' roll'.
Of course, it helps when you've got six exquisite drams on the table, including the new bicentenary 25-year-old and an advance sample of the 1991 single Sherry cask which will be sold for charity later this year.
Similarly, the Glenfarclas Master class, hosted by the force of nature that is sales director George Grant, laid out a simple and quite sublime line-up, starting with a 21-year-old bottled in the late 1970s and finishing with a 1967 Family Cask, by way of a 1953 58-year-old exclusive for UK distributor Pol Roger.
The only thing you can say against classes like these is that at times it can be like sitting in a wind tunnel, being buffeted around the senses by a smorgasbord of antique whiskies of immense complexity.
Getting that balance right can be a tough one, but line-ups like these remind us that, just occasionally, decadence and excess are a vital part of what makes life worth getting out of bed for.
The master classes are only one component of The Whisky Show, though. You can easily attend this show and get your money's worth by wandering the stalls, tasting the drams and talking to the people that make and sell them.
For me – as someone who works with whisky – it's a place to catch up with people I rarely see at other times of the year. For others, it's an essential chance to get to grips with the latest releases and products. For most people, it's an amalgamation of the two.

Old and new: The London event offers the opportunity to taste all manner of whiskies

I am often guilty of pouncing straight on the dream drams at the expense of the younger and newer products. But, this year, I have to say I was quite taken aback by just how good some of the new, small-scale distilleries in America are becoming. New bottlings by Balcones and Sonoma County were real surprises for me: both whiskies which I likely wouldn't have tried at other shows.
Sometimes it's important to be confronted with these products as we often can't rely on our own prejudices and inherent laziness to go out of our way for them. That's something The Whisky Show has always excelled at: placing new products in your path and just giving you the nudge you need to properly discover and engage with them.
Overall, there isn't too much to say about a show like this any more; it's a proven format that works due to a mixture of expertise, hard work and a willingness to let the exhibition evolve naturally.
The exhibitor and dram selection is quite consistent year upon year, but the ever-exciting master classes and events help to keep things fresh and alleviate any sense of stagnation or over-familiarity
The only gripe I might make is that I would like them to make a bigger deal of the non-tasting events. The interviews and discussions which take place are often excellent, but always feel to me as though they might benefit from a better, perhaps quieter, location.
The highlight for me this year was undoubtedly the Bowmore Master class: From One Master To Another. To be sitting in the company of distillery managers David Turner and Eddie MacAffer, tasting and discussing the 1964 46-year-old Bowmore, then back on the floor of the show half-an-hour later tasting a brand new single malt from Balcones with the distiller, is quite a cerebral juxtaposition.
That's the best of what The Whisky Show can do, in my opinion: take the pinnacle of whisky's history and its future, and weave them together in the most surprising of ways. Roll on 2017.