Collectors dusted down some of their most prized bottlings; some of the world's best bars flew in from as far afield as Asia; independent bottlers brought their scarcest expressions to be opened and enjoyed. And Tom Bruce-Gardyne was there to see what the first Old & Rare whisky show was all about.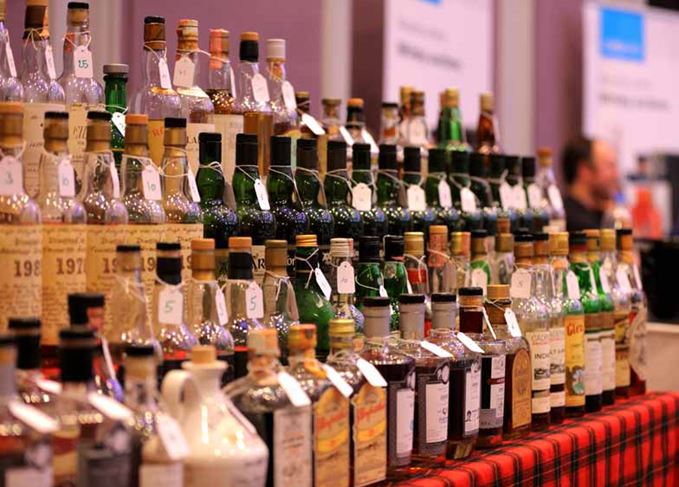 For years, Sukhinder Singh of The Whisky Exchange fame had been thinking of putting on a really special whisky festival in Scotland. Inspired by Germany's annual whisky fair in Limburg, among others, he wondered why there was nothing comparable in Scotch whisky's homeland.
Quite independently, great minds were thinking alike, namely the whisky writer and consultant Angus MacRaild and Jonny McMillan of Berry Bros & Rudd. Together they conceived the Whisky Show: Old & Rare in Glasgow's Grand Central Hotel last weekend (18-19 February).
Unlike Limburg, which now attracts thousands of aficionados, Singh put visitor numbers to Glasgow at around 300, but claimed this was deliberate. 'For me, with whisky you want to be in a relaxed environment. You don't want to rush things,' he explained. 'You want to take it easy and not feel squished.' And wandering around, it certainly felt that way, with plenty of space in the middle and none of the exhibitors mobbed.
Kevin Cairns was manning the Gordon & MacPhail stand, and compared to other shows he reckoned people's whisky knowledge was a lot higher, and they seemed happy grazing from stall to stall.
'It's very civilised,' he told me. 'They're not packed in, three deep, pointing glasses at you.' He was offering six whiskies, including a 1966 bottling from the silent Banff distillery, and an even rarer Mortlach from 1954.
The 17 stands were a mix of independent bottlers, collectors, specialist retailers and auctioneers. Arranged in a horseshoe, they began with Geert Bero, dubbed 'Mr Ardbeg', and finished with Michiel Wigman, the so-called 'Mr Springbank'.

Highly recommended: Tickets included £50 to spend on sampling old and rare drams

Somewhere in the middle was the Auld Alliance – said to be the best whisky bar in Singapore, if not the world. 'It's very exciting for us,' said owner, Emmanuel Dron. 'Our speciality in Singapore is to open old and rare bottles, so I think it's nice to do it here in Scotland.'
Lower the ceiling, dim the lights and throw in a few comfy armchairs around a log fire, and I felt the whole place could have been an amazing whisky bar. The age of the bottles and the profusion of quirky labels reminded me of Giuseppe Begnoni's sorely missed collection in the Vintners Rooms in Leith. With 1,200 whiskies stretching back to a 1902 Berry Bros bottling of Highland Park – all open and ready to taste – there was nowhere like it in Edinburgh until it closed in 2011.
Sharing a Ballantine's 30 year-old, bottled for the US market in 1963, I got talking to Angus MacRaild. 'For me,' he said, swirling the burnished gold spirit in his glass, 'it's got the most glorious, old-style waxiness and a rich, honeycomb character with a gentle smokiness.' And from my own nosing I wouldn't disagree – it was sublime.
MacRaild was convinced of its very high malt content that would have included Ardbeg and Laphroaig. 'So you're almost getting a picture of how malt whisky would have tasted at the time,' he continued. 'These would have been distilled in around 1930.' That morning he and Jonny McMillan had hosted an introductory masterclass to old and rare whiskies, while Sunday's masterclass pitched Clynelish-crazed Serge Valentin against Olivier Humbrecht with his beloved Highland Park.
Maybe it was the effect of the Ballantine's, but MacRaild was becoming ever more philosophical. 'With whisky, we've gone through the age of innocence, and we're now in an age of cynicism. I believe that we're perhaps pushing at a new era of a more intellectual maturity,' he told me.
'My hope is that shows like this are part of the cultural cog that moves things forward a bit. And I hope that the new generation of distillers are inspired to think creatively of how they can change things.'
Tasting just some of these whiskies would have been a fascinating experience for the current crop of would-be distillers studying for their MA at Edinburgh's Heriot-Watt University. Sadly, the ticket price of £100, including £50 of tokens to spend, would have been beyond the means of most students.
And that's a shame, because these old bottlings are very 'distillate-driven', in MacRaild's words. As he has argued on Scotchwhisky.com in the past, he believes modern distillers have become too fixated on wood.

In the moment: Masterclasses included an introduction to old and rare whiskies

If distilling students were thin on the ground, there were others to talk to, including 'Whisky Belle' and Keepers of the Quaich director, Annabel Meikle. 'I was so delighted when Sukhinder rang me and told me he was organising this show,' she said. 'I do think there's a gap in the market with whisky shows, and we need to create more variety.
'There are those for the big companies bringing in their standard expressions and educating people from a base level, but consumers have become so much more educated and complex.'
Armed with a glass of 'some old malt from the 1960s I've never heard of', Meikle cast her eyes round the room, and said: 'Look at all that old whisky that we're never going to taste again. We don't necessarily have to hark back and say it's more beautiful or better than today's whisky. It's just really different.'
For her, the event was simple proof that: 'If you put enough interesting spirit in a room, you will draw people from all over the world.' And there's truth to be found in her claims, as enthusiasts had flown in from 28 countries, including China, Taiwan, Russia and the States.
With plenty of 10ml drams at £10 or less, the £50 of tokens went reasonably far, though not far enough for the most expensive drop I spotted – a 1938 Glenlivet decanter filled in 1980 for the late Queen Mum's 80th birthday. But at £100 a nip, it was a bargain compared to the £18,000 currently being charged for the Glenlivet 50 year-old in the Winchester Collection.
Of course for many of us the price of any rare whisky can be a small fortune, and as Singh says: 'Sometimes, you're looking at a beautiful old bottle and thinking: "I wish I knew how good it was." So shows like this are an ideal opportunity.' Yet there is a dichotomy at play.
'One of the things we joke about is these shows are great, but actually they're bad,' he told me. 'They're bad because the price will go up for any bottle people think is amazing and start fighting over.'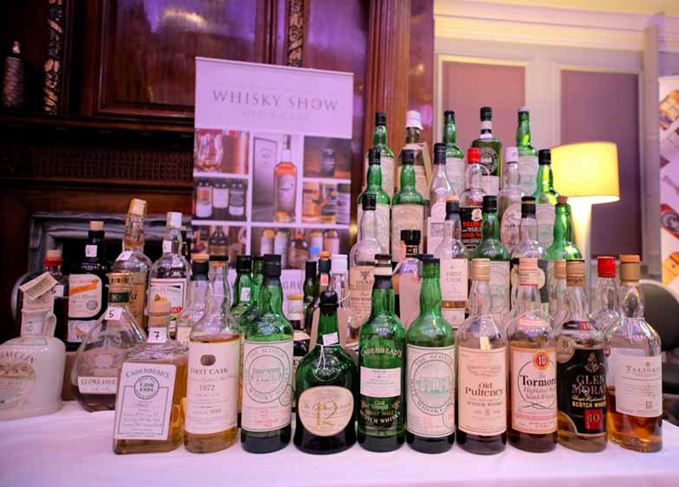 A fine selection: Just a sample of the old and rare whiskies available to taste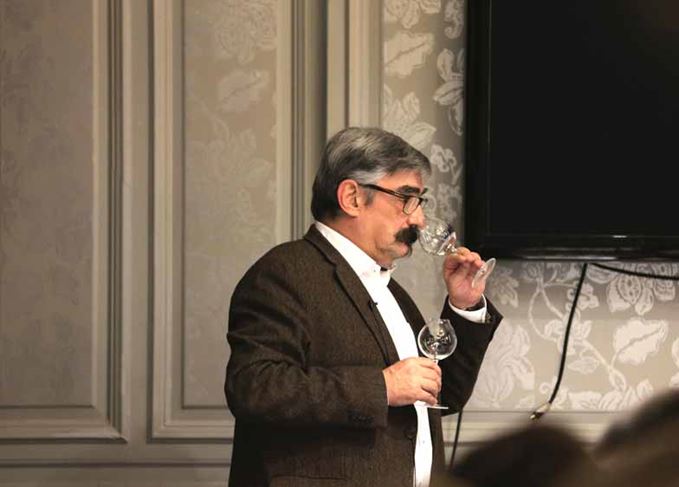 Serge Valentin: The Clynelish fan went head-to-head with Highland Park enthusiast Olivier Humbrecht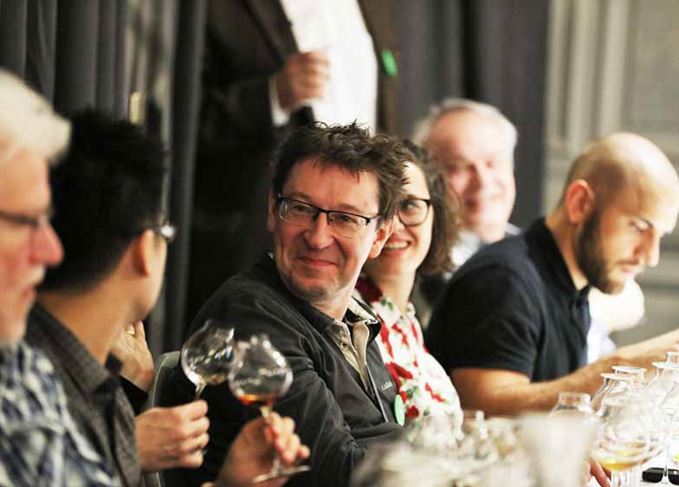 Satisfied customers: The inaugural show offered several masterclasses for guests to enjoy