Scotch whisky was undeniably at the forefront of the third annual Telegraph Whisky Experience. But is the event reaching a wide enough audience to keep whisky brands – and consumers – coming back for more? Melita Kiely reports.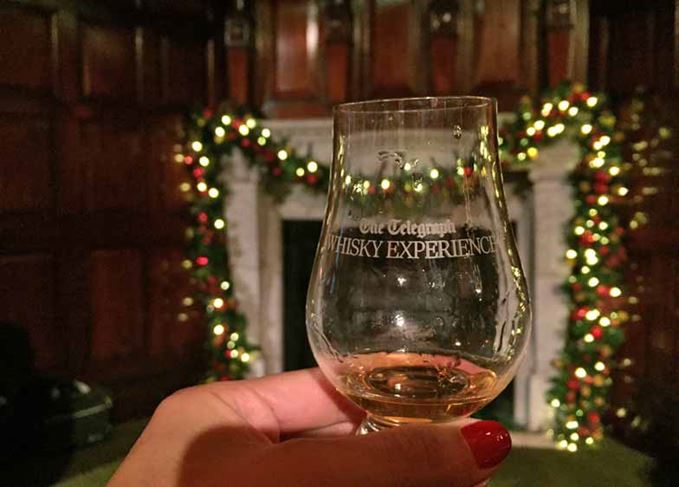 Whitehall Place is one of those London residences that makes you feel giddy with excitement that you, humble visitor, should have the honour of wandering its corridors for a day. Steeped in history, the building is situated on land originally given to the royal family of Scotland by the English Crown in 800AD, but it wasn't until 1985, when five-star hotel The Royal Horseguards bought the building, that One Whitehall Place as it stands today came to exist.
On 5-6 December, the venue's Gladstone library was transformed into a whisky haven, as the Telegraph Whisky Experience returned for a third year – a two-day event split into four afternoon and evening sessions, each capped at 250 attendees.
On arrival, guests were led up several spiralling flights of stairs and into the Reading and Writing Room for an introductory guide to nosing and tasting whisky, led by the event's hosts: expert whisky writer Charles MacLean, and Telegraph spirits writers from WorldsBestSpirits.com, Neil Ridley and Joel Harrison. With two miniature drams in hand – Girvan Patent Still No 4 Apps and Ailsa Bay – the trio took to the stage to welcome guests and commence the afternoon's, or evening's, events.
With introductions out of the way, it was into the library and time to taste. Out of the 100-plus bottlings on offer, just three stands fell outside of Scotch: Paul John Indian whisky, Starward Australian whisky and the English Whisky Company. Out of the Scotch whiskies there, brands included the likes of Ardbeg, Macallan, Gordon & MacPhail, Glenrothes, Balblair, Tamdhu and That Boutique-y Whisky Company.
The show is part of Telegraph Bespoke events, which promise to provide 'smaller, more intimate and beyond-the-rope experiences', and for the most part delivered on its pledge. What really struck a chord with guests was the tangible calmness in the room from start to finish.
There was no scrambling to suss out which stands were stashing old and rare whiskies below their counters (not that there weren't some there); no five people-deep queues of patrons waiting to be served; no rushed conversations between whisky drinkers and brand representatives.
There was ample time to talk to brands, ask questions, sample whiskies from different regions and buy the majority of bottles on display at discounted prices. A real contrast to the often chaotic atmosphere of other whisky shows around the world. It's a point of difference not often afforded to other, bigger whisky shows: at the Telegraph Whisky Experience, time is – to an extent – on the consumer's side, and vice versa for the brands.

Macallan Masterclass: Led by Amanda Humphrey, the session explored four Macallan expressions

There were no gimmicks with the show; no wacky innovations or miscellaneous entertainment – the most 'out there' stand was Jude's alcoholic ice cream, which went down a storm with customers.
Wandering the room, though, there was no shortage of eagerness to learn. This became all the more apparent during the Macallan masterclass, hosted by Mixxit's Amanda Humphrey – one of two masterclasses on offer during each session, the other held by Ridley and Harrison exploring whiskies from around the world.
While hovering around the Ardbeg stall, I got chatting to Keith Innes, who travelled from Oxford to attend the event for the third time. He raised a valid point: 'As much as I think this is a great show, I'd like to see more people from the brand on the stalls, brand managers rather than sales guys. People here want to learn as much as possible; they want to talk to the people behind the brand, not just sales.'
Perhaps not so much a fault of the organisers, but something for brands to bear in mind for future events. Consumers attend whisky shows such as this to gain greater insight into the drams, and as an industry collectively striving to increase consumer knowledge, education must always come first.
If there was one criticism to be made of the show, it would be that the event isn't attracting a younger audience, particularly those taking their first foray into the whisky world. But that is simultaneously what sets the Telegraph Whisky Experience apart from other shows. The organisers are head-hunting an older demographic who are looking to learn and spend their money, and spend it well – a different story to that of many millennials.
The event knows its audience, and it does what it does very well. And although it would be nice to see a show that caters for younger drinkers in a similar way, at a more affordable price point, it would be a shame to see the Telegraph change its approach too drastically.
But trends change in the blink of an eye, and the fast-paced lifestyle of 21st-century London waits for no-one. The challenge now facing organisers of future Telegraph Whisky Experiences will be finding equilibrium between growing and diversifying the whiskies on offer and maintaining visitor numbers, all while preserving the intimate, relaxed vibe of the show.