Now in its sixth year, the annual An Evening with the Blenders does pretty much what it says on the tin: share a dram, or two, with numerous long-standing whisky producers, try a plethora of whiskies from all around the world, and ask as many questions – professional and personal – as you like. Angus MacRaild provides a first-hand account.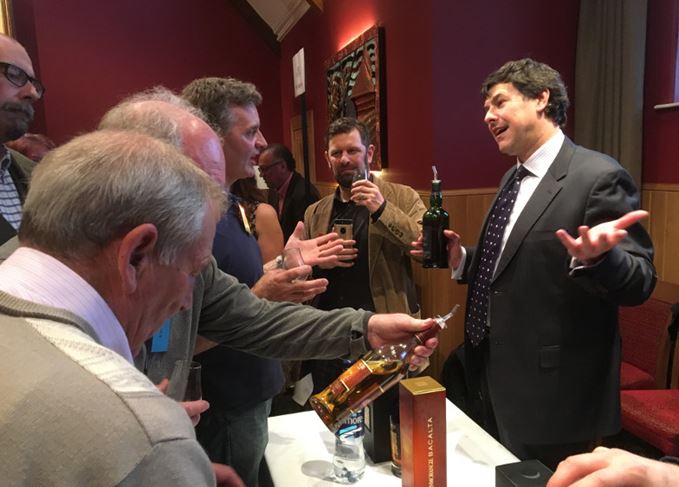 'The truth is there is a lot more communication and collaboration than there ever was when David [Stewart, William Grant & Sons] and I started in the industry. You'd have been sacked for talking to another company's blender. You'd certainly never have had an evening like this,' so says Richard Paterson, the host of what is, by any standard, an eclectic circle of long-standing professional blenders from all walks of the whisky world.
It makes for a neat closing remark in the Q&A session that ends the Scotch Whisky Experience's (SWE) sixth annual An Evening with the Blenders event. The night begins, however, down in the SWE's shop. It's a good-natured event from the start, with many attendees coming back year after year for the chance to meet and dram with some of the biggest names in the whisky industry.
People jostle together, drinking whisky and ginger, and enjoying the anticipation as Paterson begins to announce the line-up of master blenders in attendance: Gordon Motion of Edrington, Billy Leighton of Irish Distillers, Randy Hudson from Nantucket's Triple Eight Distillery, Dr Bill Lumsden of Glenmorangie, Angela D'Orazio of Mackmyra in Sweden, Tadashi Sakuma of Nikka, David Stewart of William Grant & Sons, Caroline Martin of Diageo and Shinji Fukuyo of Suntory. It's an undeniably impressive list of people with more than two centuries of total experience between them.
The first part of the evening, after opening introductions and remarks are done with, takes place at the top of the building in the newly refurbished Castlehill Room for what proves to be quite a traditional, 'festival-style' set-up. The only difference is that behind each of the stands is the blender directly responsible for the creation of the whiskies being poured. The room fills quickly and people flock around their blender of choice, armed with questions. The selection of drams on offer is a surprising mix of classic stalwarts, cask samples, experiments and new releases.

The 'Nose': Richard Paterson championed communication and collaboration in whisky

Paterson pours the latest incarnation of Shackleton, a blended malt which he describes as 'representing the nuance of the man himself'. Whether that's true or not I can't say, but I find it to be oily, fulsome and surprisingly satisfying. Stewart pours the Balvenie 14- and 21-year-olds, which are always a pleasure to re-acquaint yourself with.
Similarly, it's a joy to try again the Hakushu 18-year-old at Fukuyo's stand. I ask him when and why they decided to start peating Hakushu, and Fukuyo tells me that it was the mid-1980s and – with an unusually wry smile – that 'peated malt was subject to lower taxation in Japan at the time'. It's the kind of detail and story that characterises the entire event.
The new Roe & Co Irish blend from Diageo, poured by Martin, is a pleasantly fruity and opulent dram. But one of the star whiskies is a cask sample of 1989 Midleton that has spent the past 22 years in a fresh Port pipe. It's dense, hugely exotic and spicy – a rare example of Port really working with a whisky rather than against it, in my view. It's just a shame there are no plans to release it as a bottling in its own right any time soon. Those who try it protest about this to Leighton, at which he simply grins somewhat knowingly.
Perhaps the biggest surprise of the evening comes in the shape of the 8- and 12-year-old Notch single malts from Triple Eight Distillery. These were richly textured, fruit-heavy and characterful drams that shared an obvious distillery identity. As Hudson explains, the production uses a mix of ale and distilling yeasts, as well as older brewing varieties of barley such as Maris Otter. Sadly, the whiskies are so popular that they sell everything locally and they aren't to be found in this country… yet.
The SWE has been refurbished somewhat painstakingly over the past few years, and the considerable amount of money invested into the work is evident as the evening progresses. For more hardened whisky enthusiasts, it is tempting to overlook the SWE as something of a tourist trap – something I've been guilty of myself. What an eye-opener it is, then, to see some of the new parts of the public tour.
Video presentations at distilleries have long been a subject of some derision, so I am slightly sceptical about a video tour of Scotland's distilling regions accompanied by a 'regional-themed' scratch 'n' sniff card. The card itself doesn't quite work, but the 180-degree, wrap-around cinematic wall screen is hugely impressive. Especially considering the filmic quality of the visuals: high-definition, sweeping drone shots of some of Scotland's most breathtaking rural and cityscapes. It is by some distance the best whisky tour video I've ever seen.

Happy customers: The Q&A session at the end of the event left a group of satisfied whisky fans

This video is matched in terms of spectacle by the 3D imaging of the new Blender's Room, where the techniques and history of blending are explained in an audio-visual presentation. Once again, it is easy to be snippy about such things when you've been dug deep into whisky for a number of years. But as the bottles and screens illuminate and flare in the darkened, wood-panelled room it is enough to remind you of that little touch of magic that accompanies learning about whisky for the first time. That these various presentations manage to pull this off in a way that balances spectacle with an earnest and accurate explanation of Scotch whisky's geography and history is to be applauded.
The best part of the evening, though, is undoubtedly the Q&A session with the blenders at the end of the tour. Sitting in a line along the Amber Bar, they field a mix of pre-selected and audience questions. There are the usual gripes about NAS, the likes of Lumsden and Motion speak of their frustration with their respective marketing departments, and all of them deal with questions ranging from the intricacies of modern whisky production to their favourite holiday destinations.
It is a good-humoured, relaxed and diverse mix of people, backgrounds and opinions. To see such a range of different people from some of the largest, smallest, oldest and newest distilling companies in the world sitting together in discussion is well worth making the effort for.
As Paterson points out: 'It's the kind of collaborative and social event that is only made possible by a widespread, collective and varied love of whisky.'