Day three of Fèis was the day that the rains came, and the day that the hard core made a pilgrimage to big, secluded Caol Ila. As the Islay weather did its worst, time to take shelter and implement Plan B. Dave Broom reports.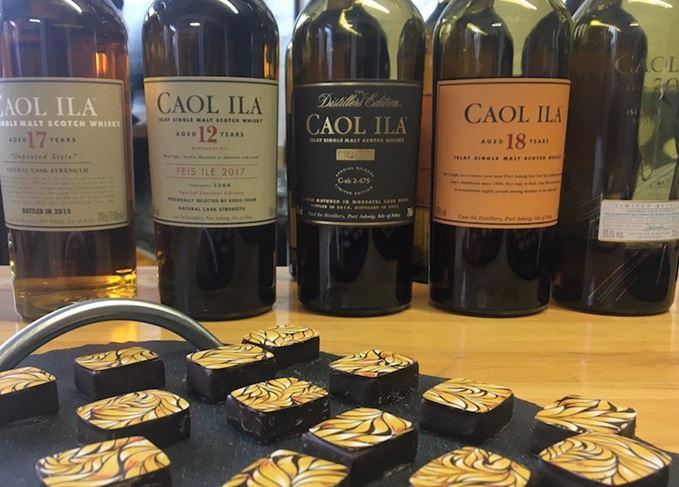 That red sky at night thing isn't necessarily correct, you know. The clouds hang dourly, there's a smirr in the air and Ireland has disappeared into the mist. Maybe Bruichladdich hasn't so much as signed a pact with God for good weather, but with the Devil to ensure that everyone else has to implement Plan B. But, hey, it's Islay. We have the right gear. Anyway, we head off to Kilchoman to do some filming and what was to be a day of coasts and contrasts.
At Kilchoman, the new kiln is taking shape, the fields of barley increased, the reality of 100% Islay being palpable rather than dreamed-up. Islay may have this air of permanence – even its roads bend to the will of the rock – but nothing stands still. It's the same in whisky, which doesn't always move forward in a logical way, but maybe takes a step back and to the side, foxtrotting its way into a new shape.
The concept of 100% Islay is accepting a new reality and possibility for a distillery of Kilchoman's scale. It makes sense. It wouldn't be possible for our next destination, Caol Ila, which operates under a different set of criteria. It's not a binary choice: big or small, blend or malt, west or east, it is doing the right thing for your conditions.
So we aim for the cleavage of the Paps and head east through the steadily falling rain. As Caol Ila is large and also built into a cliff face, there's precious little parking space, so visitors stop a few miles away on the main road and wait for a minibus transfer.

Not disheartened: The weather failed to dampen the enthusiasm of whisky lovers

It's now pelting down but, resolute as ever, the whisky lovers wait calmly, waterproofed, being occasionally fortified (passengers only, gentle reader) with drams to ease the pain.
Down next to the water there's a very drookit queue for the shop, people wearing the raindrops like medals. In the future: 'Were you at Caol Ila the year that it rained?' will be mentioned in the same way as: 'Were you there the year they sold the Port Ellen for a ludicrously low price and we all got eaten by midges?'
There's hardly anyone in the courtyard. There's a band playing to no-one, one huddle in the burger tent, another beside the seafood shack. Everyone has, sensibly, moved inside the old filling store with its mighty receiver vat.
Inside, it's a mini craft fair: the RSPB is there with a tombola (I win a peg bag and a pair of shears for deadheading flowers), there's books for sale, a fine merch stall, artwork and a makeshift whisky bar (with more chocolates). In the corner, Colin Dunn (see Saturday) is throwing Maltesers in the air. Upstairs, Iain MacArthur is doing another warehouse tasting.
I join the class being given by new(ish) manager Eddie Thom, which kicks off with the unpeated 17-year-old and culminates in a taste of the 30-year-old. It's funny, I think, as I alternate tasting with pouring a few drams, how different the atmosphere is between events and other festivals. Sunday is the day when more locals join in. Monday is for the hardcore. This is the carry-on after yesterday's carry-on – and maybe last night's carry-out.
Not that they aren't enjoying themselves. There's a happily boisterous Boat Whisky Club from Łodz helping to raise the atmosphere one more notch. This is Fèis behaviour, something you don't get at Spirit of Speyside, for example (but again that's not a binary choice).

Dram time: Caol Ila's old filling store provided visitors with shelter – and whisky

Alessandro Palazzi, legendary bartender at Duke's in London and the Dean of the Martini, sits next to me as the 18-year-old is poured. 'It's my favourite base for an Old Fashioned,' he explains. 'Just add some chocolate bitters [here they come again], and some citrus.' He goes on to explain how he is creating a Negroni Turbato on Tuesday evening, but I'll leave Becky to explain that in more detail.
The class ends up as more of a social gathering than a lecture, with Thom alternating between chatting to tables of people and giving us information about each dram. There's also some ritual friendly (verbal) abuse of his staff and, for some unaccountable reason, a dancing competition to The Village People's YMCA.
It's as if this is the one day of the year that Caol Ila emerges from its shroud of secrecy into the public gaze. Maybe as a result there is this rather charmingly improvised air about proceedings, which certainly hasn't been helped by the weather, but what more can you do when it rains on a site which doesn't really have a visitor centre? You relax, smile, open bottles and implement Plan B. Rearrange.
I hook up with old friends from Switzerland and France and talk of bottles gone and how whisky sometimes has emotion – those drams that make you stop and wonder what this liquid is, while others slip down without you noticing.
We bump into them later at Ardbeg and continue the chat over a Jura from 1977. The hard nutshell that seems to encase Jura when it is young is here shown to have been a chrysalis allowing this exotically-hued butterfly to finally emerge.
Caol Ila is like that, not just as whisky – the 30-year-old had a similar quality – but as a distillery. You look at size and think one thing, then you duck inside and find something to marvel at. The rain doesn't stop it from happening.
Becky Paskin joins Colin Dunn and some Polish whisky fans at the Caol Ila distillery open day: