As an investigation is launched into a 'fake' 1878 Macallan sold for $10,000 a glass by a Swiss hotel, the incident recalls an infamous saga from more than a decade ago. Richard Woodard reports.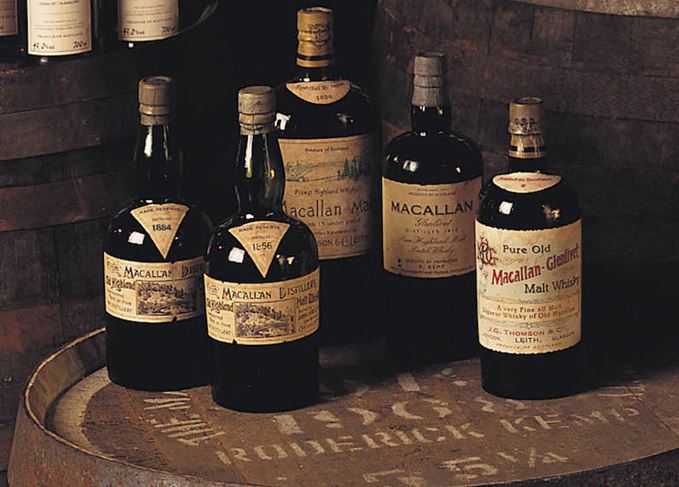 The emergence of what appears to be a fake 1878 bottle of Macallan single malt Scotch whisky at a hotel in St Moritz recalls a wider-ranging scandal of the 1990s and the early 2000s. As the investigation by the Hotel Waldhaus am See continues, there's an uncanny sense that we've been here before.
From the mid-1990s, something changed in the rare whisky auction market. The trickle of antique bottles had swollen to a flood, and this sudden succession of obscure expressions – previously unheard-of 19th-century bottlings, whiskies from long-closed Campbeltown distilleries – appeared never-ending.
They were mostly in excellent condition and they didn't appear in isolation – instead, they came in batches of up to four identical bottles. Some went to auction, fetching (at the time) dizzying sums; others were offered to distillers newly eager to explore and exploit their own heritage.
Many were duped, some completely, others because they simply wanted to believe that the facsimile in front of them was the genuine article. But objections were raised, particularly by company archivists, and by some retailers and collectors.

Reading matter: Macallan published this guide before the scandal broke

This rumbling of discontent led a group of people – Scotchwhisky.com chief engineer Dave Broom (then writing for Whisky Magazine), Diageo's Dr Nick Morgan, archivist Iain Russell (then at Chivas Brothers, now with Glenmorangie) and paper conservator Doug Stone – to launch their own investigation into the affair.
It also led some companies – Chivas Brothers, Diageo and Allied Distillers (now part of Chivas) – to reject a number of fake whiskies offered to them.
In many cases, the companies' archivists and experts felt that something didn't quite ring true about the bottles they were being offered. This gut instinct was then reinforced by simple fact-checking and detailed inspection: labels with 'strength' spelled incorrectly; the types of grammatical error made by a non-English speaker; a '19th-century' Talisker bottle sporting a line-drawing of the distillery, complete with 1960s metal chimney.
Many of these bottles were identified as coming from Italy. And, in Italy, one single malt stood above all others in terms of collectability: Macallan. No surprise, then, that a large number of 19th- and early 20th-century Macallans began to appear on the market.
Between 2000 and 2002, Macallan acquired about 100 antique 'Macallan' bottles at auction and from private collectors, in turn offering some of these for resale via its own online auction.
At the same time, the company announced plans to launch a 'Replica' range of single malts based on the taste and packaging of some of the bottles. There was even a book – The Definitive Guide to Buying Vintage Macallan – with a chapter devoted to the 19th-century bottles and the chance to buy them at auction through the Macallan website.

Timely reminder: The 1878 Macallan recently opened at Hotel Waldhaus am See

The sceptics were swift to voice their concerns. Those who tasted the 'original' 1861 (to be recreated as the first of the replicas) found it remarkably fresh and 'contemporary'; there was no record of a company called 'Macallan & Talisker Distilleries Ltd', which appeared on some of the labels; and Roderick Kemp, also named on those labels, did not own both distilleries at the same time (he sold his interest in Talisker to fund his purchase of Macallan).
Macallan was made aware of these concerns as early as December 2001, with experts offering to run forensic tests on labels the following month. Eventually, UK paper expert Peter Bower (recommended by Doug Stone) and ceramics and glass expert Simon Cottle were called in to the examine the collection in July-August 2002.
They immediately identified four '19th-century' bottles as fakes, including an 1893 Macallan that used 20th-century paper and named 'John Euring' (rather than 'Ewing') on the label.
But, those glaring examples apart, the experts decided the collection was genuine – or so Macallan said at the time. Strong doubts persist to this day as to the precise conclusions drawn, as well as the scope of the investigation.
The experts confined their findings to the materials: the bottles were Scottish and from the 19th century (or the 18th century in a couple of cases), and the paper used for the labels was from the right period. It's also unclear whether the neck tags showing the 'vintages' were checked.
At the time when many of these fake bottles surfaced, it was still relatively easy and cheap to find antique bottles and paper. To paraphrase the words of Dave Broom at the time: just because a painting has a 19th-century canvas and frame, that doesn't make it a Monet.

Victorian era: Macallan offered this bottle at auction with a reserve price of £8,500

In 2003, Macallan went further, submitting liquid from 16 bottles dated from 1856 to 1919 for laboratory carbon dating. All were found to contain post-1950 liquid. A second tranche, sent in January 2004, met with similar results.
The fallout from the saga led to more questions being asked. Why, when Macallan had the initial test results on the whisky in December 2003, did it wait until May 2004 to make them public? Why did it continue with the online auctions when there were already doubts about provenance? Why persist with the Replicas series – 1861, followed by 1841 and 1876 – when investigations were under way?
And, bringing things up to date, why continue to display some of these 19th-century bottles at the distillery when so many people have raised so many concerns about their authenticity? Some have now been withdrawn from public view pending further tests, but the company insists that this is a 'precaution' and that it still regards the bottles and labels as genuine.
What will these 'further tests' on the distillery bottles cover? The inks used on the labels, as well as the printing techniques, typefaces and the adhesive used to fix them to the bottle? These are all aspects that are routinely examined when authenticating fine wine.
Meanwhile, that Macallan Replica series of bottlings – which turned out to be replicas of fakes – sold for about £100 a bottle when everyone thought they were based on the genuine article. Now, when we all know they're fake, they fetch several hundred pounds each.
Looking back to 2004, the shock that greeted the news that Macallan's antique collection was riddled with fakes was tempered by the thought that at least all was now in the open, that people wouldn't be fooled by these bottles again. The recent episode at Hotel Waldhaus am See, which occurred in one of the world's leading whisky bars, shows that that is emphatically not the case.
The inescapable conclusion is that the initial moral of the story as written by Dave Broom in Whisky Magazine in 2004 – that of 'caveat emptor' or 'buyer beware' – remains undimmed more than a decade later. Especially if the whisky in question costs the equivalent of US$10,000 for one small glass.