The popularity of crowdfunding has given birth to a new style of Scotch whisky distillery, one owned and operated by the local community. These socially inclusive enterprises give back to the local economy, but aren't without their challenges. Gavin D. Smith reports.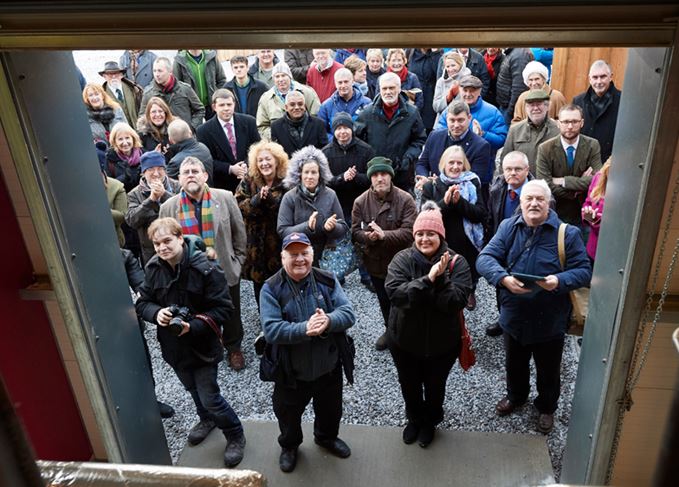 'Traditional' shareholders are notoriously unsentimental people, often focused on short-term dividends rather than long-term strategies. Distillers have to bend to their will, sometimes regardless of whether this is necessarily in the long-term interests of the business or of the distilling communities.
This is not to paint all distillers as corporate pantomime villains; many take social responsibilities very seriously, and contribute significantly to the local environment and population. One relatively recent example is the privately-owned Isle of Harris Distillers, which promotes itself as 'the social distillery', and has placed itself at the heart of island life in the Outer Hebrides.
But is there an alternative that materially benefits the communities in which distilleries are situated? Apparently, there is.
Leading the way is GlenWyvis, constructed on a hillside a couple of miles from the Highland town of Dingwall during 2017. The distillery takes its name from two long-lost local distilleries, Ben Wyvis and Glenskiach, and is the brainchild of local farmer, commercial helicopter pilot and green energy advocate John McKenzie.

Social spirit: Isle of Harris distillery hopes to support the Outer Hebrides' 'fragile' economy

McKenzie was keen to create a business that would be environmentally friendly and also integral to the local community. Accordingly an initial round of crowdfunding was instigated, leading to the formation of GlenWyvis Distillery Ltd, an 'Industrial and Provident Society (IPS),' or co-operative venture. It has more than 3,000 members, and the distillery currently provides five full-time jobs.
According to GlenWyvis' director of brand and communications Neil Urquhart: 'We raised just over £2.5 million in our first share offer, and are approaching £1.1m in the second. These monies have funded the construction of the distillery, all the equipment and the bonded warehouse.
'Investors received various rewards in their first year, but like spirit turning to whisky, it's a long wait after that; five years for a return, which will be up to 4%, at the discretion of the board. At this time, they do get various discounts on products. However, our members survey in 2017 indicated that most are not members for a monetary return.'
Urquhart notes: 'The advantages of what we are doing are that with the average investment of just £400 and with most investors keen to give back to the community, it's likely that more profits will be re-invested into community projects than investment returns. Ultimately, there is real democratic control of profits for social investors, much more so than the more normal capitalist approach that would exist in a private business. We are building on local traditions of community co-operatives, including the Dingwall livestock mart and the Dingwall wind co-op.'

Distilling community: GlenWyvis opened its doors in 2017 after successful crowdfunding

Although GlenWyvis is located in a rural part of Scotland, Urquhart sees no reason why similar ventures could not succeed in towns and cities. 'In fact, given higher numbers of people in urban areas, it could be a smoother route to start up initially,' he claims. 'Marketing and access to people are key.'
Meanwhile, a much-vaunted community distillery venture on the island of South Uist – first mooted in 2016 – has failed to materialise yet, allegedly due to disagreements between members of Storas Uibhist, one of the oldest and largest community landowners in Scotland.
The distillery was to be located in Lochboisdale, close to where the SS Politician sank in 1941, giving great PR potential for Whisky Galore! novel and film associations. A multi-million pound support grant had been arranged with the Scottish Government, but ultimately no application for it was made. The distillery was to be housed in an innovative lighthouse-style building, and if the project does go ahead at some point, it will be on a privately-funded basis.
So, is there a danger that community distilling ventures might fall foul of 'too much democracy', of too many people believing that they have a right to see their views implemented? Wasn't it the great motor-racing autocrat Enzo Ferrari who once declared that the ideal committee consisted of just two members, one of whom was always absent?

Moot point: Landowner disagreements have shelved Lochboisdale's community distillery

Urquhart disagrees: 'We have had two very quiet AGMs but some lively board meetings. In short, we are pleasantly surprised at how well things have progressed and how happy our members appear to be with the progress made. Good communication has been key to this, ensuring that all members are kept informed of any developments as and when they happen, including any of the setbacks that we have experienced, like any start-up does.'
The positive example of GlenWyvis has inspired Edinburgh-based businessman Peter Brown to revive his long-held ambition to create a distillery on the Hebridean island of Barra, where Compton Mackenzie wrote Whisky Galore!.
Brown explains: 'We saw what GlenWyvis was doing and thought it was the perfect model for Barra. We acquired a site for the distillery and a dam years ago, and I've passed that on to Uisge Beatha Nan Eilean, which is closest to being a co-operative.
'Every investor has one vote, no matter how much they have invested. Once profits are being made the investors legally can't get more than a certain amount of interest. It's above the bank rate, but not by big amounts. The rest goes into a trust called The Angels' Share. We will try to use match-funding for infrastructure projects and whatever else it is decided we want to take on in future. Our aim is to raise £1.5m crowdfunding, with local enterprise and bank loans making up the excess needed to create the distillery – somewhere north of £3m in total.'
The distillery will operate with one pair of stills producing around 25,000 litres of spirit per year, and the focus will be on single cask bottlings. As at GlenWyvis, wind, water and solar power sources will be utilised, and the team behind Barra boasts that it will be the 'most environmentally friendly distillery' in Scotland.

Responsible whisky: Brown hopes to open a community-owned, eco-friendly distillery on the Isle of Barra

Peter Brown cites the example of Bruichladdich as one reason why community-owned distilleries may seem preferable to those subject to the whims of shareholders. 'The thing that has concerned me all along is that Bruichladdich was not ready to sell, or at least Mark Reynier [CEO] was not ready to sell. Mark's baby was taken off him,' declares Brown.
'Generally, investors want to move on after three years. They are investing for capital growth, and distilleries don't require many staff. You bring in malted barley and take out new make spirit. The modern industry model is to double up in terms of output, but without taking on any more staff. Bruichladdich did everything themselves, including bottling. A bit like Springbank in Campbeltown, which is a massive employer there.'
After initially stating, 'We don't want the economic activity on Barra being taken off the island,' Brown explains further. 'There is too little attention paid to long-term investment. Everybody wants a quick buck. It goes beyond whisky into industry generally. This is a way of a community taking back control of aspects of their lives.
'I think our model has huge potential. It gives people control of where they put their money. It goes into one individual business rather than a portfolio. You can get to know the business, and I think that's very attractive to people. It's a good way for rural communities to take ownership of a pub or village shop. It's going back to the fundamentals of free enterprise.'