Gone are the days when a bowl of dusty peanuts or a few slightly soggy crisps were the height of festive bar snack sophistication. Nowadays, venues are putting a huge amount of thought into bar food and whisky cocktail pairings – with delicious results. Emma Eversham reports.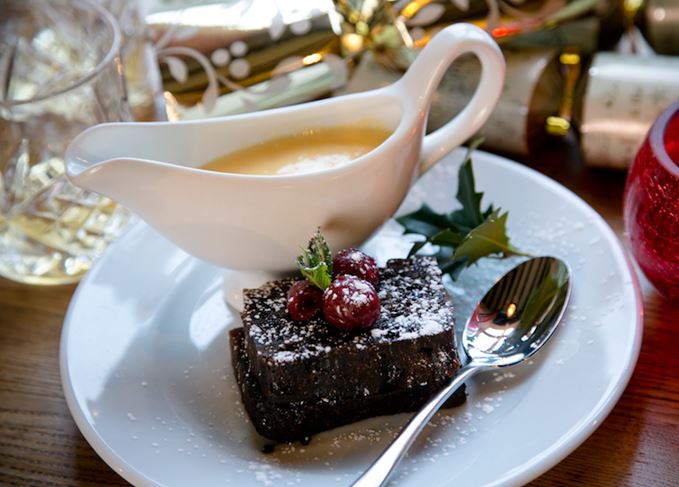 Whether seeking refuge from the hordes of Christmas shoppers, meeting a friend for a festive catch-up or simply wanting to watch the world go by, the best place to be this Christmas is at the bar. And, due to the fact that we like to dine as well as drink there, you'll find some serious eats to accompany your cocktail.
Forget nuts and olives – bar snacks devised by chefs now range from gourmet sandwiches and carefully curated charcuterie boards to molecular masterpieces and decadent desserts.
To save you time, Scotchwhisky.com has been out in search of the best whisky cocktail and bar food combinations. Find your place at the bar, grab a stool and get stuck in.
Bertie's Bar, Royal Garden Hotel, London
2-24 Kensington High St, London, W8 4PT; royalgardenhotel.co.uk

Smoky offering: Bertie's Bar pairs a peaty Lagavulin cocktail with a blue cheese snack

Whisky cocktail: Mary Peaty. The rich, smoky Lagavulin 16 Year Old is mixed with tomato juice, lemon juice and a drop of Tabasco and Worcester sauce before being served in an Old Fashioned glass and garnished with cucumber, olives and a red wine top.
Bar food: Blue Cheese Choux. A choux paste dough is mixed with crumbly blue cheese, shaped into small rounds and baked to create bite-size bar snacks.
Why they are perfect match: 'The saltiness of the Lagavulin is a classic complement for the saltiness of the blue cheese, and balanced out by the spicy blend of tomato in our Mary Peaty cocktail,' says bar manager Vilmos Csehi.
Twins Garden, Moscow
8A Strastnoy Boulevard, Moscow, Russia; twinsgarden.ru

Lava flow: Twins Garden's creative match aims to recreate the volcano of Shiveluch

Whisky cocktail: Shiveluch, Volcanoes of Kamchatka. Botanist gin, Maker's Mark Bourbon and red vermouth are mixed with Luxardo Fernet and Laphroaig 10 Year Old before being served long in a custom-made glass with smoke created by smoked tea to help 'create the very essence of the volcano'.
Bar food: Edible stones (aka blackcurrant meringue) and beetroot, raspberry and black cardamom espuma. The black cardamom is smoked on peat and the ingredients are all frozen with nitrogen.
Why they are the perfect match: 'Shiveluch is one of the 28 active volcanoes of Kamchatka, and also one of the most dangerous,' explains bartender Sam Koyakhin. 'This cocktail represents the volcano – its strength, its smoke (which Laphroaig whisky gives) and the ashy aftertaste (from Fernet Luxardo, which gives that extra dryness and the feeling of ashes on your tongue).
'Beet and raspberry espuma with the black cardamom is meant to tame the volcanic taste of the cocktail, being a little sweeter and softer. In the first wave of taste you can feel smoky raspberry that goes well with the whisky, and then comes the beetroot juice, giving a slight "soil" aftertaste.'
Sun Tavern, London
441 Bethnal Green Road, London E2 0AN; thesuntavern.co.uk

Cold cuts: The Sun Tavern's tempting charcuterie board is matched with an Irish-accented cocktail

Whisky cocktail: The Cure. This warming cocktail is a powerful blend of Tullamore Dew Triple Distilled, Connemara Irish whiskey, sloe bitters, lemon juice, Glogg and Umbrella Brewing ginger beer.
Bar food: Charcuterie board. A mix of Speck ham, which is smoked over wood and with bay leaves to give it a soft smoky, herbal flavour; lomo (air-dried chilli pork); wild boar salami with caraway and juniper; and a beer stick, a mix of beef and pork with a good kick of pepper. The board also includes multi-seeded bread with olive oil and balsamic vinegar, cornichons and Sicilian olives.
Why they are the perfect match: 'The charcuterie board holds up well to whisky and will suit both a long, refreshing whisky cocktail or a heavy, boozy one,' says Connor Bloomfield, head trainer at the Umbrella Project. 'It works so well with The Cure because both feature an array of flavours: the Speck ham plays well with the Connemara, because of the herbal sweetness from the bay leaves, while the sloe bitters bring out the juniper in the wild boar salami, and the lomo ham brings out the spice in the Umbrella ginger beer.'
South Sands Hotel, Devon, UK
Bolt Head, Salcombe, Devon, TQ8 8LL; southsands.com

Punchy mix: Will Neal fuses Glen Scotia and Sazerac Rye in the Campbeltown & Rye Old Fashioned

Whisky cocktail: Campbeltown & Rye Old Fashioned. A mix of 50ml Glen Scotia Double Cask and 10ml Sazerac Rye Whiskey with Aztec Chocolate Bitters which are used to saturate a cube of brown sugar. The finished cocktail is simply garnished with a cinnamon stick.
Bar food: Local Hot Salt Dexter Beef Sandwich on Rye Bread. South Sands Hotel head chef Allister Bishop sources beef which has been reared, butchered and cured in Devon, and serves it on rye bread with house pickled cabbage and smoked Godminster Cheddar cheese.
Why they are the perfect match: 'The finished cocktail is punchy, yet smooth, with a warming character and sweetness that cuts through the beef, pickle and cheese in the sandwich,' says bar manager Will Neal. 'Matching the sandwich with whisky was a nod to my love of the Old Fashioned and the cold Devon evenings,' adds Bishop. 'It's also cracking bar food!'
Voyage of Buck, Edinburgh
29–31 William Street, Edinburgh, EH37NF; thevoyageofbuckedinburgh.co.uk

Generous pour: The Carter and Carnarvon has fig-infused Monkey Shoulder as an ingredient

Whisky cocktail: Carter and Carnarvon. Fig-infused Monkey Shoulder is mixed with Cocchi di Torino, Campari, Buck's fenugreek cordial and bitters.
Bar food: Pan-fried lamb rump with couscous, lemon, harissa, burnt baby gem, heritage tomatoes, bergamot and chickpea salsa.
Why they are the perfect match: 'The sweet vermouth and Campari bring a citrus note to cut through the heaviness of the lamb, and the fenugreek in the cordial pairs beautifully with the Middle Eastern flavours in the dish,' says general manager Mike McGinty.
Executive chef Simon Upcraft feels that the fig infusion in the Monkey Shoulder 'continues the Middle Eastern flavours from the dish', which is further enhanced by the berry and barley notes from the blended malt. 'We've also used a gamier meat to stand up to the strength of the whisky,' he adds.
Grain, Four Seasons Hotel, Sydney
199 George St, Sydney NSW 2000, Australia; grainbar.com.au

Southern Bell: The cocktail is Grain's fresh take on the classic whisky sour, using Bulleit Rye

Whisky cocktail: The Southern Bell. Grain's take on the classic whisky sour is a mix of Bulleit Rye whiskey, pear juice, lemon juice and egg white, shaken, then poured into a coupette, garnished with two stripes of Angostura bitters and topped with a slice of dehydrated pear.
Bar food: Maple Mascarpone Cheesecake. The cheesecake is slowly cooked in a water bain marie, instead of being baked, to give it a fluffy texture. Presented on a Graham crumble base with a maple syrup reduction, it is served with strawberries marinated in white balsamic vinegar and cane sugar.
Why they are the perfect match: 'Bulleit Rye is a high-quality straight rye whiskey that is characterised by complex flavours such as vanilla, honey and spice that work perfectly with the pure Canadian maple syrup used in the cheesecake,' says bar manager Roderick Boerma.
He finds that the creamy texture of the frothy egg white in the cocktail helps to balance the dessert's sweetness. 'Both the cocktail and cheesecake also have a smooth and silky finish that's simply delightful and very moreish,' he adds.
The Carnarvon Arms, Berkshire, UK
Winchester Road, Newbury, RG20 9LE; thecarnarvonarmshotel.com

Old chestnut: Chivas Regal is the base for The Carnarvon Arms' Chestnut Old Fashioned

Whisky cocktail: Chestnut Old Fashioned. This barrel-aged cocktail combines Chivas Regal 12 Year Old with Briotett Chestnut Liqueur, sugar syrup and drops of Angostura Bitters and orange bitters. Aged in a five-litre oak barrel for up to a month, it is served in a tumbler and garnished with a slice of orange.
Bar food: Christmas pudding. The Carnarvon Arms' Christmas pud is made in-house, combining all the traditional ingredients, inclulding currants, sultanas, raisins, candied peel, cinnamon, nutmeg, ground cloves, stout and brandy. Once prepared, it is steamed for six hours before a final 2.5-hour steam on the day of serving.
Why they are the perfect match: 'The festive fruits and chocolate orange tones of [the pudding] are ideally matched with our cocktail, says Carnarvon Arms restaurant manager David Keogh. 'They're strong and robust flavours in themselves and need a cocktail of equal strength and sweetness to complement them.
'The vanilla and butterscotch notes of Chivas Regal, along with the very festive finish achieved in the cocktail from the Briotett Chestnut Liqueur, provides just enough sweetness and festive flavour to really set the dish alight – quite literally in the case of our Christmas pud!'