The Whisky Virgin is heading home for Christmas, but not without a bottle or two of Scotch with which to show off his new-found knowledge. But which suitably festive drams should he select?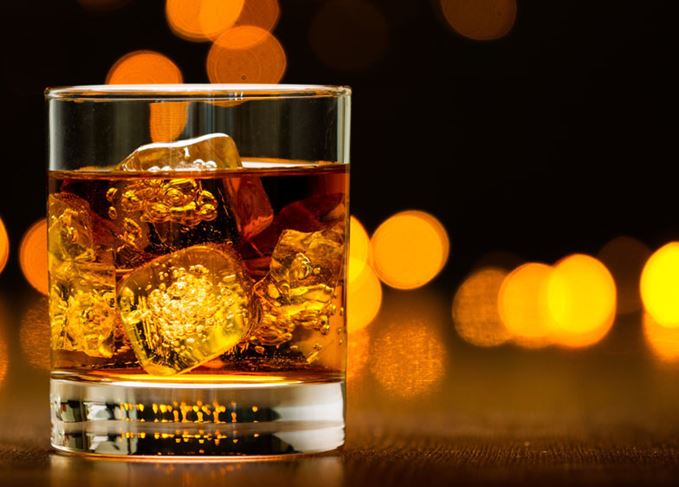 Season's greetings, whisky friends. The tinsley embrace of Christmas is nearly upon us and, for me, that means returning to the provinces to celebrate with the fam. My plan is to pack a few bottles to share my new-found love of whisky with my relatives and also to divert their attention away from the topic of how I'm 'getting on in that there London?'.
'I'm fine, really. Paying 70% of my salary to live in a condemned cricket bat factory with seven other 20-somethings is actually very creative and urban and… hey look, I bought Christmas whisky! Let's all focus on that.' Bosh.
But for Santa day I know that I can't just trot out any old sauce. I've learned that whisky can taste like almost anything, and it seems to me that a seasonal Scotch should really taste like Christmas. Has to be possible, right?
I'm hitting a specialist whisky bar in search of a couple of bottles for less than 50 squids that make me think of all things Xmas: dried fruit, clementines, mulling spices, the annual screaming board game row, Kirsty MacColl using a homophobic slur against a clearly struggling Shane MacGowan. Ah, Christmas, how I love you. Anyways, I've smashed my piggy bank and rocked into town for some sweet, sweet research.
I slide into the bar on a wave of blackened slush. The walls of the joint are lined with whisky bottles like a liquid library. Time to make an enquiry with the librarian.
'Evening, chief, I'm looking for Christmas Day Scotch. Something sort of spicy, easy-going? Mixable, too; some of the people I want to share this with are even bigger whisky virgins than me and I don't want them to feel left out.'
The sharply-dressed bartender points out a bottle called Spice Tree. Sounds perfect.
This is the kind of gear I could see being cracked open while the paper's coming off the presents. It's spicy – as advertised – but also marmalade-y and light. My whisky librarian tells me that this is a blended malt put together by some scientist types from a crew called Compass Box. They've mixed Scotch from different distilleries and aged it in custom casks made of different types of wood to get their hooch all festively-flavoured. Nice.
I ask for some ginger ale and ice to lengthen out my dram and I'm transported to Christmas morning.
'No, Auntie Pat, I don't have a girlfriend yet, but here's a lovely long ginger drink I'm calling a Spicy Christmas Tree. Tasty, right? No need to stick with that other line of conversation when we can talk about whisky casks.' The bartender catches me practising festive rejoinders aloud but, being a total pro, they take it in their stride.

Festive cocktail: A long drink of spiced whisky and ginger ale is the perfect way to start Christmas Day

'Pretty good start,' says I, 'but I think I also need something for after dinner. I've heard people say their Scotch tastes like Christmas pudding and stuff – y'know, Victorian history desserts we only eat once a year? Got anything like that?'
The bartender tells me that there's a good chance that what I'm talking about is Sherry.
'Nah, dog. I'm the Whisky Virgin, this whole thing is me learning about whisky, feel me?'
But apparently, in my trademark style, I'm wrong again. I recently found out that the casks they use to age Scotch have almost always been used before. Most of them come from America, but what the wise spirit curator tells me now is that some come from Spain and have previously been home to your favourite tapas tipple, Sherry. Bourbon casks bring sweet vanilla and creaminess to the whisky party, Sherry casks – being fruity and funky – can sometimes make Scotch taste like Christmas cake.
My next shot of seasonal cheer comes from the good folks at Balvenie. Their 12-year-old DoubleWood has spent time in a Bourbon cask before being moved to a Sherry cask. Seems this Scotch business has a whole lot to do with wood, and that, if spice and rich fruit is the order of the day, it's worth me thinking about what kind of cask my whisky has been aged in.
This Balvenie is like cooked fruit and chocolate and cinnamon, and I love it. This is definitely close to what I'm looking for, but when my nana makes a Christmas cake she doesn't go easy on the sweet Sherry.
'So, kindly Scotch seller; is there a whisky behind that bar that's, like, super Sherry-aged? I'm talking nana's Christmas cake levels of Sherry.'
The liquid librarian has just the thing.
I'm told that GlenDronach 12 Year Old is a good example of a whisky aged entirely in Sherry casks, some of which once held the sweetest and hardest-to-pronounce Sherry of them all, Pedro Ximénez. The stuff of Christmas cake dreams.

Selection box: Choose a variety of whiskies for different moments on Christmas Day

Drinking GlenDronach feels like drowning gingerbread men in mulled wine. It's nutty and raisiny, and feels like the perfect thing to break out while I'm losing to my uncles at Trivial Pursuit because our set is ancient, and all of the questions are about East Germany and Eurovision 1978.
'No, I don't know who won the biathlon at the 1984 Winter Olympics, all right? Just have a slug of this festively evocative single malt so we can forget about this horrible game.' Sorted.
I'd love to take home all three of these fruity, spicy malts, but there's only so much I can carry on that last packed train heading north on Christmas Eve. The great thing about my chosen whisky research venue today is that they also have an off-licence, and so I'm fixed up with a bottle of Spice Tree and a sweet GlenDronach.
I bid my latest whisky teacher a Jolly Xmas and a sound New Year.
I've bagged a light, accessible blended malt I don't feel bad about mixing for the daytime; that's the before turkey or 'BT' portion of the 25th taken care of. I think I've also done well to find something thick and intense to throw on top of all the stuffing and chocolate currency I'll have packed in by the time the sun goes down.
I've also learned that whisky casks have a lot to do with how Scotch turns out and that, if I'm looking for certain scene-setting scents and flavours, it's worth asking questions about wood.
As I skid down the street with two bottles of Christmas fuel in my grasp, I feel well-armed for the big day. Break out the relationship-damaging games and the comments about how I'm losing my accent, loving family, I'm coming home.