Christmas is a time for families to create lasting memories together and, for many in the whisky industry, that has to involve a dram or two. So we asked some Scotch whisky personalities to share their memories of how whisky has come to shape their Christmas.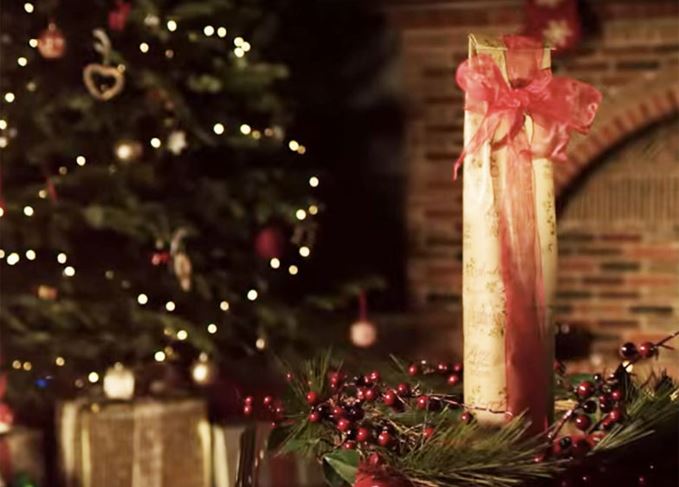 Christmas is a special time of year, particularly for whisky lovers. Cold dark nights, twinkly fairy lights and the gentle crackle of an open fire provide a captivating backdrop to a warming dram.
For many Scotch fans, whisky has played a significant role in festive celebrations for years, shaping long-held family memories in the process. Scotch has a knack of creeping into family traditions, whether it's poured over the Christmas pudding in place of brandy, offered to Santa as a wee nip on his busiest night of the year, or taken as the tipple of choice to accompany family board games.
This is especially true for those working in the Scotch whisky industry, whose love of a good dram can be infectious. Who better, then, to regale us with their tales of Christmas whisky experiences? We asked Scotch personalities around the world to share their favourite memories of how whisky has shaped their Christmas, from tales of sipping Black Bowmore by the fire to a Christmas whisky filled with regret, and the bittersweet discovery of a hidden stash of Scotch.



Tatsuya Minagawa, owner, Highlander Inn, Craigellachie
'I would say that Christmas 2015 was my most memorable in recent years. Not due to any specific dram, but simply as it was my first year as the manager/director of The Highlander Inn. I opened the Whisky Bar on Christmas Day for a few hours and invited the locals to pop in, where we shared some stories of the year and had a lot of laughs over some drams.'


Nick Morgan, head of whisky outreach, Diageo
'Whisky is for sharing, so the most important glass you pour at this time of year is not for yourself; rather it's the one that you leave on the hearth late on Christmas Eve, on the off-chance that some passing traveller, quite possibly on a mission of the very highest order, might be in need of the restorative properties offered by a touch of Scotland's midnight wine. I always leave a generous measure of Lagavulin 16, along with a mince pie, and maybe a carrot (to help with the night vision, I suppose). Miraculously, it's always been drunk by morning – when I had young kids, a tell-tale sign for them that the game was afoot.
'As for memorable Christmas whiskies that I have drunk... well, in 2008 we bottled a single cask of Port Ellen for the Fèis Ìle (in retrospect, not my finest moment, and a field day for the flippers). I opened a bottle that Christmas: a big, smoky whisky with all that typical Port Ellen citrus fruit. "Quite nice really," as our whisky experts often say.'



Amanda Victoria, US communications director, The Scotch Malt Whisky Society
'My most memorable Christmas whisky experience is of sharing a dram of something quite delicious that was finished in a Caribbean rum cask with my father, who is of Caribbean descent (and thus, especially appreciated the rum cask— this particular whisky was made for him!). Our family dog, aptly named Whisky (may he rest in peace), was resting at our feet. Our interests and love all came together over a superb single malt, a memory that will glitter for many years to come!'



John Campbell, distillery manager, Laphroaig
'Last Christmas my son and I were enjoying a wee dram after our Christmas dinner and I told him to go to the cupboard and choose a whisky. I have two cupboards for whisky in my house: one for stuff that's opened, and for drinking, and one that's for stuff I am collecting. My son decided to get the keys to my collection cupboard and poured each of us a 30-year-old Ballantine's whisky.
'I knew as soon as I tasted it that this was something we should not be drinking. For a second or two I was a bit miffed, but to be fair we ended up having an amazing night and no value could have made up for the memories that we created that night.'


Charles MacLean, whisky author and expert
'Three small children running amok. The usual over-ambitious Christmas feast to prepare for eight adults and four hysterical kids. Then, around midday, the power fails...
'My brother-in-law and father-in-law are dispatched into Edinburgh to finish the turkey in his flat. The rest of us cook the veg, pudding, etc on the unpredictable AGA. Candles are lit, and two fires, and in the half-light of a midwinter afternoon, presents are opened... And this is where the occasion became memorable, for a calm like I have never seen before descended upon the house. The kids opened their presents carefully (rather than ripping them to pieces and moving immediately on to the next); the grown-ups did not bicker and grumble.
'It did help, however, that I had been saving a 1968 Longmorn (SMWS bottling) for the occasion, which tasted like liquid Christmas cake.'



Rachel Barrie, master blender, Beam Suntory
'Christmas to me is a time of single malt adventures with my dad, mainly whiskies linked to our Aberdeenshire roots. Throughout my childhood, I remember absorbing my dad's appreciation of single malts, through his selection of "special whisky bottles" in his drinks cabinet. A small sip would bring a wry smile to his face, as he'd remark in Doric: "That's affa affa fine" – in my eyes, a sign of contentment, humble appreciation and wisdom.
'As I recall, against the backdrop of giant snowflakes falling in silence on Christmas Eve, he would slowly and carefully unlock the walnut drinks cabinet – I remember an old-style bottle of Glen Garioch (with the stag on the label), Sherry cask-matured Glendronach and Macallan – distilleries close to our Aberdeenshire home. He'd let me try a sip or two with a mince pie and Christmas cake to calm the excitement of Christmas Day, which was by now only hours away. To this day, I have a lovely warm feeling of our shared Christmas Eve's dram – the calm before the storm of Christmas Day.
'As you might guess from his selection, my dad is extremely fond of Sherry cask-matured Highland malts, and over my past 25 years of whisky-making, I have taken greatest pleasure in seeing his eyes light up as I shared the gift of malts I've worked on. A decade ago, this included Glenmorangie 18 Year Old and Signet; five years ago I introduced him to Bowmore 15 Year Old Darkest and Auchentoshan Three Wood. This Christmas, we will return home to Aberdeenshire, as I share the latest bottling of Glen Garioch 15 Year Old Sherry cask matured.
'And, as for next Chistmas, who knows which whiskies I will work on to share with my dad?'


Ann Miller, international brand ambassador, Chivas Brothers
'Scotch whisky always features in my Christmas plans – it is an essential ingredient of the cake, the pudding, the mincemeat for the mince pies, and I pour a dram (or two) to enjoy as I go along.
'When we were children, we always put a dram for Father Christmas on the hearth beside the carrots for the reindeers – nowadays there are some for us too!'


David Turner, distillery manager, Bowmore
'My most memorable Christmas was in 2010 during a heavy snowfall, sitting in the house by the fireside with a Bowmore Black 1964 First Edition. To me, that's my favourite of the five Black Bowmores ever released. I was reminiscing the old days with my family – my grandfather worked at Bowmore distillery in 1964; he would have been working in the warehouse when the casks of Black Bowmore would have been filled and laid to rest.'


Max Warner, international brand ambassador, Chivas Regal
'Christmas is the best time to enjoy a dram of whisky. Some of my favourite single malts and blends that have been aged for at least 18 years, typically from the Speyside region, have characteristics that resemble Christmas cake spices. Spending a great deal of my time tasting these throughout the year, it always brings a welcome and warming smile when I allude to the period of goodwill and celebration among friends and family.
'Christmas offers the perfect opportunity to gift with a fine bottle of Scotch whisky and introduce someone to the complexities (sometimes for the first time). It's a time of relaxation and lots of sitting down, which presents an ideal opportunity to savour the aromas, tickling tastes around the tongue and the long-lasting mouthfeel. Bring on Christmas! Hopefully the drams don't only occur once a year.'


Sean Baxter, Johnnie Walker ambassador, Australia
'My dad liked drinking Johnnie Walker Black Label. It used to always be around when I was growing up; dad would have it with ginger ale after he played golf. It was the first Scotch I remember sneaking when he was out – I replaced it by adding a few dashes of water when he wasn't looking. I doubt he ever really noticed. He didn't drink it neat and loved it with lots of ice. Queensland summers tend to demand ice in everything, especially in the humid heat of December. When I became an ambassador for Johnnie Walker I always felt he was quite proud of the fact; it seemed to make a bit more sense as to why I bartended for so long, and why I enjoyed the work the way I did.
'Every Christmas, I would get him a bottle of Gold Label, and for a few years he'd open the box and look at it with happiness. I'd go to open it and he'd always protest, wanting to save it for another time. He'd get the Black Label from the pantry and we'd have a whisky – he with his ginger ale, and me with a few cubes. I always assumed he'd knock off the bottles I gave him with his mates when they came around, or at the golf club after a good 18.
'When he passed away a few years later after a battle with blood cancer, I went up home one Christmas to find all the Gold Label I gave him on the kitchen table. They were stuffed in a cupboard, squirrelled away as he tended to do. Mum had dug them out, she thought he might have been saving them for a special occasion or a party. I don't think that was it. I think it might have more to do with the fact that it simply wasn't his whisky. He liked Black Label, and was also not a particularly rude man, so most likely didn't want to hurt my feelings by letting me in on his secret. I wish it was a story about something more exotic, but every Christmas I wish I could have another Black Label with my dad and laugh about his whisky reservoir he didn't care to drink.
'PS: We eventually drank all the Gold Label. Eventually. Thanks, dad.'