British drinkers' interest in single malt Scotch and American whiskey is expected to drive whisky sales to £2.44 billion in the next three years.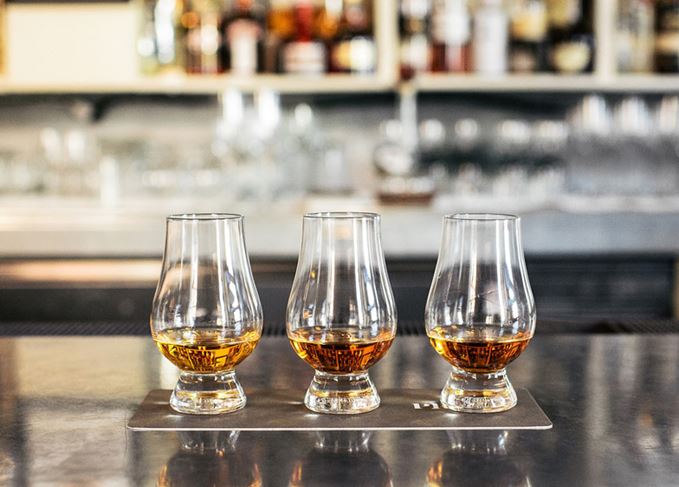 In 2018, British consumers purchased 89.2 million bottles of whisky. It's now predicted that figure will increase by 2.4m bottles by 2022, as blended whisky drinkers continue to 'trade up' to single malts and explore more premium American whiskeys.
Sales of single malt Scotch are expected to increase by 11% by 2020 as more 'accessibly priced' bottles are released.
The predictions have been made by drinks distributor Edrington-Beam Suntory UK (EBSUK), which has published its first annual Whisky Yearbook as an in-depth guide to the category's performance in the UK.
According to the distributor, which sells Bowmore, Laphroaig and Macallan single malts, as well as Maker's Mark and Knob Creek Bourbons, whisky will be a fast-growing spirit category over the next three years.
Mark Riley, managing director of EBSUK, said: 'Whisky is one of the most diverse and dynamic of the spirits categories.
'Bartenders and retailers tell us that whisky is a key focus for them, with plans to invest in broadening their knowledge and range, ensuring they can accommodate the increasing appetite for the spirit from consumers in both on and off-trade.'
Sales of American whiskey are predicted to grow by £54m by 2022, while sales of Irish whiskey, a category which is led by Jameson but seeing a wave of new distilleries open, will increase by £28.5m.

Beckham effect: Haig Club has helped establish the single grain category in the UK

The report has also claimed that single grain whisky has been 'one of the success stories of the last five years'.
Led by Haig Club, a single grain Scotch whisky from Cameronbridge which is backed by ex-footballer David Beckham, the category is expect to double in size to sell £42m of whisky by 2022.
Riley added: 'Irish and single grain whiskies have been real success stories over the past 12 months – sharing rapid growth on an already strong base of both volume and value in the market.
'We expect both to play a greater role in shaping the wider market in the coming years.'
Japanese whisky is also expected to grow in the next three years as distilleries continue to address stock shortages, an issue that EBSUK claimed has also affected sales of Canadian whisky.
'The supply challenges that have arguably held back growth in Japanese and Canadian whiskies have eased,' said Riley.
'While there remains a challenge securing enough liquid from leading brands from both nations to satisfy UK demand, there is far greater supply forecast and we predict we will see growth as a result.'