The shock news that cult distilleries Port Ellen and Brora are being brought back into production has reverberated around the whisky world. Richard Woodard delves more deeply into 'the whisky announcement of a lifetime'.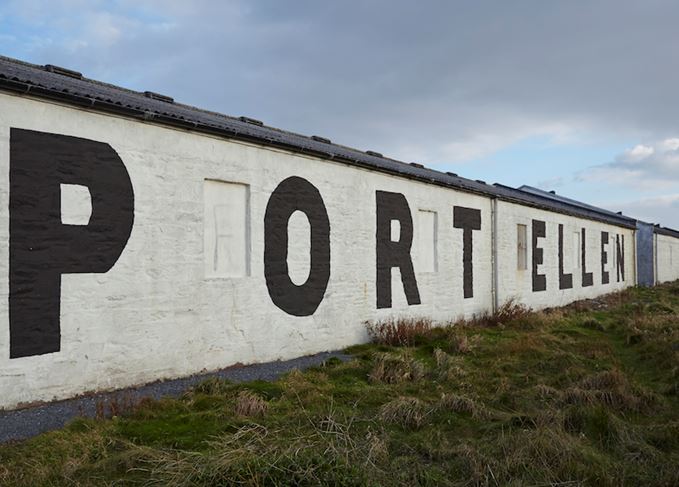 In the mythology that surrounds the legions of 'ghost' distilleries, two spectres loom especially large: Port Ellen and Brora. While romantics have long fantasised about their revival, realists were typically dismissive of the idea. It turns out that the romantics were right.
Both cult names – Port Ellen on Islay and Brora on the east coast of Sutherland – will be distilling again by 2020 after their owner, world's largest Scotch whisky producer Diageo, announced a £35m investment to refurbish and refit the two sites.
'It's hard to over-estimate the degree of excitement among those people who have been working on this for a year or more now,' Diageo head of whisky outreach Dr Nick Morgan says. 'This is a really special day for us and for whisky drinkers everywhere… It's the whisky announcement of a lifetime.'
The legend surrounding Port Ellen and Brora has only been magnified by their apparently permanent demise. Both were casualties of the early 1980s whisky loch, when the spirit they made for blends was surplus to requirements.
These were different times, when single malts were in their infancy. Only years later – and thanks in no small measure to the annual Special Release bottlings sold by Diageo – did the two distilleries ascend to their current level of fame and value (this year's Port Ellen and Brora Special Releases were priced at £2,625 and £1,450 per bottle respectively).

Dual identity: Brora was known as Clynelish, before a new distillery was built on the same site

So why reopen them now? 'I think there are a number of converging reasons,' Dr Morgan says. 'The first thing is that from a Diageo perspective we have a huge amount of confidence in where Scotch is at the moment, and where we think it's going to be going over the next 15, 20, 25 years.'
The growth of single malt sales around the world – particularly among connoisseurs and collectors – is a key factor, but the remarkable status enjoyed by these two closed distilleries makes them a case apart.
'When we started bottling Port Ellen and Brora in the Special Releases 15 or 16 years ago, there were many people in Diageo who thought we wouldn't be able to sell those bottles for £100,' recalls Dr Morgan.
'We thought the time was right really to bring those two back from the dead in order to expand the number of people who can enjoy them… This will allow a lot more whisky enthusiasts to do so.'
To Jon Beach, Port Ellen collector and owner of Fiddler's Highland Restaurant & Whisky Bar on the shores of Loch Ness, the decision to revive the plants is a 'no-brainer'. He adds: 'If it had been a smaller company or a medium-sized company, it would have happened already, I would have thought.'
There's still plenty of work for Diageo to do. Technically, this announcement is that the company is seeking planning permission to restart whisky production on the two sites, as well as working through the various regulatory approvals needed to run a modern whisky distillery.
In the case of Brora, the existing, derelict buildings will be used, and the two stills (which remain there) will be refurbished and recommissioned; worm tubs will be installed again.

Auction favourite: Port Ellen Special Release bottlings are particularly sought-after

For Port Ellen, the work needed is more drastic: a new building will be constructed in the courtyard between the maltings and the old warehouses, and a pair of new stills and condensers built and installed. Diageo says it has 'detailed drawings' and records of the old equipment to help this process.
The two distilleries will be small by industry standards, producing 800,000 litres of alcohol a year (similar to the production levels at Oban, but higher than Diageo's smallest commercial distillery, Royal Lochnagar).
For Brora, that's a slight reduction on its historic production level of 1m litres of alcohol a year; for Port Ellen, where there were previously two pairs of stills, it more than halves production.
This decision is shaped partly by strategic thinking, and partly by pragmatism. 'We want these to be – I suppose you could say – small, bespoke distilleries,' explains Dr Morgan. 'It will enable us to make the distilleries the way we want them to be, and we couldn't really do a 5-10m-litre operation [on those sites] even if we wanted to.'
As for the whisky itself, the task will be to recreate what was made in the late 1970s and early 1980s, but with a modern twist. 'We've got enough production records to know how these places were being run in the 1980s, and people still on the payroll who worked on those distilleries, so we can use that wisdom,' says Dr Morgan.

As it was: The modern Port Ellen distillery will be housed in a newly-constructed building

'Our intention is to try and replicate as far as we can the medium-peated style of whiskies that these distilleries produced. But we know a lot more about distilling now than we did in the 1980s, and we're also cleverer in terms of things like sustainability.'
Maturation is another matter altogether. Historically, Port Ellen and Brora were filled into cask for use in blends, but the 'new' distilleries will be almost entirely ring-fenced for single malt (although Dr Morgan hypothesises that mature stock might find its way into high-end Johnnie Walker blends in the future).
'We haven't sat down and talked about maturation,' he says. 'That does raise some interesting questions, given the cask regimes – or lack of cask regimes – at that time. I'm sure there will be some very interesting conversations about that.'
In the 1970s and 1980s, Port Ellen was often filled (at high strength) into tired, almost inert casks. 'If they do that again, they're not going to have any of the "new" Port Ellen or Brora for another 25-30 years,' points out Beach.
So when can we expect to see the first whiskies from the revived sites? 'We will probably release them as 12-year-olds, but that's not to say we wouldn't put out a very small release of something before then,' says Dr Morgan – meaning that it could be 2032 before any 'new' Brora or Port Ellen hits the market.
The impact on that market – in particular, the buoyant secondary market for these 'collectible' single malts – was another serious consideration for Diageo in deciding whether or not to resurrect the distilleries.
Indeed, there have already been some gloomy predictions of falling prices for 'old' Brora and Port Ellen as a result of the announcement, but Dr Morgan isn't convinced by the pessimism.

Collector's item: This 1972 Brora sold for HK$147,000 at auction in Hong Kong in May

'You don't throw the baby out with the bathwater,' he says. 'Our feeling is that the reputation, the value of the existing, diminishing stocks from the two old distilleries will actually only increase.'
What does Beach think? 'I don't know,' he says. 'I think these whiskies are so good they'll always be wanted, you know – especially some of the old Broras and Port Ellens from the early '70s. Anyway, it's a long way away still. Time will tell.'
Whatever the future holds, we shouldn't necessarily expect a line of more 'ghost' distilleries queuing up to be revivified any time soon. As well as their lofty status, Port Ellen and Brora have the continued existence of their sites to thank for their new lease of life; many other 'lost' distilleries are exactly that – their buildings bulldozed, their land reclaimed for alternative uses.
Things change in whisky. It's worth remembering that, assuming spirit is running from the stills on schedule, this will be the second time in a century that Port Ellen has been out of production for 37 years (it was also silent between 1930 and 1967).
The last time that production restarted at the site, it was only 16 years before the stills fell silent again. Happily, the prospects now are altogether brighter, thanks to a booming single malt market – and the fact that the reputation of these two distilleries has expanded beyond all recognition over the past 34 years.