Andy Watts is the English-born former county cricketer who has arguably done more than anyone to put South African whisky on the map. He ran Wellington's James Sedgwick Distillery for 25 years before taking on the role of global head of whisky intrinsic excellence, with parent company Distell. He spoke to Richard Woodard.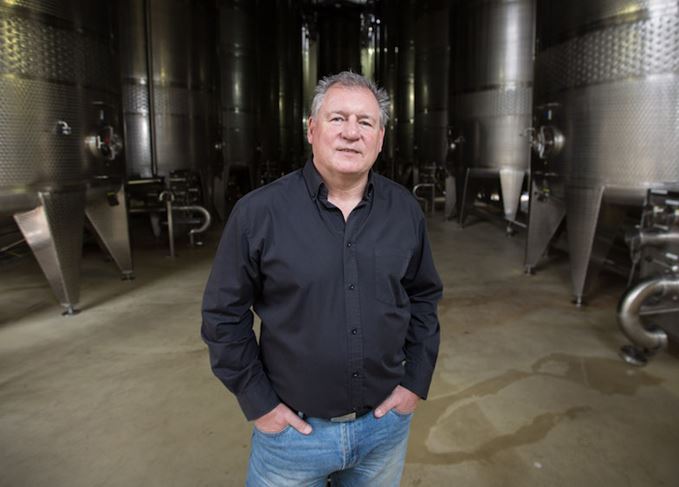 'To be honest, when I was growing up, whisky wasn't even a blip on the radar. It was all about wanting to be a professional footballer. I didn't make it at football, but I got the opportunity to start playing cricket and that took me away from the cold English winters to South Africa.
'I got released from my contract at the end of the 1984 season by Derbyshire. I still can't understand why because they signed some guy called Michael Holding [the legendary West Indies fast bowler].
'I'd still got another six months on my contract in South Africa, so I went back there and whilst I was there I made the decision to stay, because I loved the country, I'd also met my future wife, but the main reason was that I got offered a permanent position at Stellenbosch Farmers Winery due to the bottling manager doing something that got him fired.
'The cellar manager moved to bottling and asked me if I wanted to be head of the cellar, which I'd been actually working in for the previous three winters. While I was there, Stellenbosch Farmers Winery were doing bulk whisky business with Morrison Bowmore.
'From 1985 to 1989 I spent various amounts of time with Morrisons at their three distilleries: Auchentoshan under Stuart Hodkinson, Glen Garioch under Willie McNeil, and then Islay and obviously the legendary Jim McEwan at Bowmore.
'I always say that we don't have the 500 years of tradition, which the Scots have and we respect that tremendously, but because our industry's only 41 years old, within the same legislation we can do things slightly differently.

Sporting chance: If it weren't for cricket, Andy Watts might never have ended up in whisky

'I came back with a very simple brief: to increase the quality and quantity of the whisky we produce. To be perfectly honest, South African whisky at that stage – we had the Three Ships brand and only one version when I came back from Scotland – the quality of that left a lot to be desired.
'Our temperature in South Africa makes whisky making challenging. We don't have a distillery in every town, I can't phone a friend every time we've got a problem. Challenges like making sure your fermentations are controlled.
'So we now temperature control our fermentations. We developed two strains of dried yeast that are very robust and work very well in our climate, our conditions.
'We lose approximately 5% abv a year, which is probably two-and-a-half to three times what Scotland loses. The accountants obviously wish we could wrap the casks in cling film and don't know why we can't do that.
'Because of the high evaporation and the maturation loss, there's definitely a lot quicker interaction between spirit, cask and the atmosphere that takes place. So we do tend to find – and Bain's is an example of that – that whiskies at what would be classed as very young probably in a cool northern climate do portray themselves as being softer, smoother at a younger age. We don't have the losses of Kavalan or Amrut, but you can pretty much see why they also don't have age statements.
'Last year we released a 15-year-old Three Ships blend that had been finished in a Pinotage cask, which is a South African grape varietal, so that's a uniquely South African product.

Climate challenge: Maturation conditions in South Africa are very different to those in Scotland

'For most of our core range of whiskies our casks are American oak, so I would say probably 95% is ex-Bourbon, but it could be via the Canadian industry, because you don't always want first-fill ex-Bourbon casks.
'I'm experimenting with wine cask finishes, but Pinotage was something I always wanted to do because it's uniquely South African. I can do Shiraz, but everybody does Shiraz.
'Unlike most Scottish malt distilleries, which produce one style of malt or maybe two, three max, we can produce as many styles as we want, depending on what we want to achieve at the end of the day.
'The whole idea with South African whisky is to take people away from being curious about it to being serious about it. We can never be Scotch, we can never be Irish, but there's enough sunshine out there for everybody.
'When we won the world's best grain whisky in 2013 with Bain's, then obviously the phone started ringing and everyone wanted the product. The problem is you needed to know in 2008 you were going to win the award in 2013, so we didn't have any stock.
'We launched into the States towards the end of 2016 – three states to start with; I think we're in 18 now. We launched into the UK and gave Germany exclusivity in mainland Europe round about July or August last year.

Islay connection: Watts still feels a bond with Bowmore after his time there in the 1980s

'I would like to think that within 20 years South African whisky would feature in most bars in most countries throughout the world. That would be my dream. If Kavalan can do it, if a lot of these other world brands can do it, then what stops something like Distell doing it?
'I still love Bowmore just because of the connection I had with Islay and Bowmore back in the '80s. Obviously I've come to love Bunnahabhain as an alternative now on Islay [also owned by Distell], and Bunnahabhain also has some excellent peated expressions as well. To be perfectly honest, if I'm back home I enjoy drinking wine with my wife.
'I still go and trundle in when I'm free with our "Golden Oldies" cricket team, but I don't take a place on the tour squad any more. I lost a little bit of pace. The mind's willing, but the body's no longer able, I'm afraid.
'I do quite a lot of mountain biking when I'm back home and I can get into the routine. My fitness is a bit like a rollercoaster – I'm up and down with the travelling. I'll probably have another two months before I'm due to travel for a lengthy period again, so then I'll start cycling again. It's a great way of relaxing for me, I love it.
'People think that the travel side is glamorous and great. I've been to New York twice; I haven't seen the Statue of Liberty, I haven't seen Ground Zero. I've been to San Francisco; I haven't seen the Golden Gate Bridge.'